Introduction
Valmie Resources (OTCPK:VMRI) was until last year a mineral exploration stage company with very little to show for itself. It bought an option on the Carico Lake Valley Property in Nevada for $ 15,000, but never made any of the following payments required to actually purchase an interest. On July 2014 the landowner informed Valmie the land had been sold to a third party.
Without any remaining activities left and having never generated even a penny of revenue, Valmie decided to re-invent itself as a provider of "unmanned vehicle software, hardware and cloud services". To that end, Valmie bought Vertitek, a small one-man operation based in Wyoming, from a Cypriot corporation called Masamos Services.
The drone-market sure sounds sexy nowadays; it has a cutting edge "technology of the future"-vibe to it. Add some "cloud services" lingo to the mix and it seems you are guaranteed to be on to a winner. The stock market seems to agree, although investors needed a lot of seedy stock promotions to get them going.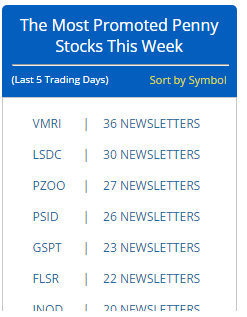 Penny stock promoters have been falling over themselves to promote Valmie as the next big thing. Last week Stockpromoters.com had VMRI as the most promoted penny stock of the week.
This might help explain why Valmie stock has recently ran up from $ 0.30 to about $ 3.00 per share, before dropping back to $ 2.50 today. Based on the current number of common shares outstanding (but more about that later) this gives Valmie a market cap of roughly 150 million dollars.
Valmie's two-man workforce
First, let's take a look at the people that are supposed to make Valmie a success. Well, the list is very short: there are only two. Its current CEO/CFO is Mr. Gerald Hammack, who was appointed in December of 2014. While Mr. Hammack does seem to come from some sort of a technical background, nothing in his CV indicates any sort of knowledge or inclination towards drone services. Having been self-employed for most of this century Mr. Hammack previously ran his own Technical Services firm from home.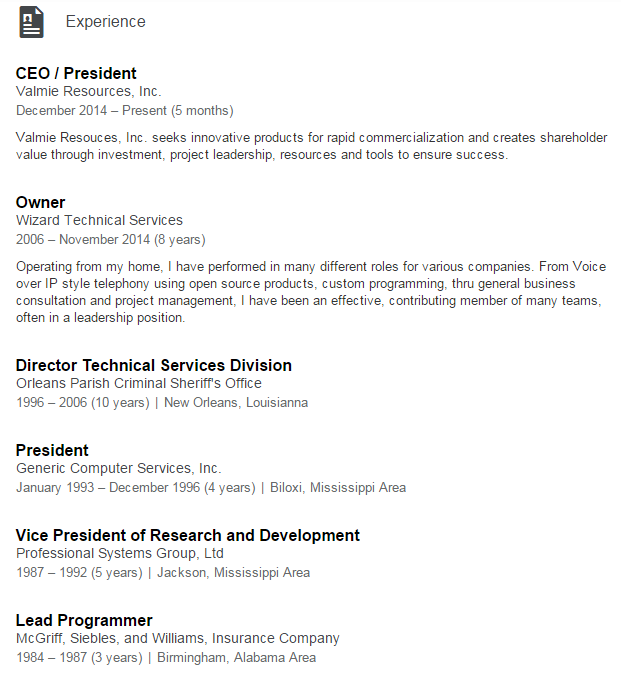 Source: LinkedIn, profile of Gerald Hammack
The second person responsible for making Valmie a success is Mr. Sean Foster, former president of previously mentioned Vertitek. Before his company was taken over by Valmie he spend approximately 20 hours per week on the company, according to a recent SEC-filing. Rest assured though, Mr. Foster intends to provide his services on a full-time basis from now on.
This is it: although Valmie claims to be a 11-50 employee company on its LinkedIn profile, it currently has no employees, nor does it seem to have any intention of hiring anyone in the short term, other than engaging "outside vendors".

Source: 10-K filing Valmie Resources
Also, according to its latest Annual Report, it owns no patents, and the company has "no plans to pursue pure research and development activities at any point in the future". With only two people onboard, $5,277 in cash as of February 2015 and $349,746 in liabilities it sure doesn't sound like Valmie is taking its mission "to become one of the world's leading suppliers of unmanned vehicles and related high tech equipment and services" very serious. Well, to be fair, it's not all negative though. They do have a neat looking website with lots of cool pictures of flying drones.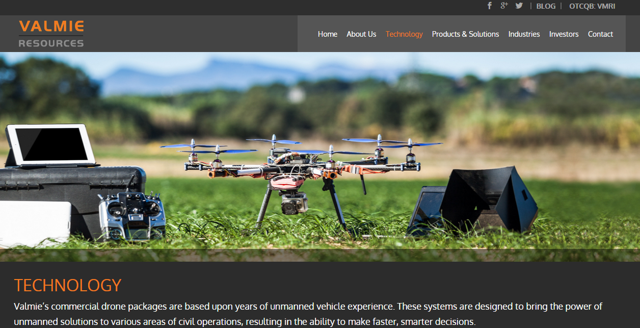 Source: www.valmie.com
Behind the scenes
So what's really going on behind the scenes? The equity structure of the company might shed some light. In April 2014 the then majority shareholder of Valmie sold his entire 80.1%-stake in Valmie to Fen Holdings & Investments Limited, a company incorporated in the British Virgin Islands, for little over 150,000 USD.
Pretty cheap for what essentially is a majority interest in an almost empty shell at that time. Ridiculously cheap if you take into account the companies' valuation one year later. Fen Holdings later agrees to exchange its entire majority stake of common shares into 2,000,000 preferred shares with additional voting rights, which can be converted back to common stock eighteen months after issuance in a ratio of 1:10.
So who is behind this mysterious Fen Holdings entity? Fortunately, an SEC-filing provides us with the answer.

Source: 10-K filing Valmie Resources
Fen Holdings' voting and investment power is exercised by a German national named Juergen Krause. Krause popped up a few years ago when he, through an entity based on the Marshall Islands, at one time owned a 99% stake in Green Technology Solutions (OTCQB:GTSO).
Green Technology is a company that changed name and business plan so many times, it's actually quite hard to keep track of. Also, since every business plan ultimately failed, it underwent a number of reverse stock splits wiping out countless shareholders along the way.
More disturbingly though, Fen Holdings is cared for by EHT Corporate Services, a wealth administration firm based in Geneva, Switzerland. EHT has recently rebranded itself and was formerly known as EuroHelvetia TrustCo.
The rebrand could have had something to do with problems one of its former Managing Directors faced with regards to an investigation by the SEC. David Craven, a British national, had worked for EuroHelvetia for nearly 25 years, before leaving in 2013. In March 2015 the SEC sought and obtained a Preliminary Injunction Order, including a freeze of all of Mr. Craven's personal assets in the US.
The reason the SEC went after Mr. Craven is because of the role he played in an alleged pump-and-dump in 2011 in shares of American Energy Development Corp (OTCPK:AEDC). At that time Mr. Craven was still working for EHT. The complaint of the SEC describes in detail the manipulative practices of Mr. Craven and his professional race car driving son. Quite an interesting read in itself.
Even though EHT does not appear to have been officially charged in any way, it is mentioned several times in the complaint. Unfortunately, this is not all. A search of SEC filings shows the name of EuroHelvetia coming up in conjunction with a few other failed and/or dormant penny-stocks in the last few years as well, including Alterola Biotech (OTCPK:ALTA) and Calcitech Ltd (OTCPK:CLKTF).
Issuing shares 96% below current stock price
Per the end of February of this year Valmie had little over 59 million common shares outstanding, with another "potential" 20 million common shares being added if outstanding preferred stock is converted in the future.
However, recently the share count has gone up further. The take-over of Vertitek was paid by issuing one million common shares. Also, since the company hardly has any cash it has started paying off creditors in stock. This month three unnamed investors agreed to convert their 383,927 dollar in debt to 3,839,270 common shares. This transaction values Valmie common stock at $ 0.10 per share, 96% below the current share price.

Source: 10-Q filing Valmie Resources
In its latest quarterly report the company announces its intention to raise additional funds in the future through public or private placement offerings.
With every transaction existing shareholders are being diluted again and again with shares being issued against prices only a fraction of the current share price. To make matters worse, there now appear to be several shareholders with a big incentive to dump their significant shareholdings into the market in the near future for a huge windfall.
Valmie's PR-offensive
So let's get back to the reality Valmie is living in. The company has been very active on the PR-front recently, issuing a few press releases every week. Most of these press releases lack substance and/or are impossible to check. For example, the company announced to collaborate with a team from a "major university", but failed to disclose which university. Another example, the company said it is "in talks" .. "to explore filing a provision patent application". That doesn't sound too convincing.
Two PR-releases do stick out: the first one was an announced collaboration with Mexico based Monitoreo Especializado Agricola de Jalisco, a crop monitoring and data collection company that provides services to megafarms in Central and South America. Unfortunately, background checks on that company come up blank. Jalisco does have a website, which was registered in December 2014 and feels like it was done in a rush. The meta name description in the source code even has the content of the American version of the website mysteriously listed as "Easy on Demand Parking and Valet Services with Luxe Valet", apparently ripped off from a San Francisco valet service.

Source: www.meadjsa.com/index-us.html
It's difficult to say what happened here, but it feels like an amateurish copy paste job gone bad. I have contacted Monitoreo Especializado Agricola de Jalisco for further information about their company and their partnership with Valmie, but did not receive any reply.
Let's end this article on a good note though: In the title of this article I wrote Valmie does actually have one drone; they apparently do. On the 14th of April a prototype supposedly completed its first flight. Good news, even though it is unclear how Valmie exactly obtained this drone, specifically which part of the drone is their work and which part contains pre-fabricated parts, and of course, in what way this drone actually differs from the many type of drones already available on the market.
I have contacted Valmie Resources with a number of questions with regards to the number of employees, its attitude towards stock promotions and with regards to their major shareholder, but unfortunately did not receive any reply.
Conclusion
I partly wrote this article because I wanted to warn investors who actually believe an investment in VMRI is an investment in the drone market and its future. It's not; it's an investment in a two-man show with no revenues, ever increasing losses, with shares trading at ridiculous prices.
I believe the current share price and the current market cap of Valmie do not in any way reflect the company itself. Shares are extremely overvalued, likely due to an endless stream of stock promotions selling this company as the next big thing to an unsuspecting public. If you have somehow been alerted to this stock, I'd suggest you stay far away. If you already bought stock, it sounds like a good idea to sell it right now and consider yourself extremely lucky for the great price you're getting for it.
Several parties could be responsible for the "pump" of this stock as several sit on a sizable number of shares and could start the "dump" at any time they see fit. The company itself apparently believes its shares are only worth $ 0.10, as this is the price they are currently issuing new stock at to keep creditors happy. To be honest, I think even that is quite a generous valuation. Also, please keep in mind Valmie will no doubt continue to issue new shares again and again to pay the bills for as long as the stock market allows them too.
Shares in VMRI are shortable in limited amounts from time to time if you look for it hard enough; still this is not something that is advisable unless you are able to manage the risks. With suspected pump and dumps it's not always clear when the pump stops and the dump starts. VMRI stock was extremely overvalued at $ 1.00 per share, then went on to $ 3.00. Even though these stocks do in the end come down it can be a long frustrating wait.
Disclosure
I am short VMRI through an owned entity. I have no business relationship with any of the companies mentioned in this article. This article is not an advice to either buy or sell; it expresses my own personal opinion.
Editor's Note: This article discusses one or more securities that do not trade on a major U.S. exchange. Please be aware of the risks associated with these stocks.