Ampio Pharmaceuticals (NYSEMKT:AMPE)
Just this Friday, Ampio Pharmaceuticals (AMPE) once again impressed investors when it announced that it secured patents to two novel solutions. The first provides a combination of methylphenidate derivatives and diketopiperazines - the latter of which is the same class as Ampion. The second provides the rights to the methylphenidate derivatives. Among other positive findings, these compounds activate a specific intracellular enzyme to produce strong efficacy in applications. They have already shown significant anti-inflammatory activity, anti-angiogenic activity, and, perhaps most significantly, anti-proliferative properties in treating cancer cell lines. Successful in-vitro tests in human cells could result in an end treatment for inflammatory breast cancer, autoimmune conditions and Glioblastoma multiforme. Licensing opportunities are currently being explored.
Perhaps the most attractive aspect of Ampio is that it faces significantly less regulatory headwinds than its peers given the nature of its business. As Ampio has a pipeline that discovers new applications for NMEs and previously approved drugs, it accordingly does not have to go through some of the major hoops and hurdles that so limit the potential of other healthcare firms. In addition, Ampio's products have an extensive safety record elsewhere that will result in a much smoother time-to-commercialization than that of its peers. Take Optina - which Ampio has secured rights to with an extensive patent portfolio - as one such example. This low dose version of danazol prevents small blood vessel leakages as a result of inflammation and has potential applications for kidney disease, allergic rhinitis, macular degeneration and Diabetes Mellitus. Since danazol has already been commercialized domestically and abroad, Optina does not have to go through the more tedious pathway that NCEs do. Put differently, this means more frequent and safe catalysts for investors. Below is a depiction of the firm's pharmaceutical product pipeline.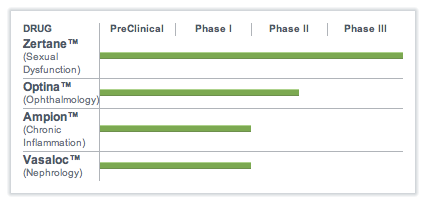 Vasaloc treats diabetic nephropathy and is a repositioned compound that, like Optina, is based around danazol. After the completion of the Optina trial, Vasaloc will be tested and benefit from an even smoother product pathway.
I am especially bullish about Zertane, which Ampio acquired rights to when it bought out DMI BioSciences earlier this year. Zertane, which has a 30-year safety record in humans and is a special lower dose of an existing drug, treats premature ejaculation, a condition more frequent than erectile dysfunction. The market potential here is huge with limited risk.
Meanwhile, Ampion has recently seen positive trial results in Australia in treating osteoarthritis in the knee, demonstrating strong tolerance and an ability to mitigate pain. In a double-blind study conducted at Centers for Allergy and Asthma, Ampion also indicated that it can be administered intranasally to patents with nasal inflammation and provide a safe and effective way of providing anti-inflammatory relief.
Abbott Laboratories (NYSE:ABT)
As a larger drug manufacturer with high trading volumes, Abbott Laboratories - while still a safe and solid investment - has already been subjected to markets that have limited the discount to intrinsic value. The Street currently rates shares a "hold" and, as I highlight here, the company is considered to be less undervalued than competitor Pfizer (NYSE:PFE). With a decade-long history of producing little shareholder value, the upside has been discouraging to many would-be investors. Accordingly, I recommend opening a long position as more of a strong defensive play against a volatile market.
Abbott currently trades at a respective 18.5x and 10.6x past and forward earnings while offering a dividend yield of 3.6%. As its beta is 0.31, this is a perfect company for both risk-averse investors and income investors.
Consensus estimates for EPS are that it will increase by 11.5% to $4.65 in 2011 and then by 8.2% and 7% more in the following years. Of the 10 revisions to EPS, seven have gone up with a total positive change of 0.17%. Approximately 17.2% of investors are classified as core value or deep value, but ownership among directors could be somewhat higher for greater accountability.
With the company planning to separate next year into two publicly traded companies, greater efficiency and focus is anticipated to follow. But the main reason the split was the right decision was because it would create an independent higher risk pharmaceuticals business that is more geared toward the aggressive investor. The day the strategic action was announced, shares rose by more than 1.5% and analysts hailed it as a move that would add greater liquidity and better allow the market to appreciate the individual parts - speculated, of course, to be worth more than the sum.
Disclosure: I have no positions in any stocks mentioned, but may initiate a long position in AMPE, ABT over the next 72 hours.