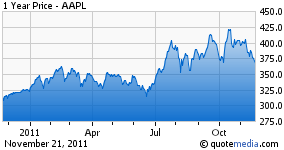 Apple turned the world upside down on a "shoe string" R&D budget, "minuscule" by comparison to Intel (NASDAQ:INTC), Microsoft (NASDAQ:MSFT) and Cisco (NASDAQ:CSCO), yet so muscular in its effectiveness that it was frightening, arguably the best bang for the buck anywhere anytime. If you put all of Research In Motion (RIMM), Nokia (NYSE:NOK), Motorola (MOT), Hewlett Packard (NYSE:HP), Dell (NASDAQ:DELL) and MSFT R&D together, you still wouldn't produce one hundredth the great stuff coming out of Apple.
I identified Apple's R&D prowess earlier here, here and here. The thesis is still valid: Apple develops market-dominating products on a bargain-basement R&D budget.
In fact, it's getting better.
Apple's R&D as a percentage of sales has been dropping steadily, now equaling a tiny 2.24% sliver of revenue. Other technology companies allot a far greater share of their sales to R&D with the exception of HP (which has given up its innovative culture) and Dell (also not a powerhouse of creativity).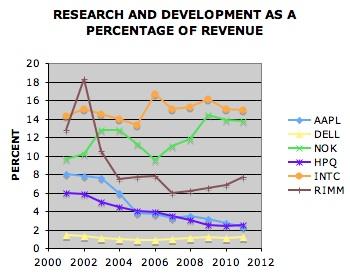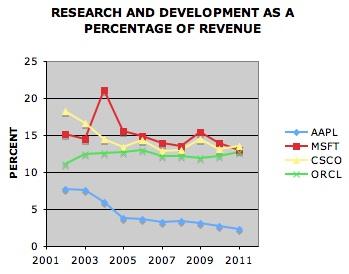 Despite spending less as a share of sales, Apple hasn't skimped on its R&D. R&D has been growing, but revenue has been growing far faster.
While budgeting R&D as a smaller percentage of revenue, Apple has actually been boosting its total dollars spent. The company more than tripled the budget since 2007.
In 2006, Apple spent $500 million and in 2007, it spent $800 million, and came up with the iPhone and a host of other products. In 2007, Microsoft spent over $7 billion and, in 2008, came up with what? I'll let you be the judge which company spent more wisely. This year Apple devoted $2.4 billion to R&D. Imagine what Apple's got up its sleeve.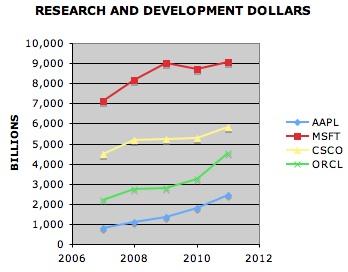 Apple has a luxury few companies have: It can raise its R&D budget with little concern of hurting the bottom line. Investors can look forward to years of great product innovation.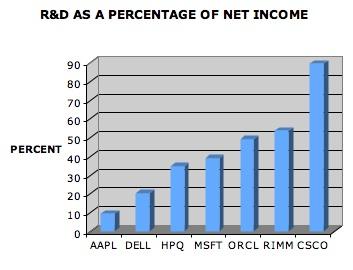 Disclaimer: The opinions in this document are for informational and educational purposes only and should not be construed as a recommendation to buy or sell the stocks mentioned. Past performance of the companies discussed may not continue and the companies may not achieve the earnings growth as predicted. The information in this document is believed to be accurate, but under no circumstances should a person act upon the information contained within. We do not recommend that anyone act upon any investment information without first consulting an investment advisor as to the suitability of such investments for his specific situation.
Disclosure: I am long AAPL, INTC.