The market rumbled lower Monday based upon a worldwide economic slow down and the Euro sovereign debt crisis. This article is focused upon a few strategies to hedge my 2012 income stock portfolio favorites. In this article, I highlighted my favorite dividend names for 2012, "7 Must-Own Dividend Stocks For 2012".
I do not like to lose money. Based upon worldwide debt issues, stock market declines like Monday should not be uncommon in the future. The SP500 was down 1.86% yesterday, November 21st: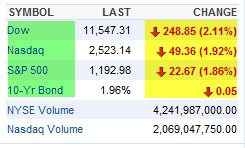 There isn't any point in holding dividend stocks if the market evaporates the dividend stocks' net capital gains and accrued dividends. To prevent this, we can use a basic hedging strategy.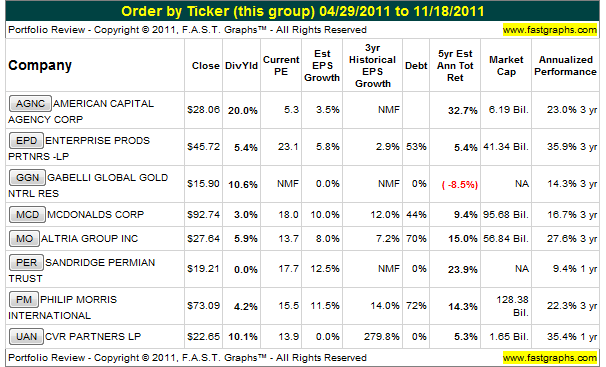 Simple Hedging Technique
We can discuss far more advanced hedging techniques, but this article will stick to a very basic level. I am going to disregard industry, market cap, and actual position size. This sample will assume we own 6 stocks with an equal weight position.
Beta
Beta is a measure of the volatility, or systematic risk, of a security or a portfolio in comparison to the market as a whole. For this article, I will use the SP500 (NYSEARCA:SPY) as the "market as a whole". For example, assume a stock has a beta of 1.5. The SP500 has a beta of 1.0. The 1.5 beta stock will be more than 50% volatile than the SP500. On the other hand, a stock with a .5 beta will be only 50% as volatile as the market.
American Capital Agency Corp. (NASDAQ:AGNC)
American Capital Agency is operating in a very unusual time for U.S. Treasury Bill and Bond rates. As the Euro sovereign debt crisis continues to evolve, the flight to safety in in full motion. Investors are simply shoving money into gold or U.S. Treasuries. American Capital Agency, per the below table, has a .49 beta.
Enterprise Products Partners LP (NYSE:EPD)
Enterprise Products Partners is a premiere midstream master limited partnership (MLP). Enterprise Products Partners does not have to fork over the General Partner (GP) incentive distribution rights (IDRs). Enterprise Products Partners took action to buy back the GP IDRs and the MLP has continued to prosper. Enterprise Products Partners' .6 beta, per the below table, matches our portfolio's average beta versus the SP500's 1.0 beta.
Gabelli Global Gold, Natural Resources & Income Trust (NYSEMKT:GGN)
Gabelli Global Gold is a closed end fund that owns gold and natural resource stocks. The fund then sells covered calls against the positions to derive income. This income is reported as return of capital. Gold and natural resources have historically served as an inflation hedge or a protector of wealth. The U.S. debt, at some point, will become a focal point of concern. Gabelli Global Gold's beta is somewhat high at .79, reflecting the volatile gold markets.
CVR Partners (NYSE:UAN)
CVR Partners will be left out of the sample because of their less than one year of trading due to a recent initial public offering. A fair beta number is not available due to the lack of trading. I would, to be fair, expect CVR Partner's beta to be higher due to the volatility in fertilizer prices.
Altria (NYSE:MO)
Altria should thrive in a difficult economic climate. The U.S. cigarette manufacturer and distributor has fought all the legal battles and came out on top. They own the premiere Philip Morris (NYSE:PM) product lines, including Marlboro cigarettes. The low beta of .45 reflects the resiliency of Altria's stock during all trading cycles.
Philip Morris International (PM)
Philip Morris International has a relatively high beta of .92. The company has only produced aggressively high growth results for shareholders. The growth is both in dividends and capital gains. The company is the international entity from the spin off from Altria. Philip Morris sells cigarettes everywhere but in the U.S.
McDonald's Corp. (NYSE:MCD)
McDonald's is the blue chip fast food company. The business continues to provide daily economical meals in a family environment. The beta is an amazingly low .34. The strong buyback plan, annual dividend increases, and constant growth all prevent significant losses during most economic climates.
SandRidge Permian Trust (NYSE:PER)
SandRidge Permian Trust has a guaranteed income stream for calendar year 2012. The trust, however, has a limited track record and a meaningful beta is not meaningful. To be fair, the stock is likely to have a higher beta based upon current price swings. The quarterly dividends are, however, fixed during the early years. This will provide ample income for return of capital to income seekers.

Portfolio Results
I do want to own a fairly concentrated portfolio for asset allocation purposes. One day does not make a conclusive result of a hedging strategy. The investor, hopefully, can identify and gain insight, however, on the role hedging can help to mitigate portfolio losses on a down day.
Assuming a $100,000 Portfolio
The above names would be down .88% for the day. This amounts to a $880 loss on a $100,000 portfolio. The SP500 was down 1.86% for the day. As investors, we would assume over the long run a portfolio with the above .60 beta would be down 60% of the SP500's returns. In this case, the SP500 would have lost $1,860 on November 21st. We could have hedged this loss through inverse funds or put options.
Since our portfolio has a .6 beta, we would need to hedge only 60% of the SP500's expected returns. This reduces our hedging expenses. Since we are truly hedging, we want to hedge only 60% of the SP500's returns, which is based upon the presumption of a 1.0 beta. We would be speculators if we hedged a higher or lower percent than the portfolio's .6 beta average.
Mitigating the Risk of Hedging Costs
In this case, we could hedge the portfolio with inverse SP500 funds equivalent to 60% of the SP500. We could also purchase SP500 options to hedge against 60% of the SP500 volatility. This expense, ideally, could be mitigated by other trading strategies over a one year period. These strategies include spin offs, initial public offerings, vertical call or put credit spreads, and special situation or arbitrage positions.
These are the portfolio management techniques I use to have a hedged position. I take it one step further. My goal, as a small investor, is to recoup the hedging expenses by establishing positions in income generating positions on a monthly basis.
Disclosure: I am long AGNC, EPD, GGN, UAN, MO, PM, MCD, PER.