There are many commonly known virtues about Fastenal (NASDAQ:FAST) such as having above-average industry financial metrics including double-digit ROIC, high gross and operating margins, low leverage, high and increasing dividend payout et cetera. Many more positives on Fastenal can be gathered from a quick glance at the company's 10-year financial results and latest 10-K. I am not denying any of the many virtues of Fastenal or denouncing the strong recommendations others have for the company. However, I would like to highlight some alternative non-quantitative viewpoints to be considered that might hinder one from purchasing the stock.
Sales Force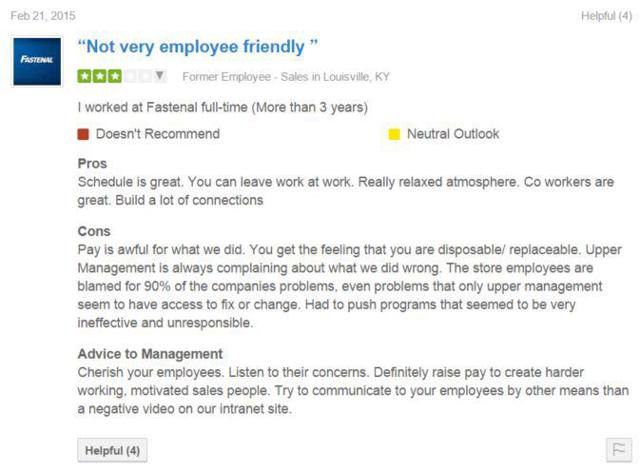 The strongest doubt of Fastenal comes down to the seeming dissatisfaction of its sales force, one of the cores of the company's growth drivers. Fastenal takes pride in "Growth through Customer Service" through its extensive local network of stores staffed with highly trained salespeople. However, a read through all the employee reviews posted on Glassdoor.com by full-time salespeople speaks of unhappiness with the low pay, long hours, and high turnovers, despite having added more full-time-equivalent hours in stores via hiring part-timers since mid-2013. Such employee dissatisfaction doesn't bode well in the future for a company that relies so heavily on its sales force to generate ever-increasing sales growth. High turnover rates not only increase the costs associated with constantly having to retrain new employees, but also prevents proper continuity in customer relationships since salespeople come and go so frequently.
Management Compensation

Since 2007, Fastenal has instituted a performance-based cash incentive compensation where executive officers are paid cash incentive bonuses each quarter. The condition for bonus payout is that Fastenal exceeds 105% of pre-tax earnings (or, for the chief financial officer, net earnings) for the comparable quarter of the previous year. The amount of cash incentive bonuses paid is calculated as a percentage of earnings in excess of the minimum targeted amounts. For the first time since its establishment, the minimum target of growth before triggering bonus payout has been reduced. From 2015 onwards, the bonuses for each quarter will be determined by applying a payout percentage to the amount by which pre-tax earnings (or net earnings) exceeds 100% of pre-tax earnings or net earnings for the comparable quarter of the previous year. Regardless of the reasons given by the company, the reduction in minimum growth rates before bonus payout is triggered for the first time in 9 years is worth contemplating. It might hint at management's confidence or lack thereof at the prospects of future growth rates.
Declining Margins
The trend at Fastenal for the past few years has been a tightening in gross profit margin primarily due to a lower percentage of sales coming from fasteners (their highest-margin product line has seen a rapid drop from 49% of sales in 2009 to 40% of sales in 2014) and due to better-than-average growth from larger customer accounts (who have better pricing terms). Reduction in gross profit margin due to the growth in average store size is meant to be counterbalanced by the lower relative operating costs typically associated with larger stores. However, rather than seeing a drop in operating and administrative expenses in the past 2 years, Fastenal has seen a rising operating and administrative cost, primarily due to increased sales personnel headcount. Although management continues to stand by their belief that operating and administrative expenses will more than offset declining gross profit margins in order to grow net earnings faster than net sales, it might not hold true especially if there is a need to continue adding sales personnel and potentially raising their pay in order to be a competitive employer and reduce turnover rates.
Disclosure: The author has no positions in any stocks mentioned, and no plans to initiate any positions within the next 72 hours.
The author wrote this article themselves, and it expresses their own opinions. The author is not receiving compensation for it (other than from Seeking Alpha). The author has no business relationship with any company whose stock is mentioned in this article.