Aerospace and defense exchange traded funds were lower Monday on reports the congressional "supercommittee" has failed to reach an agreement on lowering the deficit. Industry experts believe defense may see up to $1 trillion in cuts if automatic spending reductions are triggered due to the supercommittee failure.
The PowerShares Aerospace and Defense (NYSEARCA:PPA) and iShares Dow Jones Aerospace and Defense (BATS:ITA) were both in the red Monday.
The supercommittee is facing a Nov. 23 deadline to plan out over $1 trillion in deficit reductions over the next decade.
According to Credit Suisse analysts, failure to meet the the deadline would cause a negative impact on risk assets and growth in the markets. Additionally, automatic spending cuts would kick in during the fiscal year 2013 and would severely reduce the spending in various departments, notably defense spending.
According to a Foreign Policy Initiative report, the Pentagon will face lowered ceilings that would decrease defense spending over the next 10 years by $500 billion and also "sequestration" cuts that would further cut out $500 billion or more.
"In all, sequestration's spending ceilings and cuts could effectively trim anywhere from $500 billion to over $1 trillion from projected long-term defense spending," the FPI said.
Additionally, the FPI report also sheds light on where the country's debt is really coming from.
"The main driver of America's growing debt and deficit is domestic spending – specially entitlement spending – and not defense spending," according to the report. "Entitlements today constitute nearly 60% of the $3.5 trillion federal budget."
iShares Dow Jones Aerospace and Defense ETF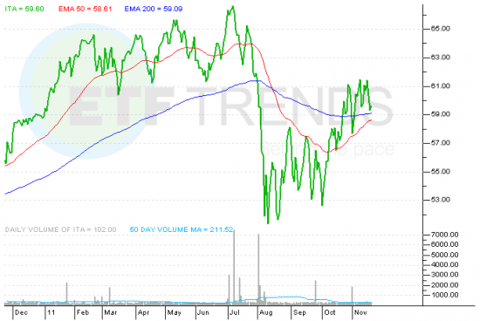 Max Chen contributed to this article.
Disclosure: None