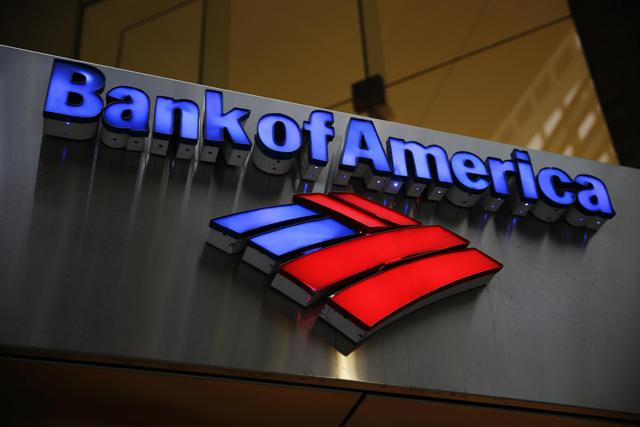 There are a plethora of articles published on SA extolling the virtues of Bank of America (NYSE:BAC) as an investment. Many of these pieces and their authors fail to analyze the complexity of the key risks that exist within the firm. With such a one-sided view point, I fail to see how a complete investment thesis can be formed. I will agree with the bulls that BAC has a great deal of potential, especially within its Merrill Lynch businesses. ML remains a great brand name in the wealth management and capital markets businesses, but it seems potential is all it remains, as BAC is intent on destroying Mother Merrill and upsetting the vast majority of its long-time veteran employees in the process. While the bulls continue to make their case, the bear case on BAC has far more evidence in its favor.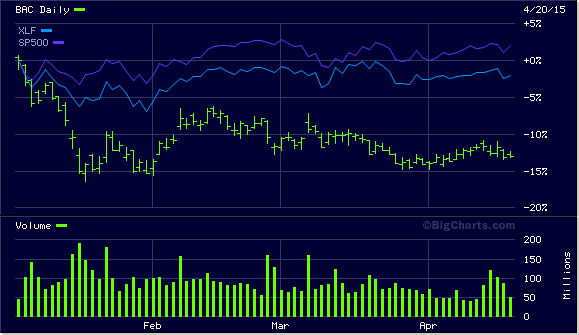 The Company Is Not Being Run For Shareholders
Bank of America is not being run for the owners of the firm, nor is the company being run for customers, or associates. It seems the only ones benefiting from BAC's poor performance have been the executives of the firm who have taken home millions of dollars in compensation for doing a poor job of managing the owners' business. Current CEO Brian Moynihan took over the CEO role at BAC on January 1, 2010, and since that time, shareholders have achieved a return of roughly 1% per year on their hard-earned capital. Many have contended that now that the lawsuits are largely over for BAC, the legal costs will recede, and the firm will begin to outperform. The reality thus far has been quite the opposite. BAC reported horrible first-quarter numbers, and the stock is down some 12.69% year to date.
The firm's missteps in the stress tests in 2014 and 2015 were the last straw for us in our decision to sell the stock. The firm is clearly too large to manage as executives seem unable to manage this unwieldy and complex financial conglomerate. CEO Brian Moynihan has not made the move to Charlotte, North Carolina, the firm's headquarters, despite being Chairman and CEO, preferring to live in Boston. And let us all not forget the misguided effort to charge every customer $5 to use a debit card, an idea that was quickly retracted amid public outcry. In our opinion, there is simply no leadership at BAC.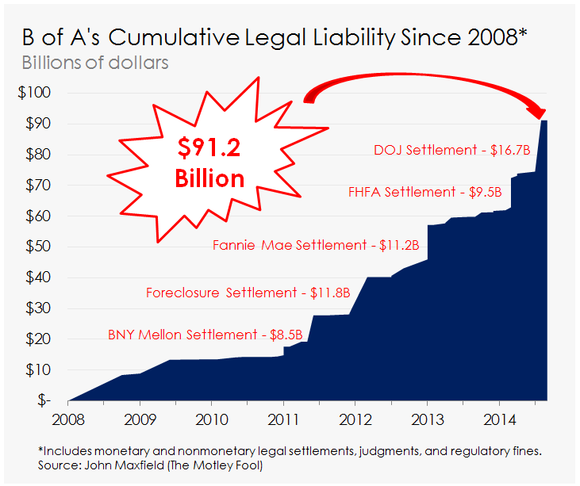 I am concerned that the bulls are simply not considering these real issues that seem to continuously plague this business, which has paid over $91 billion in monetary and non-monetary settlements and fines under a barrage of litigation, and still seems unable to perform despite past quarters of positive earnings reports. While BAC bulls continue to wait for the share price appreciation that never seems to materialize, they are missing out on material wealth creation by the market's rise, and BAC peers are leaving the company in the dust.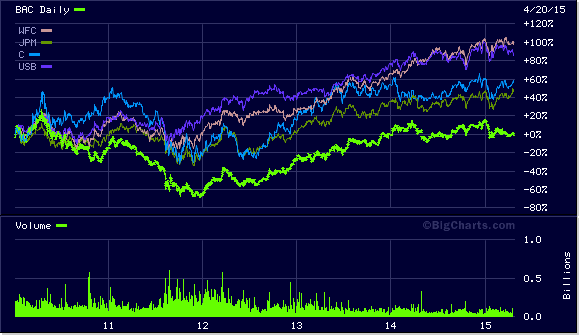 Bank of America By The Numbers
Examining the numbers alone, Bank of America is the riskiest institution in its peer group and the worst-performing financial institution within the group, as seen in the following chart:
| | | | | | |
| --- | --- | --- | --- | --- | --- |
| | Bank of America (BAC) | U.S. Bancorp (NYSE:USB) | Wells Fargo & Co. (NYSE:WFC) | Citigroup (NYSE:C) | JPMorgan Chase (NYSE:JPM) |
| ROA | 0.20% | 1.50% | 1.40% | 0.40% | 0.80% |
| ROE | 1.70% | 14.90% | 13.70% | 3.70% | 9.80% |
| Net Margin % | 4.50% | 28.00% | 25.90% | 9.50% | 21.30% |
| 3-yr Avg. Rev. Growth | -3.40% | 1.80% | 1.40% | -0.60% | -1.10% |
| Cumulative Performance 01/01/2010-04/20/2015 | 6.08% | 110.80% | 125.60% | 61.36% | 71.46% |
| Avg. Annual Performance 01/01/2010-04/20/2016 | 1.15% | 20.91% | 23.70% | 11.58% | 13.48% |
As if all these measures were not enough to prove out the thesis, further exploration into bad loans puts the exclamation point on my bearish thesis. BAC stands alone in this category when compared to peers.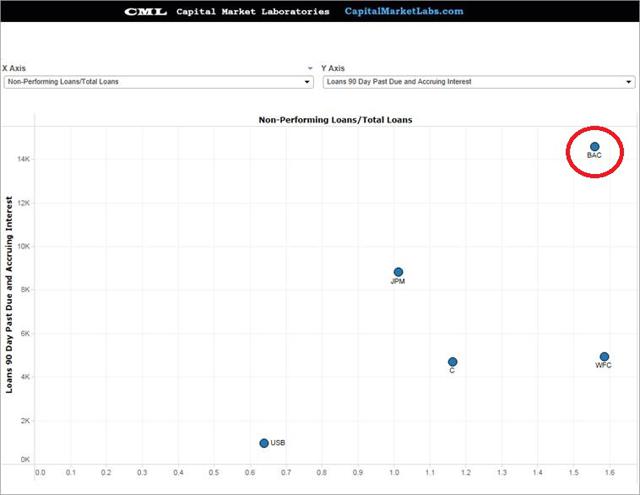 As I have stated in past pieces on BAC, the derivatives exposure is a risk that is not unique to BAC. The industry is lacking, in my opinion, the proper accounting methodologies to accurately account for the real risk borne by the owners of the firms in question. Of the four largest banks (C, JPM, BAC, WFC), three of the four (C, JPM, BAC) have total credit to capital ratios of over 100% as of the end of Q3 2014. Bank of America had a total credit to capital of over 107%. In the recently released fourth-quarter report, the value came down to 93%. While I applaud the reduction in the overall risk factor of the bank, the exposure is still considerable, and only eclipsed by JPM and C, which are running values well above 100% at 177% and 172%, respectively. Compare all three of these to WFC, which stands at a mere 22%, or USB, which stands at 4%.
It is important to explore the total credit exposure to capital ratio, instead of the net exposure on the financial statements to get a more full understanding of the derivatives exposure, for a number of reasons.
Disclosure is lacking, and the financial statements only provide part of the exposure by reporting the net derivative exposure. In my opinion, FAS 133 simply does not go far enough and forces investors to piece together multiple data points to understand the risk to which their capital is being exposed. This is not taking into account the additional challenges with other values reported on the financial statements such as FASB 157 and level three assets, another black box of risk.
The total credit figure reports nearly complete derivative exposure by adding the net value, with PFE, a necessary component, and a risk borne by investors.
Finally, one additional aspect of the derivative risk is found in the CVA, a changing value that would become material in a financial crisis. The CVA has its own issues because there is no standardized method for calculation across the industry, as EY stated in a recent publication. While this remains a largely unknown value, the total credit value should provide investors with the vast majority of the risk exposure to derivatives and allow them to make more informed decisions about the investments they choose to make.
Trouble Is Brewing At Merrill Lynch
There are serious challenges at Bank of America's wealth and investment management division. While both Goldman Sachs (NYSE:GS) and Morgan Stanley (NYSE:MS) reported positive gains in their wealth management businesses, BOA-Merrill Lynch reported a loss. The company is also under fire from within, as BAC has begun what many perceive to be an all-out assault on Mother Merrill, forcing long-time, highly-productive advisors to either conform or be fired for minor infractions, according to this piece:
"The civil unrest at the firm and bank has been raging for the better part of 18 months and certainly kept us busy. Old advisors are sick and tired of being pushed in new directions that they never believed their practices or careers would go. And if they don't make a good faith attempt to comply - the firm searches their book for hang nails hoping to wash the advisor out of the firm and keep as much of their assets as they can. Bet you can't wait to get fired for a violation such as 'e-mail retention' or failing to discuss alternate pay models. lol. In a cruel (or some would say warranted) twist a new set of advisors and clients have new found disdain for Bank of America and Merrill Lynch - the ever present millennial generation. Young advisors at the firm say that the PMD program is nothing more than a cattle call that ends with a swift execution."
While it is clear that the company is trying to attract new money and convert new clients to the Merrill Edge platform, which may be positive to earnings in the short term. However, the damage done to relationships with many advisors and their clients may be more detrimental in the long term to the overall earnings power of BAC. It is clear that the thundering herd of Merrill Lynch brokers is no more.
Conclusion
BAC remains a poor investment as it has been for the past five years of Mr. Moynihan's tenure and extending back over the 40-year period (1973-2013) demonstrated below:
BAC cumulative total returns in 5-year periods calculated 01/01-01/01:
= negative returns
1973-1978 = (67.81%)
1978-1983 = 59.57%
1983-1988 = 76.92%
1988-1993 = 146.11%
1993-1998 = 126.28%
1998-2003 = 13.86%
2003-2008 = 17.03%
01/01/2008-12/31/2013 = (71.49%)
Mr. Moynihan's Tenure: 01/01/2010-04/20/2015 = Total Return = 6.08%
S&P 500 total returns in 5-year periods calculated 01/01-01/01:
= negative returns
1973-1978 = 13.64%
1978-1983 = 72.48%
1983-1988 = 84.03%
1988-1993 = 82.68%
1993-1998 = 104.27%
1998-2003 = 6.38%
2003-2008 = 65.03%
01/01/2008-12/31/2013 = 54.34%
BAC vs. S&P 500 Variance
1973-1978 = S&P outperforms by 81.45%
1978-1983 = S&P outperforms by 12.91%
1983-1988 = S&P outperforms by 7.11%
1988-1993 = BAC outperforms by 63.43%
1993-1998 = BAC outperforms by 22.01%
1998-2003 = BAC outperforms by 7.48%
2003-2008 = S&P outperforms by 48%
01/01/2008-01/31/2013 S&P 500 outperforms by 125.83%
Total Period:
01/01/1973-12/31/2013 S&P 500 total return: 5,412.49%
01/01/1973-12/31/2013 BAC total return: 754.62%
Many believe that these returns have been distorted by the financial crisis. However, even omitting these numbers does little to benefit BAC.
Omitting the financial crisis period of 03/31/2008-03/31/2009 does nothing; S&P 500 still wins:
01/01/1973-03/31/2008 S&P 500 total return: 3,372.20%
01/01/1973-03/31/2008 BAC total return: 1,820.80%
04/01/2009-12/31/2013 S&P 500 total return:156.43%
04/01/2009-12/31/2013 BAC total return: 132.34%
Total period 01/01/1973-12/31/2013 with removal of financial crisis 03/31/2008-03/31/2009:
S&P 500 total return: 3,528.63%
BAC total return: 1,953.14%
Variance: S&P 500 wins by 1,575.49% nominally.
Comparing BAC to quality financial institutions like M&T Bank (NYSE:MTB), USB or WFC proves the point even more dramatically. WFC trounces BAC and the S&P 500 index for the period 01/01/1973-12/31/2013 with a total return of 7,793.22%, turning $10,000 into $789,321.84. USB did even better turning $10,000 into $2,258,398.13, with a return of 22,483.98%. MTB turned $10,000 into $1,809,974.08, with a return of 17,999.74%.
Bank of America has been a poor investment for the last 40 years, and nothing has changed today. I believe the current management continues to mismanage shareholders' capital as past management did. Ken Lewis, the previous CEO, got the firm in the mess it found itself in by aggressively going after many acquisitions, including Countrywide Financial and Merrill Lynch, in a seemingly indiscriminate fashion, thus exposing the firm to billions and billions of dollars in fines, and overpaying for what turned out to be virtually nothing but toxic assets, as was the case with Countrywide.
BAC is destined to underperform its peers for some time due to management's seeming inability to lead this cumbersome financial institution. I believe investors deserve better, and would be wise to seek out other investments that provide for a more competitive return on their hard-earned capital. For our money, we choose outstanding financial institutions with rock-solid balance sheets and expert management such as USB, under the outstanding leadership of Richard K. Davis.
Disclosure: The author is long USB, WFC, JPM.
The author wrote this article themselves, and it expresses their own opinions. The author is not receiving compensation for it (other than from Seeking Alpha). The author has no business relationship with any company whose stock is mentioned in this article.
Additional disclosure: This article is for informational purposes only and is not an offer to buy or sell any security. It is not intended to be financial advice, and it is not financial advice. Before acting on any information contained herein, be sure to consult your own financial advisor.