By Michael Barton
Kodiak Oil and Gas Corp (NYSE:KOG), operates oil and gas fields in the United States, predominantly in North Dakota and Montana, Wyoming and Colorado. It has been acquisitive of late, purchasing further acreage and shareholders have been rewarded with a fine performance over the last 12 months.
KOG shares are currently trading around $7.50, and the mean 12 month price target from analysts researching the stock is $9.31 (20% upside potential). This stock is trading above its 50-day exponential moving average of $6.60, and its 200-day exponential moving average of $6.01. Looking at the chart, the break above these averages, which occurred in mid October, is longer term positive. Technically, the share price move above $7 is the sign of a major breakout, particularly coming from the lows set in early October.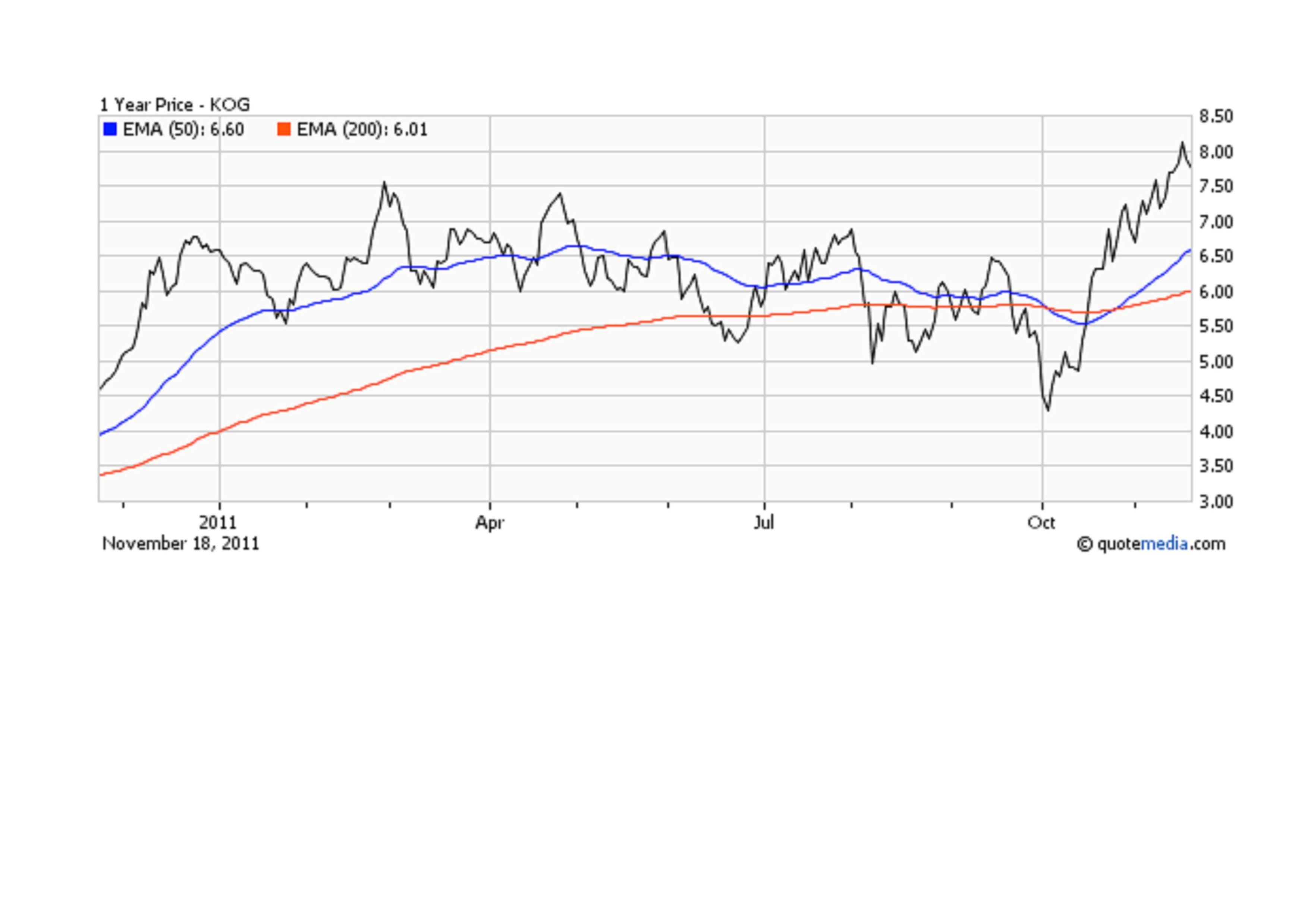 Earnings per share for the last 12 months are $0.18, and these are expected to rise strongly to $0.78 in the next fiscal year (ending December 2012). These numbers place the shares on a trailing price to earnings ratio of 42.82, and a forward multiple of 9.94. Competitors Double Eagle Petroleum (NASDAQ:DBLE) and Gasco Energy (GSX) are not expected to turn a profit over the next 12 months, and Marathon Oil (NYSE:MRO) trades on a forward multiple of 7.66.
For investors looking at dividend paying stocks, KOG pays no dividend at present, though with its earnings increasing at such a rate the company has scope to take a lead from MRO, which pays a yield of 2.3%.
Current operating margin at KOG is 44.23%, with a return on assets of 5.20% and a return on equity of 9.99%. MRO's operating margin of 6.77% is much lower, though it produces a return on equity of 11.31%.
The current revenue from KOG's income statement is $76 million, and last quarter's revenue showed year on year growth of 263.20%. KOG has cash of $78.64 million, and debt of just $55 million. It debt/equity ratio is a small 10.66.
Looking at the 12-month chart, shareholders in KOG have seen a near doubling of the share price over 30% over the last 12 months. The chart pattern tells me there is more to come, as does the positive news flow from the company:
Its Willston Basin Drilling program is moving very positively;
Along with its results posted on November 3, the company announced that it expects production to reach 9,000 BOe/d by December 31 this year. This is double the number from the first half;
It has announced the acquisition of a further 50,000 acres and 3,500 BOe/day in the Heart of Bakken Trend;
This acquisition was to be financed partly by the placing of $550 million of senior motes due 2019;
This offer has been increased to $650 million, and the interest rate on these notes will be 8.15%.
Overall, the trading pattern of KOG shares, and its strong and positive news flow leads me to believe that the best is yet to come for holders of the shares. With the offer of senior notes, it not only finances its latest acquisition, but pays off first lien debts, and second lien debts, paying for all associated fees and expenses.
On top of this, the company will fund capital expenditure programs related to drilling, development, and infrastructure in the Bakken play. Revenues from increased production – which are expected to increase to over $475 million in the year ending 2012 – should easily meet the interest payments on these senior notes, and offer the means to repay the notes when due. Investors should look forward to further out-performance from this investment.
Disclosure: I have no positions in any stocks mentioned, and no plans to initiate any positions within the next 72 hours.