This monthly series compares relative strengths of eight stock indexes by yield using projected annual dividends from $1,000 invested in the ten highest yielding stocks in each index. This is one part of an ongoing effort to determine which dividend stocks are good, better, best, bad or ugly.
The effort also aims to uncover strong evidence of the need to heed Yale professor Robert Schiller's observation:
People still place too much confidence in the markets and have too strong a belief that paying attention to the gyrations in their investments will someday make them rich, and so they do not make conservative preparations for possible bad outcomes.
A previous post in October ranked the dividend stocks of eight indices by risk in the following order, from most risk to least:
Russell 1000 Index Stocks
Transitioning from Russell 2000 stocks to the 1000 list in October brought some diversity to the list, along with higher-capitalized firms bringing lower risk. These are seven financial, one service, one technology, and one industrial firm paying big dividends. In November American Capital Agency Corp. (NASDAQ:AGNC) is atop of the list at 19.92% yield, followed by Teekay Takers (NYSE:TNK), a service firm.
Top Stocks by Sectors
Composed of top dividend payers regardless of index, and limited to three stocks from each of nine sectors. Those in the top ten include three financials, two basic material firms, two service companies, and three technology companies. Chimera Investment (NYSE:CIM) a financial firm is tops with an November 11 yield of 19.92% for this index.
The best of the top ten S&P 500 dividend paying stocks is again Frontier Communications (NYSE:FTR), with a 13.18% November 11 indexarb.com yield for this index.
These international dividend stocks feature ten European-based companies on the NYSE showing the highest dividend yields in November. YPF Sociedad Anonimia (NYSE:YPF) heads this list in November with a 9.28% yield.
Shown below are current top yielding stocks primarily from the Technology and Service Sectors. Vodafone (NASDAQ:VOD) is tops by yield at 5.30% as of November 11 in this index.
Dow Stocks
Below are the current Dow Dogs. AT&T (NYSE:T) remains atop this index with a 6.72% yield for November 11.
S&P 500 Aristocrat Stocks
These are ten top yielding stocks from companies paying and increasing dividends each year for 25 years or more on the S&P 500 Index. CenturyLink (NYSE:CTL) is tops in yield again at 7.67% as of November 11 on this index.
JPMorgan Sovereign Stocks
Below are ten November top stocks by yield on a list first published July 22, 2011 by Thomas Lee, an equity strategist with JPMorgan, titled "Corporates are the New Sovereigns: 22 stocks to own around sovereign default." Merck (NYSE:MRK) had topped this list since January but was replaced at the top by Lockheed Martin (NYSE:LMT) for October by virtue of a September 22 one dollar annual dividend increase. In November LMT yield is at 5.08%.
Top Ten Companies in Each Index
Click tables to enlarge.

Any variations in divided projections from identical stocks on separate lists result from data coming from separate sources. For example PBI projected annual dividend is listed as $1.50 at $19.44 in the 11/11/11 indexarb.com database used for the S&P 500 Index but as $1.48 at $19.44 by the 11/11/11 Yahoo Finance data used for the S&P 500 Aristocrats Index.
See the Dancing Indices of 2011 from Projected Dividend Dog Yields
The following graph shows annual dividends projected from $1,000 invested in each of ten stocks with the top yields in eight indices (a total of 80 stock investments). The chart plots projected yields as of a specific purchase date near the middle of each month going back to January. Projected yield increases were most frequent as average stock prices within each index fell. Bull market reversals in several indices forced yields down as recent prices increased.
Relative yield strengths differentiate the indices on the graph. The JPM Sovereigns, Dow (NYSEARCA:DIA), Nasdaq (NASDAQ:QQQ), and Aristocrats show lower yields with less pronounced swings. The NYSE International and S&P 500 (NYSEARCA:SPY) stocks display slightly higher yields than the lower volatility group.
The Russell Index and Top Yielding Sectors declare the highest yields and the greatest rate of increase during the past months. The top indices exchanged positions in October by virtue of the reporters changeover from Russell 2000 to higher cap Russell 1000 stocks in that index.
Annual Dividends Forecast from $1,000 Invested in Each of 10 Top-Yielding Stocks In 8 Indices
Click chart to enlarge.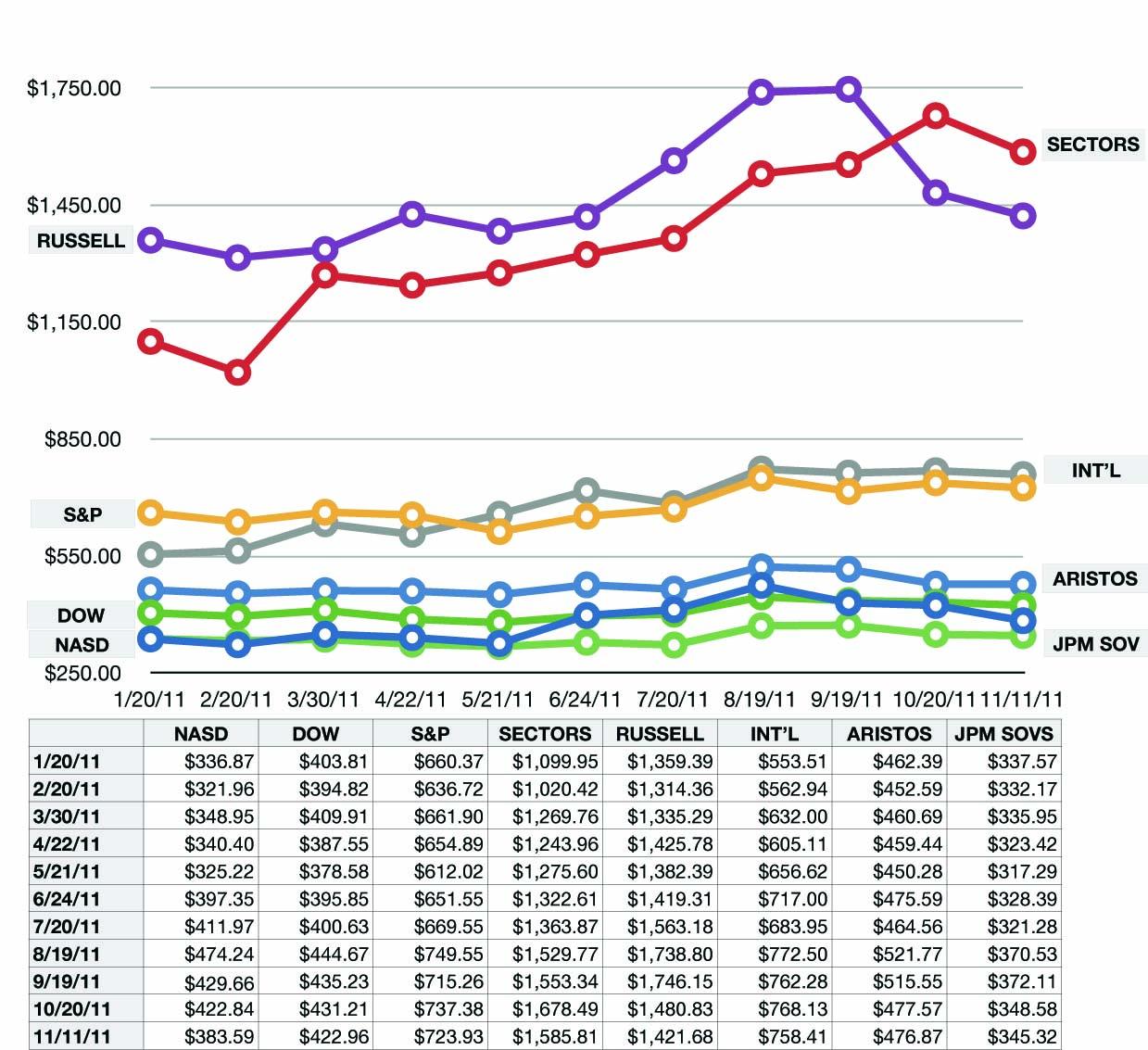 Click to enlarge.
Conclusion
Projected dividend yield amounts from eight indexes over the past eleven months point to a welcome leveling then decline in the stock market price plunge that began in May. These eight representative market indices display their relative strengths in top end dividend yield.
For example, two indices, (the Nasdaq and S&P 500) crossed paths between April and August and now parallel each other showing slightly declining yields. The most active and erratic lower volatility index over the summer by yield, the Nasdaq, is now back below the Dow in yield by $40 in November.
These eight indices and their component stocks have ongoing stories to tell. This graph and list of companies will be updated again for publication in December and thereafter.
Disclaimer: This article is for informational and educational purposes only and shall not be construed to constitute investment advice. Nothing contained herein shall constitute a solicitation, recommendation or endorsement to buy or sell any security.
Disclosure: I am long T, VZ, INTC, CVX, JNJ.