The Baupost Group was founded in 1983 by Seth Klarman, who is regarded as one of the best value investors of this generation. Klarman started at Baupost straight out of Harvard Business School, and has been running it for over two decades now. Klarman's book, Margin of Safety, lays out his investment philosophy and is a "must-have" for any true value investing disciple (although it's no longer in print and very difficult to find).
While Baupost is not solely focused on US equities, because of Klarman's long-term view and relatively low turnover, there is a lot of information to be gleaned from looking at his reported positions over time.
We present a time-series report of shares and market value of stocks (and bonds) held by Baupost as of Q3 2011:
Top 20 positions shown over 7 quarters – full report available upon request: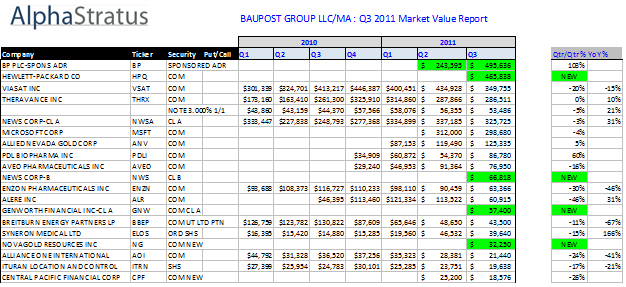 If you remember from last quarter, Klarman's big new bets were Microsoft (NASDAQ:MSFT) and British Petroleum (NYSE:BP). This quarter, he doubled down on BP and left MSFT untouched. Also, of the top 20 positions, 4 new ones were initiated – one of which is a top 5: Hewlett-Packard (NYSE:HPQ), News Corp (NASDAQ:NWS), Genworth Financial (NYSE:GNW) and NovaGold Resources (NYSEMKT:NG).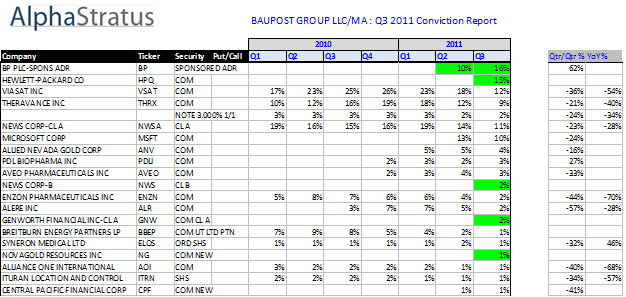 HPQ is clearly Baupost's biggest new bet, at 15% of total reported long positions. Two positions were dropped from last quarter: Audiovox Corp (NASDAQ:VOXX) and Capitalsource (NYSE:CSE) but each were very small positions (1% and 3%, respectively) that he had been selling off over time.
HPQ was one of Paulson & Co's big bets last quarter, and it contributed to its poor Q3 performance. It appears, however, that while Paulson did his homework on HPQ, it looks like Klarman waited until the price was right to get in -- and he got in big:

One other relatively new position in the Baupost US equity portfolio was increased by approximately 69%, which was PDL BioPharma (NASDAQ:PDLI):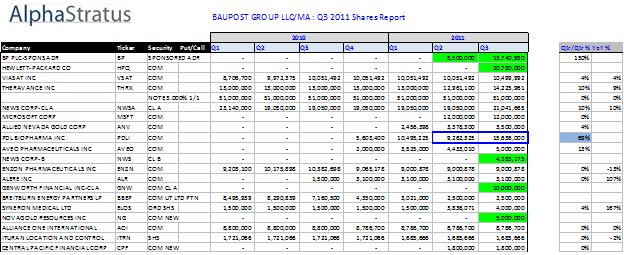 Interestingly, PDLI has a 10% dividend yield and is trading at less than 8x earnings. PDLI owns and manages patents that it licenses out to biotech and pharmaceutical companies.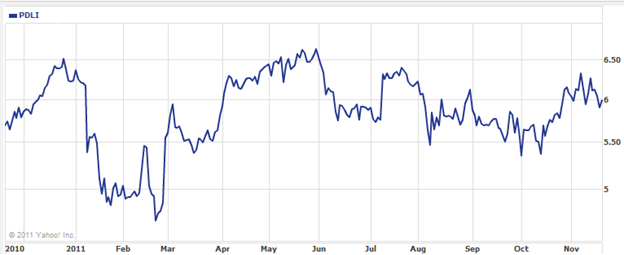 There were some interesting moves in Baupost's portfolio this quarter, including a big bet on HPQ (at what appears to be the right time) as well as a small (but solid dividend paying) biotech. As always, there's plenty of good info to be had from following the masters.
Disclosure: I have no positions in any stocks mentioned, and no plans to initiate any positions within the next 72 hours.