Peak oil at one time was dismissed as lunacy. Reality, however, is now setting in. Recession, U.S. over-supply ... none of it has halted a steady march up in oil prices off 2009 lows. This is not surprising. Emerging market demand has skyrocketed and world conventional oil production, according to the International Energy Association, has been in decline since 2007.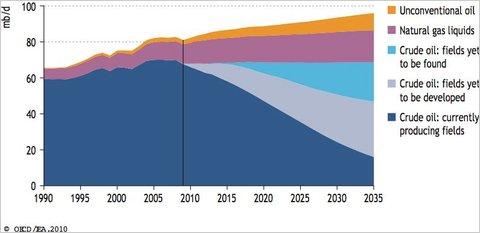 Major oil fields around the world: East Texas, Alaska, the North Sea, Mexico, Russia, and yes even the Middle East are in decline. New sources must be found to make up the deficit.
Oil and gas production is in the middle of a quiet revolution. Increasingly, it's extracted from unconventional sources such as shale beds and oil sands. Bloomberg Businessweek says North Dakota oil production will leapfrog California and may pass Alaska sometime next year, leaving only Texas producing more. North Dakota oil is almost all unconventional Bakken Shale Oil.
Need a job? Go to the booming oil town of Williston North Dakota. Best bring your motor home with you though - it's nearly impossible to find lodging.
Here are three of the larger players in the burgeoning U.S. shale oil industry. All have rapidly growing revenues and reserves. Originally large natural gas companies, they had the foresight to see fracking potential and get early into shale gas and oil, and now to emphasize the more profitable liquids. Less nimble Internationals, late to the game, are now paying premium prices to these early entrants to get shale acreage.
Data below sourced from Yahoo Finance
Chesapeake Energy (NYSE:CHK)
Market Cap: $16.9B Quarterly Revenue Growth, year over year: 54% Cash: $111M, Total Debt: $11.8B
Chesapeake, under CEO Aubrey McClendon, has pulled out all stops to acquire shale acreage. According to Yahoo Finance the company has properties in "Alabama, Arkansas, Colorado, Kansas, Kentucky, Louisiana, Maryland, Michigan, Mississippi, Montana, Nebraska, New Mexico, New York, North Dakota, Ohio, Oklahoma, Pennsylvania, Tennessee, Texas, Utah, Virginia, West Virginia and Wyoming." Well ... You get the idea - if there is shale around Chesapeake is probably also around.
Chesapeake has 17 trillion cubic feet of proved natural gas equivalent reserves and is constantly looking for more. It has interest in approximately 45,800 wells. Only the largest oil company in the world, Exxon, produces more natural gas than Chesapeake.
Of course, all that land acquisition and drilling has left Chesapeake with very little cash left over. No problem. They keep things going with asset sales to land hungry majors such as BHP Billiton (NYSE:BHP), TOTAL SA (NYSE:TOT), and CNOOC (NYSE:CEO). Another cash raiser: spinning off the Chesapeake Granite Wash Trust (NYSE:CHKR) to investors.
Devon Energy (NYSE:DVN)
Market Cap: $27.6B Quarterly Revenue Growth, year over year: 29% Cash: $6.8B Total Debt: $9.3B
Devon recently sold all its international assets in order to focus on production in onshore North America. In a Letter to Shareholders the company notes that despite the asset sales it has increased proven reserves.
Remarkably, in spite of selling roughly 200 million equivalent barrels of proved reserves associated with the Gulf and international operations, Devon increased [total] proved oil and gas reserves to a record 2.9 billion barrels.
The sales have put $6.8 billion cash in Devon's till. Net debt is only $2.4 billion compared to Chesapeake's $11.7 billion. Devon can afford to wait. It has the cash to add choice acreage parcels to its already extensive land holdings - when the price is right. Devon seems to have it all, acreage and cash.
The company is active in the Rocky Mountain, Mid-Continent, Permian basin, and Gulf Coast areas. It is also in the Canadian provinces of Alberta, British Columbia, and Saskatchewan.
As of December 31, 2010, the company had 2,042 million barrel of oil equivalent of proved developed reserves.
EOG Resources (NYSE:EOG)
Market Cap is $27.7B Quarterly Revenue Growth, year over year: 31% Cash: $1.39B Total Debt: $5.23B.
EOG was one of the earliest to see potential in shale gas and oil. Over 80% of EOG's reserves are located in the U.S. The company has a large presence in four of the best shale basins: The Bakken (North Dakota), Eagleford (Texas), Marcellus (Pennsylvania), and Utica (Ohio).
EOG recently far exceeded analyst third quarter earnings expectations; liquids production also jumped 49%.
Additional Observations
Pipeline companies Enbridge (NYSE:ENB) and Enterprise Products (NYSE:EPD) have just recently decided to reverse the flow of oil in the Seaway pipeline. Instead of oil flowing into Cushing it will flow out. The "bottleneck at Cushing" of mid-continent oil from Canadian oil sands and mid-continent shale will now have an outlet to Gulf Coast refineries. This will bring WTI prices more in line with Brent - benefiting all U.S. shale oil producers.
Chesapeake, Devon, and EOG also have extensive natural gas acreage. If and when natural gas prices rise, these companies will be in a great position to profit. Most money today is made from oil but natural gas may be a huge future bonus.
Currently Europe is in the throes of a major debt crisis. The U.S. and Japan may not be far behind. In the near term deflationary forces may drop oil prices. Eventually, however, the world's central banks may be forced to print - monetizing debt. Euros, Dollars, and Yen are all paper assets. I prefer real assets such as shale oil companies instead of holding paper assets such as bonds.
Which ones to buy? Perhaps a small stake and each and see how they perform.
Disclaimer: This article is informative only - not personalized advice. Do your own research and due diligence before investing. I am long CHK, DVN.