Spanish Elections, Fresh Troubles for Greek Bailout
In Spain, the opposition conservative People's Party roared to the biggest post-Franco regime election victory of any political party in Spain over the weekend, scoring 186 seats in the 330 seat lower house.
Funny enough, although the economic depression and austerity policy has swept away the incumbent socialists, absolutely nothing will actually change in terms of the policy. Incumbents always lose power during secular economic contractions, but this does not mean that voters actually got to choose an alternative set of policies.
As one Spaniard put it very eloquently:
We can choose the sauce they will cook us in, but we're still going to be cooked.
The leader of the People's Party, Mariano Rajoy had this to say:
Rajoy's bitter medicine for the economy will probably make things worse before they get better. But he has said Spaniards are prepared for the painful austerity that is needed to reduce a swollen public deficit threatening to push the euro zone's fourth economy toward a perilous bail-out.

"I ask you all to keep helping me. Difficult times are coming," Rajoy, 56, told ecstatic supporters in his victory speech at PP headquarters.

"Spain's voice must be respected again in Brussels and Frankfurt… We will stop being part of the problem and will be part of the solution."
While Rajoy promised an even more pronounced sweep of fiscal austerity, the problem from the point of view of financial markets is once again time. As Bloomberg reports in the same article linked above:
Spain's borrowing costs are at their highest since the euro zone was formed and yields on 10-year bonds soared last week to close to 7 percent, a level that forced other countries such as Portugal and Greece to seek international bail-outs.

Rajoy will not be sworn in until around December 20, which could prove an agonizing transition if volatile markets push Spain's borrowing costs even higher because of uncertainty. Closing his campaign Friday Rajoy pleaded with investors to give him time to act, and could try to agree immediate measures with the outgoing government.

But a resolution may well now be out of the hands of individual governments, whatever action they take, with the escalating euro zone crisis now spreading under its own momentum in the absence of a united European response.

"Mr. Rajoy is coming to power when the euro zone's very existence is in question. Spain is now a test case of the measures needed to restore market confidence and improve creditworthiness," said Nicholas Spiro, head of Spiro Sovereign Strategy.
We doubt the markets will wait until December 20, to then learn what he might do differently. In fact, Spanish bond yields continued to soar to new highs in today's trading.
Meanwhile, the refusal of Antonis Samaras, the leader of the Greek New Democracy Party, to sign any pledged to the 'troika' has once again put the Greek bailout into grave doubt. The EU has decided to play hardball and is insisting on his signature. Unfortunately that means he has painted himself into a corner and will find it extremely difficult to back out without losing face. Samaras' arguments do make economic sense by the way and he evidently wants to retain some flexibility once he wins the election in February, as he expects to do. Alas, if he remains stubborn, Greece will suffer a 'disorderly' default as soon as December. According to Bloomberg:
Greek political leaders including Antonis Samaras, head of the New Democracy party, must pledge support in writing for Greece's budget-austerity program for the nation to receive a sixth installment of international aid, the European Commission said.

"A clear and unequivocal commitment in writing by the political forces in Greece" for the austerity plan is needed for the next installment of aid under last year's 110 billion- euro ($148 billion) package, Amadeu Altafaj, spokesman for the European Union Economic and Monetary Affairs Commissioner Olli Rehn, told reporters today in Brussels. "At this stage, we don't have it."

Samaras, whose party is a member of the country's unity government, has balked at the demand, telling officials from the EU, the International Monetary Fund and the European Central Bank that he has already taken five actions that show his party's full commitment to the program, the state-run Athens News Agency reported on Nov. 19.
The Greek situation once again promises to become interesting in other words.
Euro Area Credit Market Charts
Below is our customary collection of CDS prices, bond yields, euro basis swaps and several other charts. Both charts and price scales are color coded. Prices are as of Friday's close in the case of CDS (these are only updated later in the day on Bloomberg), and as of Monday's close in the case of bond yields and basis swaps.
On Friday, there was a slight dip in CDS prices and bond yields, but today Spain's and Italy's bond yields once again rose. Euro basis swaps dive ever deeper into negative territory, denoting a sharp deterioration in dollar funding for euro area banks.
(Click charts to enlarge)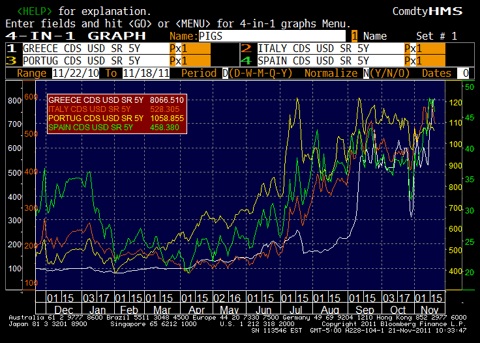 5-year CDS on Portugal, Italy, Greece and Spain – another new all time high for CDS on Greece, at an incredibly 8,066 basis points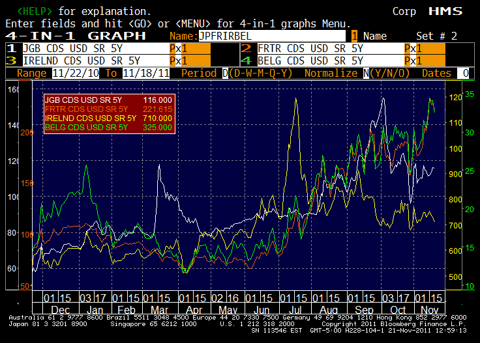 5-year CDS on France, Belgium, Ireland and Japan – all pulling back slightly on Friday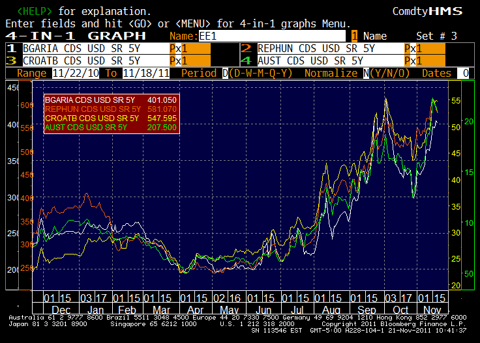 5-year CDS on Bulgaria, Croatia, Hungary and Austria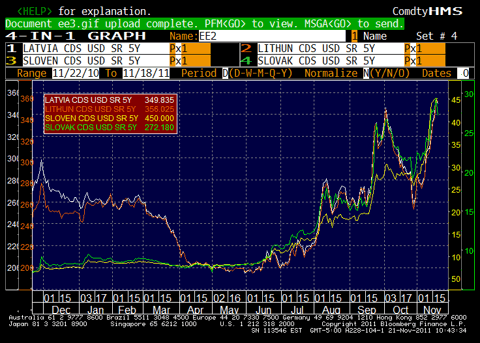 5-year CDS on Latvia, Lithuania, Slovenia and Slovakia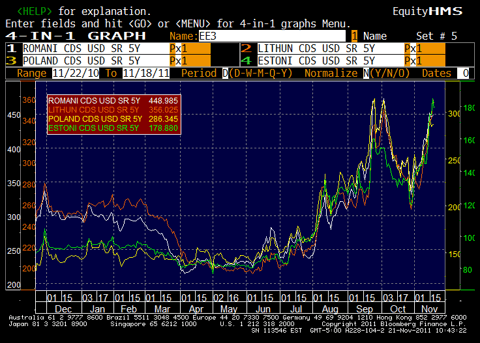 5-year CDS on Romania, Poland, Slovakia and Estonia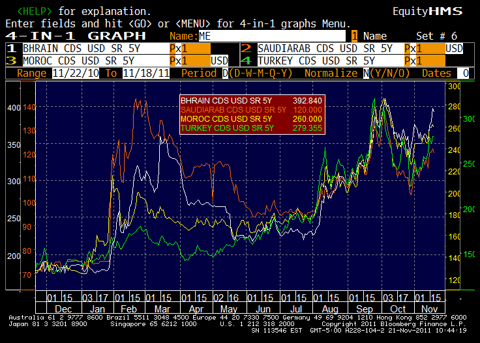 5-year CDS on Bahrain, Saudi Arabia, Morocco and Turkey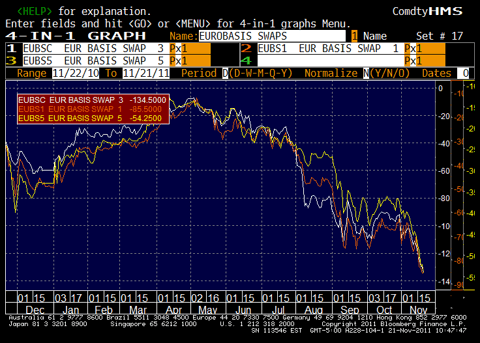 Three month, one year and five year euro basis swaps – one again plunging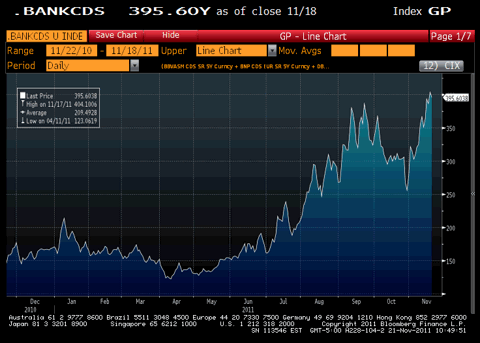 Our proprietary unweighted index of 5-year CDS on eight major European banks (BBVA, Banca Monte dei Paschi di Siena, Societe Generale, BNP Paribas, Deutsche Bank, UBS, Intesa Sanpaolo and Unicredito) – just off an all time high on Friday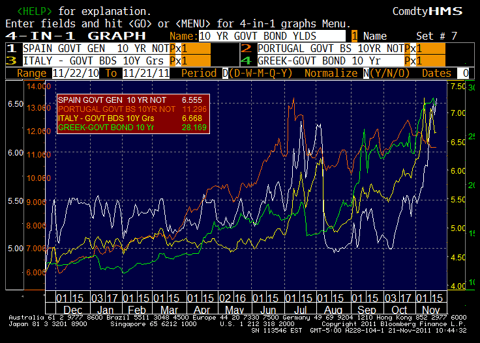 10-year government bond yields of Italy, Greece, Portugal and Spain – Spain's yields reach a new 15-year high after the election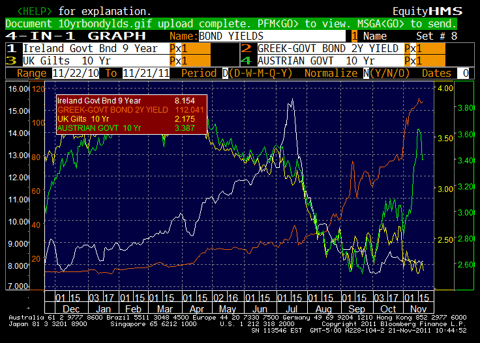 10-year government bond yield of Austria, the 9-year government bond yield of Ireland, UK Gilts and the Greek 2-year note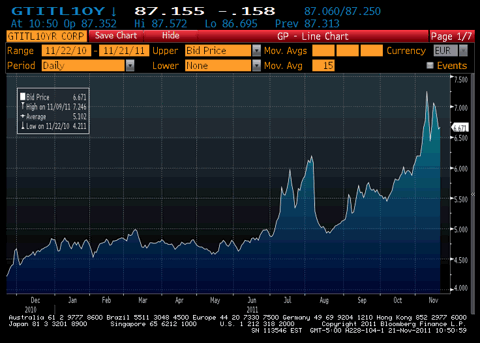 10-year government bond yield of Italy – rising again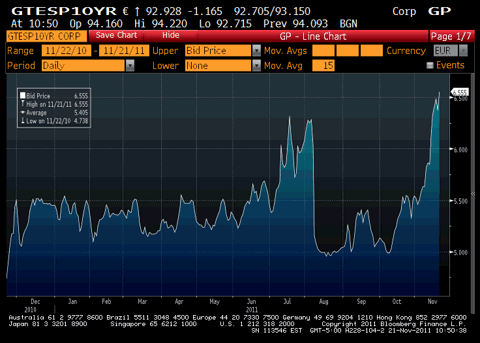 10-year government bond yield of Spain - a new closing high was reached in Monday's trading, at 6.555%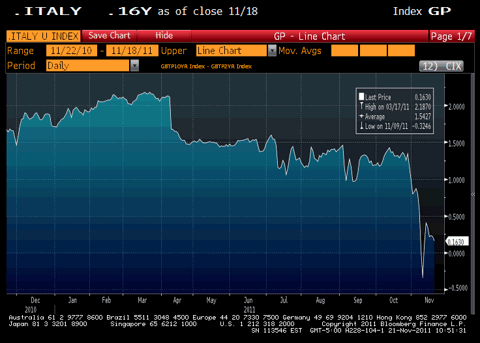 Italy's 10/2 spread moves ever closer toward inversion – only 16 basis points are left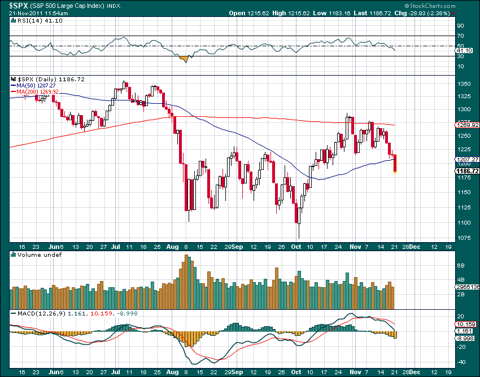 At the time of writing Monday, the SPX was in steep decline. We will post an updated Elliott Wave interpretation tomorrow, in the meantime let it only be said that the stock market seems to be belatedly reacting to the growing danger emanating from the euro area debt crisis. Moreover, it appears that the MF Global scandal is even bigger than was hitherto assumed – $1.2 billion in customer funds have allegedly 'disappeared.'
Charts by: Bloomberg