"By pausing further international expansion and halting buybacks, our current cash on hand is adequate to support the growth of the business."

-Netflix Letter (.pdf) to Shareholders, October 24, 2011
A month can't go by without another piece of devastating news from everyone's favorite train-wreck/Soap Opera, Netflix (NASDAQ:NFLX). This time, it's the announcement that Netflix is raising $400 million in cash, half of which is through stock sales at $70/share and the other half through convertible bonds. This is a startling admission that Netflix has serious problems that threaten its survival.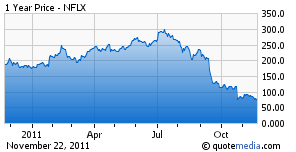 We already know that the revenues can't keep up with the ballooning debt, that Netflix is not growing, and international expansion is draining the company further. Now, Netflix management is admitting those facts to us, and not because they want to. The self-created Netflix Death Spiral is no longer imminent, it's here and it will destroy Netflix.
Make no mistake, this is a desperate move by a desperate company. Look again at the quote at the top, that wasn't even 4 weeks ago and now the company is raising cash. You don't do a very public one-eighty and raise capital if you don't really need it. It's already a precarious time for Netflix and its stock, it isn't going to pour gasoline on the fire unless it has to, it already learned that lesson after the Qwikster debacle that followed the price increase. So clearly there is a liquidity concern considering the public fallout this move will generate and how it will affect the stock price. It's the right decision, but only because of how bad the situation is.
To quickly recap the deteriorating financials, total debt now exceeds $4.5 billion, revenue only grew 4% from Q2 to Q3, subscriber growth has waned considerably if it even exists at all anymore, and it's worth noting that the total debt of $4.5 billion now exceeds the market cap of $3.8 billion. The debt is rapidly growing and revenues are stagnant; Netflix had no choice but to raise cash here.
The fact that half of this capital is coming from stock sales at a $70 share price should be truly alarming for shareholders. This is the same company that spent $40 million only 3 months ago (and $200 million in the last 12 months) buying back stock at an average price of $228/share. Even the master spin-artist Marc Benioff from Salesforce.com (NYSE:CRM) couldn't put a positive spin on this, let alone Reed Hastings at Netflix, and if you read the releases from Tuesday, it's obvious he didn't even try.
Instead, he clarified that all of 2012 will indeed be unprofitable for Netflix. Furthermore, the willingness to sell shares at these prices after buying back so much stock just last quarter and last year suggests a dire need for capital. Not only does this capital injection look terrible in terms of public perception, but it also makes it crystal clear that Netflix has no reason expect a share price rebound on the horizon. In other words, the company does not see any good news on the horizon.
Speaking of Reed Hastings and the buybacks, if this doesn't put a lid on the asinine comments that Reed Hastings is a "genius," then nothing will. This is managerial malpractice at its finest. Since the beginning of 2010, Netflix has bought back over $400 million in stock. In the last 12 months ending Sept 30, 2011, Netflix bought back $200 million, half of which was over $200 a share. To give those numbers some relevance, Netflix's free cash flow for that same 12 month period was $204 million. Think about that, Netflix spent 98% of its free cash flow in the last 12 months buying back stock.
Meanwhile, debt was exploding and competition was ratcheting up, yet for some reason buying back stock was the best use for all of their cash. Even more outrageous is the timing. The spent $40 million in the 3rd quarter alone, at an average price of $228, only to turn around and sell shares 3 months later at a 69% discount. That is an astonishing destruction of shareholder money.
The Price "Increase" is Actually Hurting Revenue
I've stated in previous articles that the price "increase" would amount to an insignificant revenue boost at best and a big revenue decline at worst. The reason is simple. The previous lowest tier pricing was $10/month, that got you 1 DVD at a time and access to streaming. Instead of keeping the bundle pricing, Netflix now charges $7.99 for each service with no discount for getting them both. Netflix stated in its Q3 10-Q that the number of subscribers who get both services is declining, and the vast majority of new signups opt for 1 service or the other.
That means on all those subscribers, Netflix now makes $7.99 instead of $9.99, a 20% drop. Considering the willingness to sell shares so soon and at a dramatically lower price, it looks like the price change did not help average revenue per customer, at least not enough.
International Expansion
I've said just about all I have to say in previous articles about why this will not make any significant impact on revenue. But if you don't believe me, ask yourself these questions. If international expansion is a promising venture, why did Netflix announce it is suspending it aside from the UK and Ireland? If business is so promising in the UK and Ireland, then why does Netflix not expect profits for 2 years? If the UK/Ireland play is not a huge cash drain on the company, then why has Netflix gone from saying the cash on hand was adequate to support it, to 3 weeks later raising cash in a desperate fashion?
Not a Takeover Target
I made my case about why Netflix is not a takeover target here. Perhaps most importantly though, Netflix comes with over $4 billion in streaming content obligations due within 4 years, and those deals do not have provisions to be altered or voided in the case of an acquisition. So whoever buys Netflix will be on the hook for $4 billion within 4 years; that will probably scare away most buyers. Besides, even the 3 companies that have the money aren't interested. Apple (NASDAQ:AAPL) doesn't do subscriptions and it already has a streaming infrastructure with iTunes and hundreds of millions i-devices. Google (NASDAQ:GOOG) has YouTube. Amazon (NASDAQ:AMZN) has prime and it doesn't want the Netflix physical presence in so many states for sales tax reasons. What do any of these three titans need with Netflix?
Hollywood Getting Skeptical?
This is a point constantly made by Len Brecken, one of the most vocal and prescient Netflix shorts (check out Rocco Pendola's excellent Netflix interview with Len here and here). The issue is that since the Netflix bad news gets lots of press, what happens when the studios start questioning whether Netflix will ever be able to pay them for the outrageously expensive content deals? There will come a time when Netflix can't convince the content owners that it has the revenue to support any new deals given its massive debt load. What about when it comes time to renew existing deals, will that even be an option?
Still Time to Short?
I have been short this stock via put options since late July. I still have a big position and added more puts Tuesday. After every big drop people ask, "Is there still time to short it?" The answer never changes, it's always yes. The only thing that does change is the conviction, which increases every time there is news like this. I liked this short at $280, I loved it at $125, and I love it even more at $70.
Think about how the information changed as the stock fell. When the stock was at $280, Netflix was still making $4/share and was projected to make $6/share in 2012. Now, it will make $3-$3.50 share in 2011 and will lose money for all of 2012, and the management team has since proven it has no idea how to keep customers happy, how to allocate its fragile capital structure, or even how to turn a profit any more.
There's always a big piece of news that causes a big drop in this stock. The fundamental story keeps getting decisively worse for Netflix, and there is no legitimate catalyst that could suddenly turn this thing around - the math just isn't there and Netflix has just admitted that to us. Don't over-think this one, there is no bottom here, and there is still plenty of bad left news to come and there is still plenty of money to be made on the short side. It's a gift that it held above $70 today, go take advantage of it.
Disclosure: I am short NFLX.
Additional disclosure: I am a semi-satisfied Netflix streaming customer.