Back in the late 1990s (the high-tech bubble era), there were two satellite radio-broadcasting companies, Sirius (NASDAQ:SIRI) and XM-Radio, each trading north of $40, as the momentum crowd chased after their shares, cheering anytime an auto-maker would sign up with either company; and focusing on the popular stock market metric at the same time Earnings Before Interest, Depreciation and Amortization (EBIDA); and subscription rates (though the first six months were for free).
In the early 2000s, as the high-tech bubble burst, the momentum crowd deserted the stock of the two companies that eventually had to merge to survive, forming Sirius XM Radio. But the new stock continued to descend, trading in pennies, before the momentum crowd re-discovered it and pushed it close to the $2 mark. What has changed?
The merger of the two companies allowed the new entity to become a monopoly in satellite broadcasting, while reaping of the benefits of economies of scale associated with a larger organization. This eventually helped the company to improve its fundamentals, attracting a new momentum crowd, dreaming of the stock's old glory days. But unfortunately, they won't come, as Sirius is still on shaky ground facing several challenges:
A shaky technical chart. While the price of the stock has improved, it still trades below the 100 and 200-moving averages.
Shaky financials. A low profit margin of 9.2 percent, and an astronomical Total/Debt to Equity of 492.

A technology challenge. With the rapid change in broadcasting technologies, and the Internet radio gaining ground, it is a matter of time before satellite-radio becomes obsolete.

The economic challenge. Satellite subscriptions are part of consumer discretionary spending that is usually negatively affected by a weak economy.
As is the case with other broadcasters and content distributors, satellite radio is at the mercy of content producers. Just see what Starz Group (LSTZA) did to Netflix (NASDAQ:NFLX).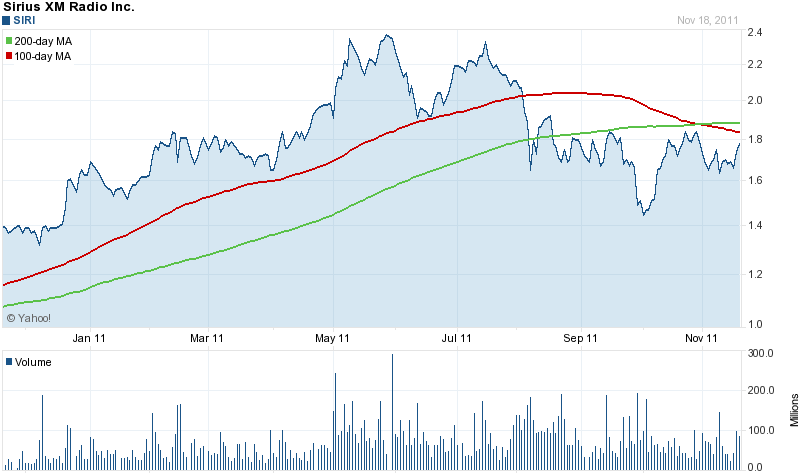 In short, Sirius is a "falling" rather than a "fallen angel." I will avoid the stock.
Disclosure: I have no positions in any stocks mentioned, and no plans to initiate any positions within the next 72 hours.