While the New Zealand dollar has fallen in recent days due to lower rate expectations, its underlying economy is strengthening. The U.S. dollar has fallen nearly 14% against New Zealand's currency since July, seen below.
New Zealand's currency experienced a barrage of selling pressure after Reserve Bank of New Zealand policymaker John McDermott discussed holding off on tightening policy.
"At present, the bank is not considering any increase in interest rates. Before considering any tightening in monetary policy, we would need to be confident that increased capacity utilization and labor market tightness was generating, or about to generate, a substantial increase in inflation," reported the Financial Times.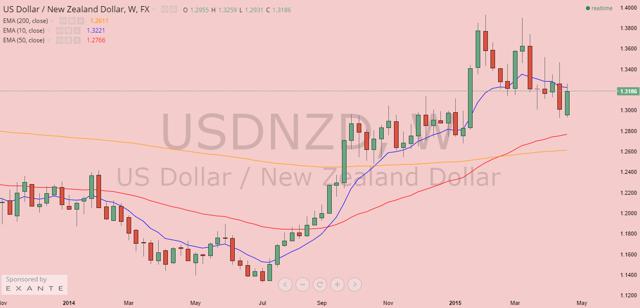 Data provided by Trading View
Policymakers are correct, inflation is low. In the first quarter, the inflation figure came in at an annual pace of 0.1%, down from the previous quarter's reading of 0.8%, while also missing estimates for 0.2%. Since peaking at over 5% in 2011, price measures have been drastically reduced. Weak energy costs weighed heavily on the measure.
"The prices of tradable goods and services (which face foreign competition) decreased 2.8 percent in the year, with lower prices for petrol (down 15 percent) and for audio-visual and computing equipment (down 13 percent). Tradable prices are now at their lowest level since the June 2009 quarter," according to Trading Economics.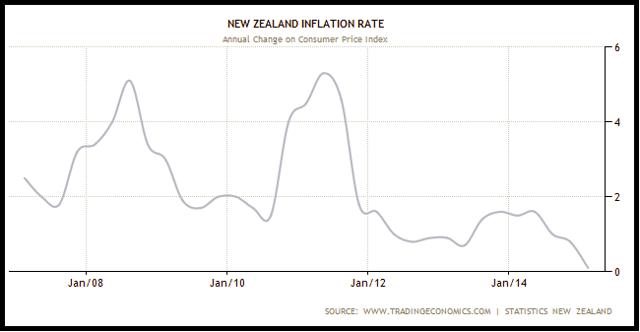 Meanwhile, the overall economy is doing well, with the labor market continuing to add steady jobs relative to the rest of the world. In the fourth quarter, the employment figure came in at an annual pace of 3.50%, up from the previous quarter's reading of 3.37%. Since bottoming in 2009 at -1.50%, employment has steadily risen. Rising employment is aiding both spending activity, as well as housing market strength.
"Employment and construction activity are strong. Net immigration remains high, and monetary policy continues to be supportive. The housing market is showing signs of picking up, particularly in Auckland," according to Trading Economics.

Data provided by the OECD
Additionally, as was stated earlier, household spending measures continue to support economic activity. In the fourth quarter, the retail sales figure came in at 4.44%, up from the previous quarter's reading of 4.02%. Since bottoming in 2009 at -5.00%, household spending has drastically improved, as seen below. Falling inflation may be a worry to policymakers, but it is directly benefiting consumers currently.
"The domestic economy remains strong. The fall in petrol prices has increased households' purchasing power and lowered the cost of doing business," according to Trading Economics.
The New Zealand dollar has been strong recently, especially against the Australian currency. This has led to an imbalance in the exchange rate, possibly weighing on foreign trade. The imbalance, alongside falling inflation measures are causing policymakers to hold off on raising key lending rates further.
Nonetheless, New Zealand's economy is strong. Aside from inflation, the labor market is adding significant jobs. This, as well as falling consumer prices have aided household spending measures. New Zealand's currency may be temporarily weak, but over the long term, it should increase further.

Data provided by the OECD
Disclosure: The author has no positions in any stocks mentioned, and no plans to initiate any positions within the next 72 hours.
The author wrote this article themselves, and it expresses their own opinions. The author is not receiving compensation for it (other than from Seeking Alpha). The author has no business relationship with any company whose stock is mentioned in this article.