For income investors, the low interest rate environment has created a difficult investing environment over the past seven years. Currently, the 10 Year Treasury Note yields 1.97% and the national average for a 5 year CD is 1.63%. As investors have seen interest rates as high as 20% back in the early 1980s to the roughly 5% rates through most of the 1990s and several times in the 2000s, it doesn't take a genius to see that income investors have seen investment income slashed over the last few decades. While traditional yield sources such as savings accounts, CDs, government bonds, etc are offering paltry rates, income investors are forced to get a little more create and move across assets to search for good yielding investments. The rise of the exchange traded fund (ETF) has given new life to income investing, as asset management firms continue to offer ETF options that cater towards higher yielding assets. While there are lots of income ETF options on the market today, not all are created equal and it is imperative that careful analysis is done to be sure your hard earned cash is put in the correct asset. Here are four income ETFs that I think are worth a further look for investors searching for a higher yield.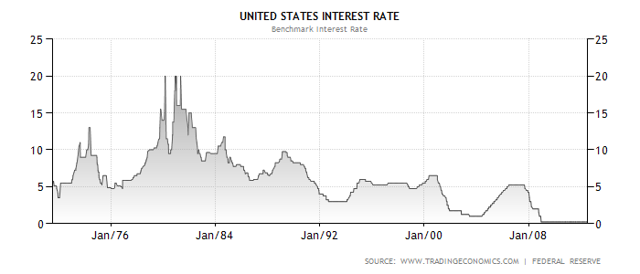 iShares U.S. Preferred Stock ETF (NYSEARCA:PFF)
Overview: This ETF is made up of preferred stock of U.S. companies. Preferred stock differs from common stock in that it is higher on the "totem pole," meaning that if the company enters into bankruptcy and must liquidate, preferred stock holders get paid out before common stock holders. Preferred stocks also generally have a higher yield than their common stock counterparts and is generally seen as a less risky asset compared to a common stock share. Ultimately, with U.S. equities at high valuations historically and numerous economic uncertainties both in the U.S. and around the world, I certainly want to be limited my risk here. Preferred stock allows me to still capture upside in the market, while providing me with a higher yield and better security than common stock.
Yield: 6.06%
Expenses: 0.47%
YTD Total Return: 2.73%
Top 3 Holdings: Actavis Preferred Stock (2.94% total weight), HSBC Holdings Preferred (2.27%), and GMAC Preferred (1.59%).
Conclusion: The iShares U.S. Preferred Stock ETF is a good option for investors searching for more limited risk than common stock and higher yield, while still catching upside gains in the market. Portfolio breakdown shows that the ETF does have some international exposure of 8.72% of portfolio. While small, the diversification is still desired and appealing.

iShares Morningstar Multi-Asset High Income Index ETF (BATS:IYLD)
Overview: The hunt for yield continues with IYLD, which is in the ETF category of "conservative allocation." This means that the ETF was set up and runs with a conservative portfolio to achieve returns. This ETF is a great option for income investors looking for yield across asset classes. The ETF invests 20.29% of portfolio in U.S. stocks, 14.84% in international stocks, 56.91% in bonds, 2.61% in cash and 5.36% in other. This ETF has some significant bond exposure with average duration of 7.12 years and an average credit quality rating of BB. Basically, what this means is that if you are a believer that the Federal Reserve is not going to raise interest rates until September or December, then this probably an ETF worth looking at. However, just be aware that there is some interest rate risk here due to bond duration and quality.
Yield: 5.34%
Expenses: 0.60%
YTD Total Returns: 2.24%
Top 3 Holdings: 20.01% in the iShares iBoxx High Yield Corp Bond ETF (NYSEARCA:HYG), 15.15% in the iShares iBoxx Investment Grade Corporate Bond ETF (NYSEARCA:LQD), and 15.09% in the iShares Mortgage Real Estate Capped ETF (BATS:REM).
Conclusion: This ETF is great for the income investor that is skeptical of a June interest rate hike. The Fed is generally seen as most likely going to raise interest rates later this year, which provides several months of decent income with IYLD. Ultimately, it up to the investor to decide where they stand on the interest rate hike.

Arrow Dow Jones Global Yield ETF (NYSEARCA:GYLD)
Overview: Morningstar categorizes GYLD as a "world allocation" ETF, for good reason. The ETF has 42.38% of the portfolio in North American stocks, 31.51% in Greater Europe, and 26.11% in Greater Asia (no exposure to Japanese stocks). Stepping back, the portfolio is made up of 22.44% U.S. stocks, 37.66% international stocks, 38.57% bonds, 1.31% cash and .02% other. This ETF is great for the investor looking for income from across the globe, which also provides a more diversified and balanced fund.
Yield: 7.67%
Expenses: 0.75%
YTD Total Returns: 7.25%
Top 3 Holdings: 0.87% in Whiting USA Trust (NYSE:WHX), 0.86% in CVR Partners LP (NYSE:UAN), and 0.85% in Alon USA Partners LP (NYSE:ALDW).
Conclusion: GYLD has been performing very well so far this year, due to strength in European stocks and select U.S. stocks. The yield is very appealing and diversification allows an income investor to reach around the world for the best yields countries and other regions have to offer, something an individual investor doing themselves would be very difficult. Overall, this ETF provides the best diversification and yield of the bunch.

PowerShares S&P 500 Downside Hedged Portfolio ETF (NYSE:PHDG)
Overview: PHDG's investment objective says that it strives to produce "positive total returns in rising or falling markets." Essentially, this ETF is a long/short equity fund that could choose to go long or short the market, depending on what managers find in their research. I like this ETF because it provides a good yield and exposure to the ETF allows me to continue capture upside in the S&P 500, while also hedging downside risk. Cautiously optimistic investors that also want yield should conduct further research into this ETF.
Yield: 5.66%
Expenses: 0.40%
YTD Total Returns: -3%
Top 3 Holdings: 13.28% in S&P 500 Emini June Futures, 2.79% in Apple (NASDAQ:AAPL), 1.36% Exxon Mobil (NYSE:XOM).
Conclusion: The ETF is off to a dull start in 2015, but the markets are certainly choppy right now and this sort of environment can cause headaches for long/short managers. Being that PHDG is a more actively managed fund, returns could fluctuate and it is up to the investor to decide if a more "high risk, high return" income ETF is right for them. Ultimately, I like the concept here with this ETF and once the markets start to gain some direction, either up or down, PHDG will be able to make up its prior losses so far this year.

Ultimately, there is still opportunity out there for income investors, thanks to the continued rise in ETFs. I have provided 4 income ETFs that are worth another look, in my opinion, for various reasons. There are definitely different levels of risk varying from ETF to ETF and it is up to the investor to determine the risk tolerance that is right for them. The iShares U.S. Preferred Stock ETF is a preferred stock ETF, which is for the investor that wants a better yield and risk profile than common stock, but still wants stock exposure. The iShares Morningstar Multi-Asset Income ETF takes the income approach from several different asset classes and this is certainly a good option for the investor that wants income and asset diversification. The Arrow Dow Jones Global Yield ETF is certainly the most diversified of the bunch and the highest yield. This ETF is a great candidate for the investor that wants world allocation and income added to their portfolio. Lastly, the PowerShares S&P 500 Downside Hedged ETF is more of the "wild card" of the bunch. The long/short equity structure allows manager to go long or short the S&P 500, while providing a decent yield as well.
While there are numerous other options out there that could also be featured in this article, these 4 are a great starting point for income investors looking for a variety of income options based on risk, assets, diversification, etc. Traditional methods of obtaining income are not worth your time and until interest rates reach to pre-recession levels, do not expect this phenomenon to change. Instead, there are other ways to obtain yield and grow your portfolio, as investors adapt to the new normal for income investing.
Disclosure: The author has no positions in any stocks mentioned, and no plans to initiate any positions within the next 72 hours.
The author wrote this article themselves, and it expresses their own opinions. The author is not receiving compensation for it (other than from Seeking Alpha). The author has no business relationship with any company whose stock is mentioned in this article.