A quick glance at a stock chart and two months does not look like a long time. But when you are in the market, making profits on some longs, two months is plenty of time to be seduced by a bear market rally. And this 20% rally in the SPX has been one for the record books! With the technical "undercut and reversal" off the October 4th lows, a host of leading stocks like Apple (NASDAQ:AAPL), Amazon.com (NASDAQ:AMZN), Chipotle Mexican Grill, Inc. (NYSE:CMG), IBM, Intuitive Surgical, Inc. (NASDAQ:ISRG) and Google (NASDAQ:GOOG) have led the charge. Of late, however, there have been a number of market cross-currents, some of which have begun to concern us.
While IBM, ISRG and GOOG remain market stalwarts, other glamour stocks like AAPL and AMZN have been displaying topping action and amassing consecutive high-volume distribution days. Next, consider that by the end of last week, the Investor's Intelligence survey of bullish advisors had risen to a four-month high of 47.4%. Finally, in the last week, the indices have broken out of their highly visible "triangle formations" to the downside, prompting bulls to call the action a "bear trap," and bears to hail it the start of a new market downleg. In short, the market is doing what it always does: confusing the greatest number of investors and separating most of them from their money.
A FURTHER LOOK AT LEADING STOCKS
Even on Monday's sell-off, IBM, ISRG and GOOG all acted reasonably well, especially given the recent moves off their lows in early October. This is a positive. While names such as Cheniere Energy, Inc (NYSEMKT:LNG), Panera Bread (NASDAQ:PNRA), Red Hat (NYSE:RHT), Ultimate Software (NASDAQ:ULTI) and SanDisk (SNDK) also look ready to join the leadership ranks, it is the lack of "new blood" that is troublesome. Fresh on the heels of Q3 earnings reports, the dearth of new potential leaders to emerge from this period makes us doubt the strength of this recent rally. Unfortunately, markets need more than a handful of leaders to serve as the foundation for a sustainable bull trend. We are not seeing this.
Take the action in AAPL and AMZN. Instead of leading the market higher over the past two weeks, these habitual institutional darlings have been actually leading the market lower. Perhaps the market is grappling with the potential for AMZN's Kindle Fire to set off price wars in the tablet sector. We are unsure. What we do know is neither stock acts like a market leader anymore. No matter how much one may love a company's products or how cheap a stock may appear on a P/E basis, price and volume are our final arbiters in the market. The recent action in APPL and AMZN is bear market action.
The same can be said of the price action in many other leading stocks. After reporting disappointing earnings reports, Abercrombie & Fitch (NYSE:ANF) and Salesforce.com (NYSE:CRM) both plunged lower last week. If this were a new bull trend, these stocks would have been supported. Instead they were taken out to the woodshed and sold with extreme prejudice. Not a good sign. Further examination of other leaders like Baidu (NASDAQ:BIDU), BorgWarner (NYSE:BWA), Fossil (NASDAQ:FOSL), IPG Photonics (NASDAQ:IPGP), lulemon athletica (NASDAQ:LULU) and Priceline (PCLN) also reveals recent price deterioration below their 50- and 200-day simple moving averages, suggesting substantial breakdowns in the near-future as well.
To review, most leading stocks appear to be on the ropes. While troubling in the near-term and highly suggestive of an imminent down-leg, investors should not abandon all hope. A typical bear market does not conclude until it has mauled all of the former leaders. The fact that AAPL, AMZN and many others are all under such heavy distribution could indicate we have entered the latter half of this bear market. If it takes capitulation in these glamour names to usher us closer to a new up-cycle, then so be it. Don't argue with the market. New leaders will eventually emerge. They always do in new bull trends.
MARKET INTERNALS ARE DETERIORATING, NOT IMPROVING
When the markets bottomed in the summer of 2010, the internals of the market improved significantly in the following months. We are seeing contrary action right now. Let's discuss:
Over the past three weeks, each day has been marked by stocks making 52-week lows eclipsing those logging 52-week highs. In the beginning stage of a new bull market, innovative companies making new highs will increase in number. The fact they are decreasing in number raises a big red flag for us.
While most of the major indexes sneaked above their long-term moving averages during the rally in October, the Transports and the Russell 2000 did not. This is what technicians refer to as a negative divergence. Given that the Russell 2000 led the market off the bottom in March 2009, its weakness at this juncture is another black mark on the sustainability of the recent rally.
Note, on the chart below, how the VIX was never able to move below its long-term, 200-day simple moving average during the October rally. From a contrarian perspective, if this market were poised to accelerate to the upside, the VIX would be ready to crack. Instead it appears to be consolidating, readying itself for another move higher. Such a move would correspond with a new downleg for stocks.
(Click charts to expand)
VIX 1-Year Chart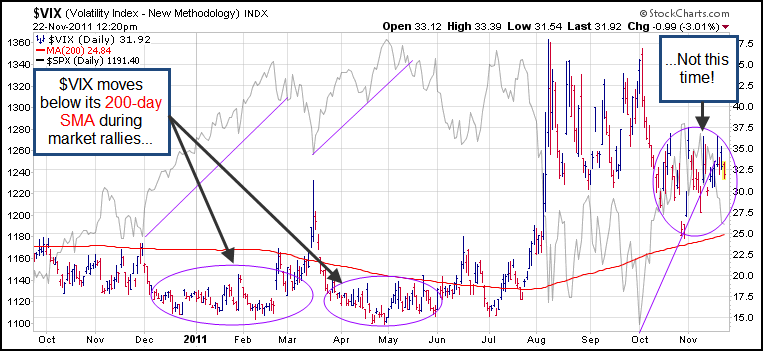 Source: StockCharts.com
The percentage of stocks above their 50-day Moving Average has dropped precipitously over the past few weeks from a very strong reading of 85.7% to 46%. All the intermediate lows since the March 2009 lows have been marked by readings around 10% or less. This suggests further downside action.
TIME IS NEEDED
When attempting to interpret the myriad of signals the market is sending us, perhaps the simplest one to grasp is this: more time is necessary before a new bull trend is ready to begin. This should not be surprising when we look at the situation through the lens of Europe's sovereign debt crisis. It is becoming more and more apparent that any type of grand solution for Europe's problems will be a 2012 event, at the earliest. Rather than improving, the situation over there is unraveling and becoming less certain every day. When was the last time you read the headline, "Markets Rally Into Uncertainty"?
While a high percentage of bear market rallies are sharp, short-squeezing affairs that turn around and fail quickly, there is certainly plenty of historical precedent for strong, intermediate bear market rallies which can last 8-10 weeks or longer. Check out the table below. The following rallies were periods where investors were sure the bottom was in and a new bull market was upon them – only to have the bottom fall out again: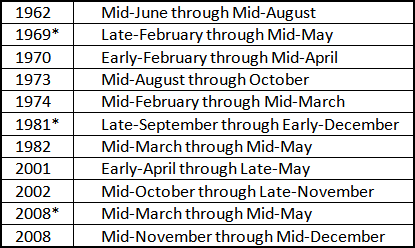 *Let's take a look at a few examples in closer detail:
1969 – Late-February through Mid-May. The SPX rallies 10.3%, from 97 to 107: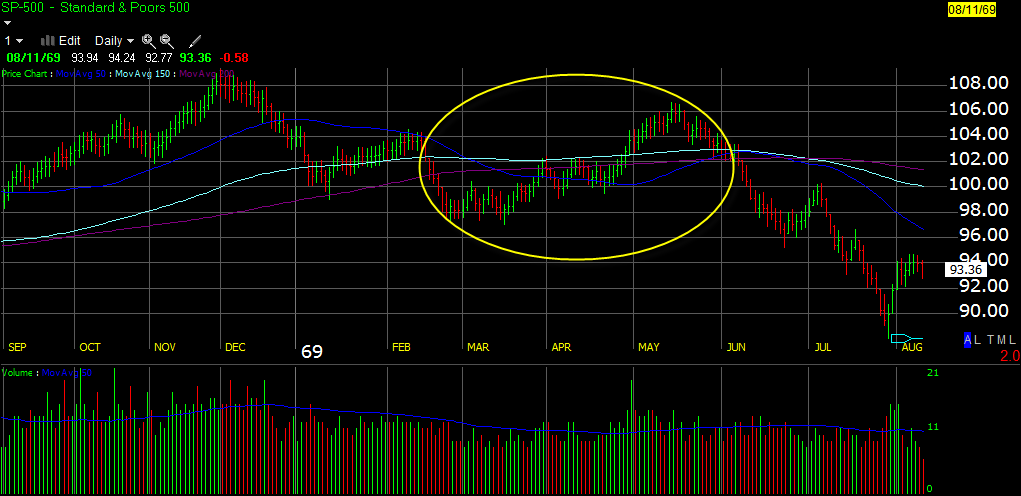 Source: TeleChart Gold
1981 – Late-September through Early-December. The SPX rallies 15.4%, from 110 to 127: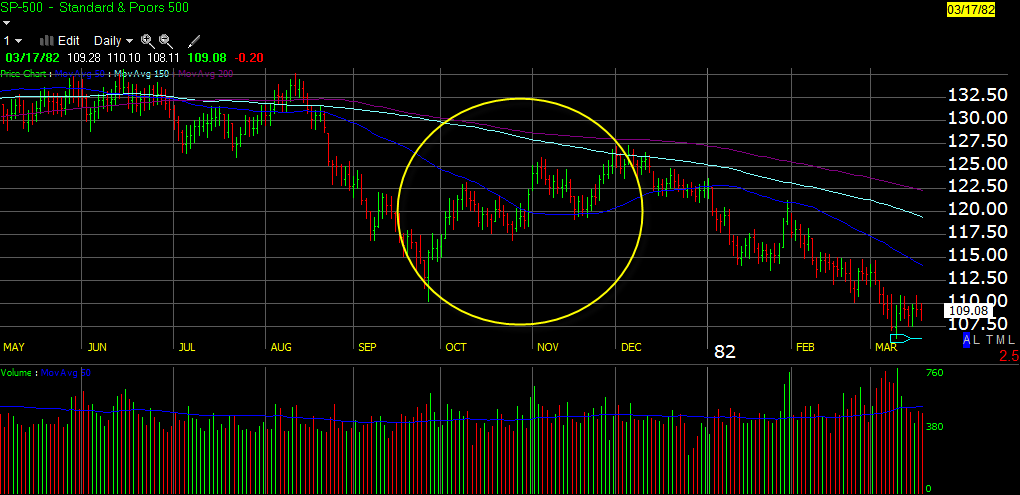 Source: TeleChart Gold
2008 – Mid-March through Mid-May. The SPX rallies 14.8%, from 1254 to 1440: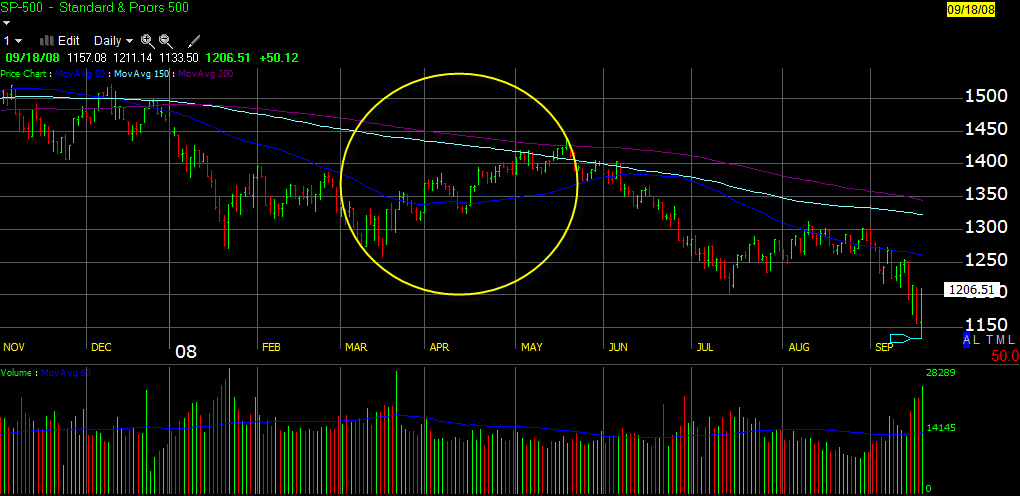 Source: TeleChart Gold
CONCLUSION
Given the significant decay in the technical health of the overall market, coupled with the chaotic geo-political backdrop, IPI believes the odds of a new downleg in the market have increased dramatically. We would urge investors to use the historical bear market references cited above as cautionary precedents for remaining too bullish while in the midst of weakening market internals. Though the bear market can try the patience of even the most experienced investors, we would also point to the fact that every economic downturn has historically been a healthy refresh for the markets. It's not different this time. Young, innovative companies are presently at work on new products that will transform the way we live. These are the inflection point companies of tomorrow. The bear market simply means we are that much closer to discovering the next round of new names.-
Disclosure: I have no positions in any stocks mentioned, and no plans to initiate any positions within the next 72 hours.