Here are the market shares of smart phone operating systems.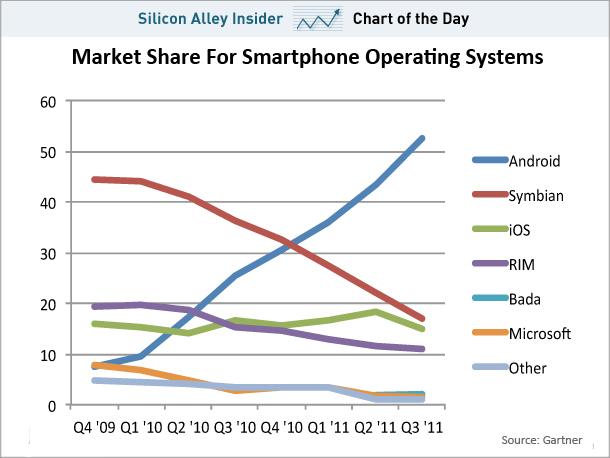 (Click to enlarge)
Android is growing quickly and Symbian [Nokia(NYSE:NOK)] is falling also quickly. While Apple's (NASDAQ:AAPL) iOS is maintaining its market share, its proprietary platform is much more lucrative than Google's (NASDAQ:GOOG) Android open platform. Thus Apple's iOS has 90% of the revenues of mobile applications, while Android has just 7%.
Google's mobile operating system, Android, has become the top platform in some countries, even eclipsing Apple's iOS. And this makes sense — after all, there are many, many more Android devices to choose from, including more budget options. But when it comes down to developers' earnings, there's no competition.
However, new data released by Piper Jaffray revealed that the Android platform has generated just 7% of the revenue that Apple's iOS has — a little $330 million compared to a staggering $4.9 billion. While an impressive 14% of iOS apps downloaded are paid, only 1% of downloaded Android apps are. I guess that's what happens when a platform's core demographic are those with tighter budgets. Apple boasts as much as 90% of the mobile market shares in terms of app revenue.
It may be difficult for Android to keep their fast growth of market shares appreciation. Their ecosystem of mobile apps (most are free apps and they are numerous) combined with the open systems is appealing both for consumers and developers.
Nokia and RIM must deal with shrinking market shares and must operate a turnaround in consumers' expectations. For several consumers, a Nokia or a Blackberry is no more in their 2 top choices of smart phones. They are less attractive both to consumers and apps developers.
Apple's proprietary platform and its ecosystem (i.e. iPad, iPod Touch, iTunes) are contributing directly to its bottom line. The new Siri voice recognition assistant with the iPhone 4S is a direct and emerging threat to Google search engine. With better upgrades in future iPhones and iPads, Siri will be a serious competitor to Google. The contribution of Android to Google profits is more indirect. Google benefits from mobile advertising with Android.