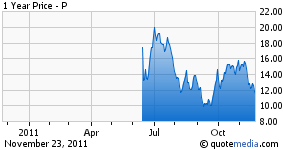 Pandora (NYSE:P) shares dropped by over 10 percent in early trading on November 23rd after an earnings report that beat estimates. The internet radio beat expected earnings by 3 cents per share and beat revenue estimates by about 5 percent. The company also raised its future guidance to levels that about match analyst estimates. Despite Pandora's earnings call coming out better than many pessimists expected, the stock still had a large one day drop.
Salesforce.com (NYSE:CRM) was caught up in a similar situation last week when its shares dropped 10 percent after beating earnings. From an intuitive standpoint, it looks like bears are waiting for earnings calls to make their short moves, which is driving down stock price regardless of the results of the earnings call. From my experience in studying the stock market, this is a very common occurrence. For example, Under Armour (NYSE:UA) faced a large drop in stock price in late April after meeting earnings and raising its long term guidance.
The fact of the matter is that analyst expectations are not a good metric to value high P/E tech stocks. Companies like Pandora, Salesforce.com, LinkedIn (LNKD), and Groupon (NASDAQ:GRPN), who is facing its second straight day in freefall for no apparent reason, will fluctuate at earnings in relation to what INSTITUTIONAL SHAREHOLDERS expect from the company. For example, Crosslink Capital owns around 35 million shares of Pandora, out of a total of 161 million shares. If Pandora does not meet this large institutional owners' expectations, a selloff by any major holder will flood the market and cause share price to substantially drop. What's frustrating for everyday investors is that we don't have access to institutional holders' expectations, so it is difficult to trade these stocks off of earnings speculation.
As I have mentioned before, stocks like Pandora, LinkedIn, and Groupon will have heavy price fluctuations off of supply and demand. It is important to longs and shorts to realize how this may affect stock prices when a much larger company like Facebook goes public with a presumably much higher float. These companies have a lot of downside potential since institutional investors have such high expectations of them.
Disclosure: I have no positions in any stocks mentioned, and no plans to initiate any positions within the next 72 hours.