eBay (NASDAQ:EBAY) is undervalued with reasonable prospects for growth and operating efficiency gains going forward. While I'm not a huge fan of the spinoff that will separate eBay from PayPal, I do think it's a necessary evil, especially for the market to effectually value the separate business units.
For Q1 FY 2015, eBay reported EPS of $0.77, which beat analyst consensus estimates set at $0.70. This represents a beat of around 10%, which is why the stock shot-up in the after-hours. Revenue also surprised, as it grew 4.5% year over year, beating consensus estimates by $30 million.
eBay offered revenue guidance of $4.4 billion to $4.5 billion for Q2 FY 2015, which fell short of analyst consensus estimates at $4.76 billion. Also, the full-year revenue range ($18.35 billion-$18.85 billion) fell slightly below the estimates set by analysts at $18.95 billion. eBay may be low-balling its figures a little, so it can report quarterly beats throughout the current fiscal year.
Where does eBay go now?
Interestingly, the management team was extremely upbeat on the quarterly earnings conference call. This is somewhat surprising, when taking into consideration how stagnant eBay's stock price has been.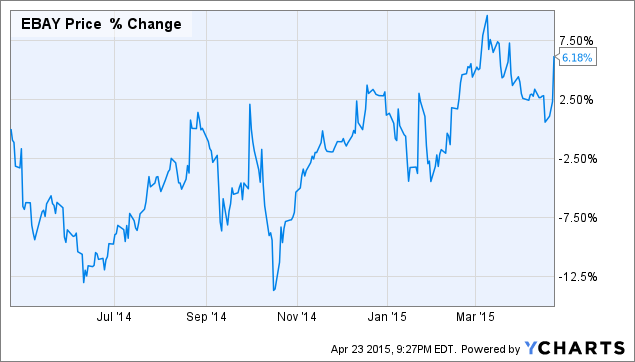 However, I anticipate this to change, as PayPal's payment margins are starting to improve. Also growth in credit lending and payment transfer services puts legs underneath the growth trajectory. However, the marketplace has started to stagnate and even reported a year-over-year sales decline, which was attributable to foreign exchange. The marketplace segment has room to improve operationally, and that investment into foreign markets could drive growth in the marketplace business model. Also, higher utilization of the eBay marketplace platform in developed markets through higher user engagement is another pathway to growth.
Here are some of the more promising comments made by the management team throughout the earnings conference call:
Today PayPal operates in two fast-growing parts of the digital payments industry, online and mobile. But the online and offline payments world are digitizing and converging through mobile experiences. As a result, I believe our addressable market is not just 2.5 trillion associated with online and mobile, but more like the 25 trillion associated with commerce, both online and offline. PayPal has a powerful set of assets and we are well positioned to take advantage of the changes sweeping through our industry. - Dan Schulman (CEO of PayPal)

On the sellers' side, eBay's sweet spot is small and medium sized merchants and brands. They represent 70% of the global retail market, offering the diverse inventory and value our consumers are looking for. Consumer selling is another key eBay strength and we intend to revitalize this segment of our market. An estimated $100 billion of value is trapped in people's closets and garages and that's just in the U.S. This is an enormous opportunity with simplified listing flows, predictive pricing data and higher touch intermediation for those that require it, we intend to make eBay the platform for consumers to buy and sell anything, anytime, anywhere. - Devin Wenig (CEO of eBay)
I'm going to temper my optimism a little on the eBay marketplace, as the business hasn't reported stellar growth rates, and much of the earnings growth was driven by cost reductions. Unfortunately, account growth both domestically and internationally has slowed considerably, which is something eBay needs to address if it wants to appeal to growth-oriented investors.
However, eBay will have more cash than PayPal following the spin-off. In this case, eBay has room to buy out other e-commerce platforms, return cash to shareholders in the form of buybacks, or invest more aggressively internationally. The marketplace can also expand its range of services to improve its average revenue per user figure.
On the other hand, the payment service, while having less cash following the spinoff, has a demonstrable track record of growing its business at torrid rates. The business has further room to expand its credit lending business without requiring a universal bank's balance sheet. Based on the comments of PayPal's CEO, PayPal will originate loans, package them and sell them to third-party investors. Since PayPal has such a large global footprint with merchants and consumers, the company's credit originations could grow into a large business.
Let's say for example PayPal earns 1% for originating the loan, and is able to mark-up the principal loan value by 4%, before selling the pooled loan portfolio to an investment fund, bank, or other trust holding entity. Against a loan balance of $100 billion, PayPal could pocket $5 billion in revenue. Since its lending activity is done via the Internet with limited overhead, the cost of managing a loan portfolio or originating loans drops significantly. So not only does PayPal add efficiency to the process, but also the market potential is large.
Also, PayPal's total payment volume continues to grow at pretty high rates (24% year over year in the most recent quarter). The market potential for offline payments paired and international money transfer is extremely promising. I anticipate that lending, offline payments, and international money transfer to be the primary drivers of growth going forward.
Conclusion
While eBay reported a solid quarter, what stood out was the strategic nature in which eBay and PayPal will be able to create value following a spinoff of both entities. The flexibility will allow eBay to invest more aggressively into its marketplace while optimizing the business for higher rates of profitability, thus translating into higher dividend payouts and share buybacks.
PayPal, while already a cash cow, can utilize the value of its cash better by owning debt instruments that it originates via its lending unit. The lending unit doesn't have a ceiling on the amount of loans it can issue because it can package and sell its loan portfolio to financial institutions. The market potential for consumer loans and small business loans, paired with the growth potential for offline payments and international money transfer, puts PayPal in an envious situation. I anticipate that PayPal will return a lot of capital via dividends and share buybacks while also sustaining a high rate of sales and earnings growth in the foreseeable future.
Both businesses are great, but I have to favor PayPal, as I'm growth oriented. On the other hand, eBay is extremely predictable, and will likely generate reasonable returns for risk-averse shareholders looking for a predictable income stream.