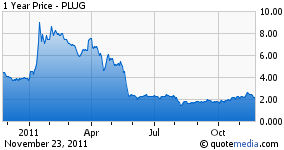 Earlier this month Plug Power (NASDAQ:PLUG) announced a joint venture partnership with French gas distribution company Air Liquide (OTCPK:AIQUY). Plug Power has been dominating its small but rapidly growing market: Fuel cells for fork lift trucks in North America. With this move, Plug is tripling its potential market by adding the European market to the niche.
The installed base of fork lift trucks in North America is about 1 million units. The European market adds another 2 million units. In addition to its large size the European market is interesting because of its advanced concern for sustainability. These is a lot of support for developing hydrogen-based technologies.
Fuel cells to power lift trucks is the primary focus of Plug Power, and the application has been growing rapidly in North America, as it offers large distribution centers a way to reduce operating costs and greenhouse gases at the same time. Plug Power provides a family of fuel cell modules that are swap compatible with the battery packs that power most of today's indoor lift trucks. These fuel cell powered lift trucks use compressed hydrogen gas that would normally be delivered by truck to the warehouse.
Fortunately, European countries with high labor costs such as Germany and the U.K. should have the same value proposition.
Air Liquide is an interesting partner for Plug. Air Liquide is a world leader in the sale and distribution of gases (oxygen, nitrogen, carbon dioxide, hydrogen etc). Air Liquide, headquartered in France, was founded in 1902. In 2010 they were doing business in 80 countries, had 43,600 employees and had revenues of 11,886 euros.
Air Liquide has a subsidiary business called Axane. Axane's mission is "to develop at a global level complete packaged systems for the generation of energy from fuel cells powered by hydrogen." Axane has already been shipping its own brand of fuel cells. Applications mentioned by the company include portable power generation, extended backup power, industrial applications and stand alone power for remote sites.
The Plug/Air Liquide deal was announced in a press release on Nov 9th. Initially Plug will manufacture products for the joint venture, and the joint venture will have a license to sell Plug technology.
The deal itself sounds ideal for an early stage company like Plug. Plug gets access to Europe and a strong distribution partner without giving up a lot of cash. Air Liquide will be providing the up front cash for the joint venture while Plug will transfer IP rights. Plug also gets to sell and supply product to the joint venture. Plug has the opportunity to buy back a controlling interest of the venture as early as 2016.
For Air Liquide, this provides a faster entry into a new niche for the hydrogen gas business. In North America, hydrogen for lift trucks looks to be one of the earlier significant hydrogen markets for gas suppliers. Plug has been dominant in the early growth.
Don't expect this deal to have a large impact on Plug's revenue in the near future. It will take a couple of years to get products modified, certified, sold and shipped in any quantity. This deal is setting the stage for Plug's future growth. Revenue from the next several quarters will be almost exclusively from North America. There is plenty of room for growth there as fuel cells have just begun to be installed and still represent less than 1% of the market.
Review our earlier article for a discussion of Plug's fourth quarter prospects. This is a key quarter for Plug. The company has forecast that it will ship 1,000 units in the fourth quarter. If they do this, they will have doubled unit shipments every year for four years in row. If they pull this off it will be good news for Plug, but also good news for the fuel cell industry with companies like Ballard (NASDAQ:BLDP), Hydrogenics (NASDAQ:HYGS) and Fuelcell Systems (NASDAQ:FCEL) working to establish some clear success stories.
Disclosure: I am long PLUG.