What a kick in the kidneys these last two market weeks have been. The average analyst estimate for corporate earnings has remained strong – and even bumped upwards over the last 5 to 6 weeks when tracking the S&P 500. However, the fear-driven markets quickly slammed down prices over the last 2 weeks as participants focused on eurozone debt problems.
Don't misunderstand me – like everyone else, I think the economy is in trouble. The question I keep coming back to is this: how much of an impact will it have on US corporate earnings versus the discount already factored in by the market?
As it sits, I am still cautiously recommending being a net buyer – although frequent portfolio re-balancing in addition to judicious stock selection is most definitely warranted. One strategy that I recommend as an Aggressive Dividend Investor is a one that includes stocks with jumping yields.
The High-Yielding Dividend Strategy
The focus here is on stocks with jumping yields (20% higher than 5 year average). Usually you would associate this with a dropping stock, so a few filters are added that should improve profitability:
5 year earnings and dividend growth (annualized) greater than 10%
Not in financial or utility sectors, or in real estate operation industry group
Reported a dividend last quarter
Yield is above 3.5% making it a relatively 'high-yield'
No ADRs
Our sell rules kick in once the EPS or dividend growth rates fall below 10%, or when the market capsizes according to our market timing rules. Has this strategy held up over the past 10 years?
With rigorous back-testing it has delivered 26 – 27% compound annual growth rates (capital gains and dividends combined). Again, there is no proof that this will work going forward. How has this strategy fared over the past 2 weeks since the market timing rule (based on analyst estimates of the S&P 500) turned upwards?
High-Yielding Aggressive Dividends Strategy Performance
The market has dropped 7.88% since November 7th. A portfolio built on these ideals has dropped 2.13% as regards share price, but once you factor in the dividends paid on Collectors Universe (NASDAQ:CLCT) and Strayer (NASDAQ:STRA), the loss is down to 1.78%. While total losses are nothing to brag about, this was 6.1% better than the market.
(Click on image to enlarge. Chart compliments of Portfolio123)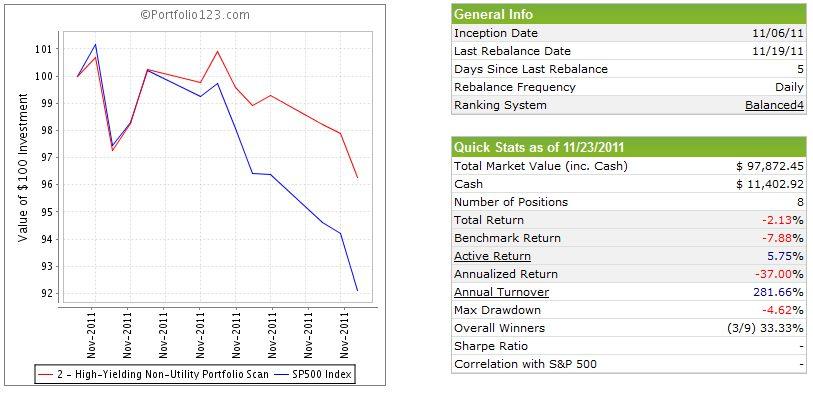 What stocks are currently held in this portfolio? Meridian Bioscience (NASDAQ:VIVO) was bought and sold for a 2.3% gain and is not shown in current portfolio below. Falling EPS was the reason for selling after a 7 day holding.
Ticker

Price Gain/Loss

Days

Sector

5.61%

17

Services

-9.09%

17

Services

-2.81%

17

Technology

-3.55%

17

Basic Materials

-6.43%

17

Services

-3.24%

17

Capital Goods

-3.03%

17

Capital Goods

1.14%

17

Services
A few more stocks using the 'jumping high-yield' strategy just made the 'buy list':
After a quick look I would say that VICR scares me the most with its relentless downward fall and recognizable price support is a long way off yet. NOC and HAS have some price support about 2 – 3% below the current price, which puts them higher on my recommendation list. As always, do your own due diligence to see if the risk/reward profile is a good fit for you personally.
Disclosure: I have no positions in any stocks mentioned, and no plans to initiate any positions within the next 72 hours.