Wal-Mart (NYSE:WMT) was a momentum growth stock in the 1980s and 1990s before leveling off at the turn of the century. Now that it is in its more mature phase, Wal-Mart has become a steady, consistent, reliable stock with little downside risk that has beat the returns of the S&P 500 since the beginning of 2008.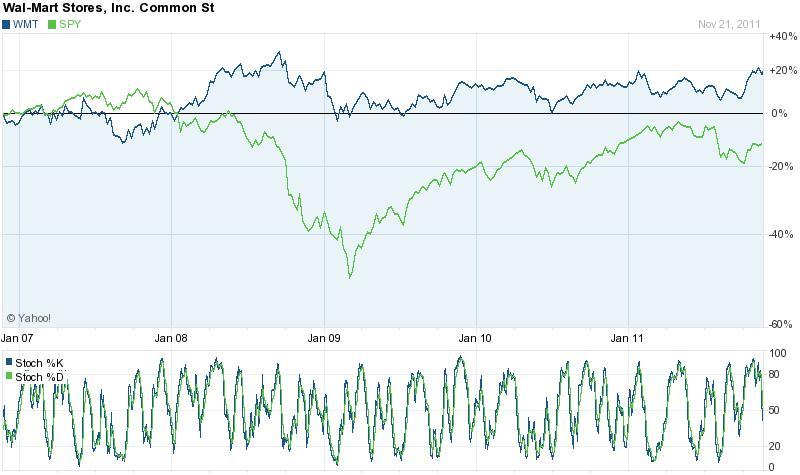 Wal-Mart's success was based on the principals of its founder, the late Sam Walton. Sam Walton achieved higher sales volume by offering lower prices than his competitors. This principal still holds true today with Wal-Mart's price match guarantee. Under this policy, Wal-Mart will offer a refund of the difference between Wal-Mart's price and the advertised lower price of a competitor's product.
Wal-Mart is undervalued as it trades under 3 times book value per share. It has a forward P/E ratio of 11.54 and a PEG of 1.33. This means that Wal-Mart stock is a good buy at current prices. Back in 2001, Wal-Mart was overvalued and that's the reason for its mediocre performance the last ten years. Wal-Mart is now positioned better for consistent market beating performance.
The reason for Wal-Mart's consistency and low risk characteristics are its large economic efficiencies, which acts as the moat around its business. Wal-Mart is the dominate retailer in the U.S. and is growing in international markets. Its dominance can be attributed to its intricate supply chain and pricing power. Lower costs speak volumes for the value consumer and Wal-Mart delivers with low prices.
Wal-Mart derives 51% of its sales from groceries. This is the reason why its priority for new stores is Supercenters that have large square footage dedicated to groceries. Also, some of its existing discount stores are being expanded or converted into Supercenters.
Its international revenue accounts for about 20% of total sales. Its international sales rose 20% in the third quarter compared to a U.S. sales rise of 2.7% and a same store sales rise of 1.3%. Sam's Club same store sales were up 5.7%. Continued movement into international markets will be Wal-Mart's opportunity for future growth.
Wal-Mart plans to open 80-100 small and medium stores, 130-135 Supercenters, and 10-15 Sam's Clubs in 2012. It is also exploring the Wal-Mart Express concept stores which are urban based and thinly populated rural based 15,000 square foot stores. Wal-Mart is currently operating 5 Wal-Mart Express test stores and plans on opening six more by the end of January 2012.
The company is forecasting total sales growth of 5% to 7% for fiscal 2013. It has grown earnings at 9.37% annually the past five years and is expected to grow earnings annually at 9.56% for the next five years.
The beauty of Wal-Mart is the consistency of its stock. It weathered the great recession well and is now undervalued and poised for continued market beating performance. When combining its dividend of 2.6% with its expected annual earnings of 9.56%, it should provide investors with a 12.16% yearly gain compared to the market's expected annual gain of 10.73%. This is a company that can be a strategic part of the conservative investor's portfolio.
Disclosure: I have no positions in any stocks mentioned, and no plans to initiate any positions within the next 72 hours.