Mongolia's predicted economic boom hinges on the premise that the Oyu Tolgoi copper-gold mine will be a driver of the economy's growth. Mongolia's GDP in 2010 was $6.8 billion. Oyu Tolgoi is expected to produce over $3 billion per year using prices of $850/oz. for gold, $14/oz. for silver, and $2/pound for copper. The current prices for all these commodities are higher -- copper prices are more than 50% higher while gold and silver are both approximately double those prices -- thus the effect of Oyu Tolgoi on the Mongolian economy will be greater.
Source: Sufiy blog
Looking at the above chart, it is worth asking if China is the sole driver for copper demand, and if China's demand for copper can continue. Indeed a huge case for Mongolia's growth rests upon its wealth of natural resources combined with its proximity to China.
Source: East Asia blog. (Click to enlarge)
It is broadly expected that China's GDP will continue to grow. Stringfellow Investments makes the case below that copper price and China's GDP have been closely correlated.
Source: Stringfellow Investments of South Africa
Stringfellow Investments in March 2011 surmises, "China is expected to increase its current annual copper consumption from 5.4 kg per capita to a massive 10kg per capita in the future ... China recently released its 12th Five-year plan for National Economic and Social Development. Some of the development projects mentioned in the report [which will need copper] include:
Upgrading of existing ports

as building new ones.

New airport.
New hospitals.
Spending on highways, conventional rail and high speed rail.
Investing in both, nuclear and hydro-power plants.
Development in fuel pipelines.
Spending on transmission networks."
A November 15, 2011, article in the Wall Street Journal claims, "China Copper Hunger Fades." Of course, on September 16, 2011, the Wall Street Journal had an article titled "Chinese Copper Imports to Remain High Despite Global Slowdown."
Brook Hunt, the metals research arm of Wood Mackenzie, suggests that copper demand will continue. Ian Littlewood of Brook Hunt was interviewed for an August 2011 report that anticipates world demand for copper - used in power and construction - will reach 20.3 million tonnes in 2011, helped by stronger than anticipated growth in Europe and the United States. Brook Hunt created the two charts below. The first shows the divergence between Chinese copper demand and Chinese copper production. The second chart shows an anticipated trend of declining copper production in the coming decade despite new copper mines coming on line.
Anticipated Chinese copper production and Chinese copper demand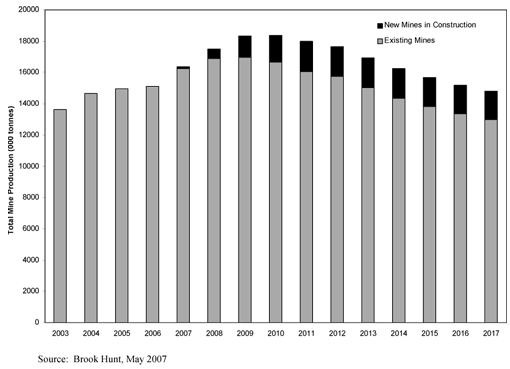 Anticipated copper production from existing and new mines
Without further back and forth charts here, the point would be that the world is not ending, there will be economic growth, there will be economic growth particularly in China, and that growth will require copper. Even moderated demand from China is still a significant driver of copper demand, and there are other countries with copper demands.
Looking To Mongolia For A Copper Play
The joint venture of Ivanhoe (IVN), Rio Tinto (NYSE:RIO), and the Mongolian government in the Oyu Tolgoi copper-gold mine is well-documented. The most recent video posted by Ivanhoe is a good summary in 7 minutes. Additionally, Ivanhoe's 3rd quarter report of November 14, 2011, shows that the company is on target for production at Oyu Tolgoi commencing in the second half of 2012. Oyu Tolgoi is part of a larger copper belt and there will be more prospective resources to be explored and developed in the area.
A host of factors that led Ivanhoe to its partnership with Rio Tinto and the Mongolian government in the Oyu Tolgoi project also led Ivanhoe to part with swathes of land it was licensed for until 2005 (the area for which Ivanhoe was licensed in 2005 is indicated by the blue highlighted area in the map above). Currently, Ivanhoe's primary focus is the big red dot labeled Oyu Tolgoi which will have required over $6 billion in capital expenditures by the time production begins in the second half of 2012.
Publicly traded companies now exploring other portions of what was once all Ivanhoe's land in the map above include Entree Gold (NYSEMKT:EGI), Erdene Resource Development (OTCPK:ERDCF), Kincora Copper (OTC:BZDLF), and Voyager Resources (VOG). Additionally there is a promising joint venture between Ivanhoe and BHP Billiton (NYSE:BHP) at Ulaan Khud North.
Companies that operate in the Oyu Tolgoi copper belt include Erdene Resource Development and Entree Gold. Erdene Resources has properties in Canada, the U.S. and Mongolia, and is diversified in mining from coal to kaolin along with interests in copper-gold deposits. (Erdene is currently conducting a private placement led by Mongolian investment bank MICC.) Entree Gold with three copper-gold properties around the Oyu Tolgoi belt also has properties in the U.S. Australia, and Peru, with interests in coal and uranium along with a focus on copper-gold deposits.
The remainder of this article will focus on two companies that are pure copper-gold plays in Mongolia. When analyzing these speculative companies - Kincora Copper and Voyager Resources - it should be kept in mind that BHP Billiton was the owner of Oyu Tolgoi from 1996 and then unloaded it in 1999. After some notable shallow results BHP Billiton offered to farm out the project in 1999 as their exploration budget was limited. Ivanhoe took a 100% interest in Oyu Tolgoi in May 2000 and had vastly more favorable results at deeper depths. Undoubtedly, BHP Billiton would have kept the property if it had known deeper underground was the largest undeveloped copper-gold mine in the world.
Kincora Copper
138.3 million shares, $44.3 million market cap (as of October 20, 2011)
Kincora Copper's primary asset is the Bronze Fox deposit in Mongolia, located along the same deposit belt as Ivanhoe's Oyu Tolgoi, 140 kilometers northeast of it. Ivanhoe Mines held the license for Bronze Fox and explored the deposit from 1997 – 2005.
In a speech on March 7, 2005, Robert Friedland, CEO of Ivanhoe Mines gave the impression that he was happy that Ivanhoe owned Bronze Fox as that it owned Oyu Tolgoi. However, in the process of securing Ivanhoe Mines' rights to Oyu Togloi, it was necessary for Mr. Friedland to relinquish the rights to Bronze Fox.
The licenses for Bronze Fox then passed through a series of owners. In September 2010, Kincora began to acquire interest in Bronze Fox and on August 30, 2011, Kincora made a deal for all remaining shares of Bronze Fox they did not own previously that resulted in the prior owner, Duchintav Khojgor, becoming a member of the board and 20% owner.
Kincora was created by a reverse merger deal in June 2011 involving Origo Partners (OPP in London) and Brazilian Diamonds created Kincora Copper. Until recently, the company's chairman served as interim CEO.
On October 17, 2011, Kincora upgraded management and brought in Igor Kovarsky as president and CEO. The prior CEO Stephen Fabian has remained as Chairman and participated in this decision. Mr. Kovarsky, a native of Russia, was an executive at Centerra Gold (OTCPK:CAGDF) from 1992 to 2008. Centerra has gold mining operations in Kyrgyzstan and Mongolia, and Mr. Kovarsky's experience in Central Asia is extensive.
Some concerns about the company include its description as an advanced exploration stage company when it has only explored 13% of its property. In the 13% that is well-explored the company has results between .4% and .9% mineralization. Kincora's October 2011 fact sheet shows a cash balance of $6 million; a June 2011 research report showed a balance of $7.5 million which the research report expected to last 18 months at that time .
The above results preceded further results which were announced October 18, 2011, and November 15, 2011. These results from now roughly 80 drilling holes over time, including 21 drilling holes from this year, will help, "design the 2012 exploration program to aggressively attack specific areas based on the results and knowledge obtained," says new President and CEO, Mr. Kovarsky.
The company highlights many positive results in its October 2011 presentation. "Work completed includes geological mapping, ground magnetics, induced polarization, gravity surveys, rock chip sampling, metallurgical testing, petrographics, and diamond and reverse circulation drilling." There is a publicly available research report from ResCap, a Mongolian brokerage part-owned by Origo Partners. Management believes the Oyu Tolgoi belt will be similar to the Chilean copper porphyry systems. While the company says they have numerous water sources and this is cited in research often, specific details of these sources have not been included in recent reports. The site is 80 km (50 miles) from existing power facilities, 20 km (12 miles) from planned railways, and 200 km (120 miles) from existing railways. The board of Kincora Copper includes Altai Khangai, CEO of the Mongolia Stock Exchange and special advisor to the Mongolian Prime Minister; Origo's Mongolia director Luke Leslie who has brought his expertise in natural resources, mergers and acquisitions to Origo from prior posts at UBS and Accenture; and John Rickus, a former top geologist for Rio Tinto and a globally recognized copper porphyry expert with 40 years of experience.
Voyager Resources
1,240 million shares outstanding (September 30, 2011), $100 million market cap (September 30, 2011)
Voyager Resources (OTC:VOYRF) has the KM and Khongor copper-gold project in the vicinity of the Oyu Tolgoi copper belt as its prize assets along with the Daltiin Ovor copper-gold project.
It is worth noting that Voyager's Chairman Matthew Wood is the Chairman for multiple companies, including until recently three in Mongolia. Mr. Wood was Chairman of Hunnu Coal (OTC:HUNNF), a Mongolian coal interest that has was sold in September 2011 to Banpu (OTC:BNPJF) for a 30% premium. Presently, Mr. Wood chairs Haranga Resources, a company which focuses on iron ore in Mongolia and is listed in Australia, and Voyager Resources, a company which focuses on copper and gold in Mongolia.
Voyager's most recent presentation is from October 2011's Mongolia Investment Summit in Hong Kong. Their June 2011 annual report states that limited exploration of the KM property has been completed, but "KM has the potential to host a significant copper porphyry system." Voyager had approximately $11 million in cash available as of September 30, 2011.
Voyager reported in late October 2011 that it believes the KM property may be a "company making asset." The company has a full report with extensive data on both the Cughur and Gaans copper discoveries on the KM property. The data is too extensive to fit in this article as there is a chart of results that goes on for 1 1/2 pages with a significant proportion of results in the .60 to 2.41 Copper% range. Voyager believes it has some of the most promising copper mineralization results found in Mongolia since the Oyu Tolgoi discovery.
Conclusion
Speculative investments in Mongolia have produced significant returns. The Mongolian economy is in early stage development that will ramp up significantly once Oyu Tolgoi begins production in the second half of 2012. The neighboring Chinese economy is maturing but still growing rapidly. If seeking a pure play on Mongolian copper-gold resources, Kincora Copper and Voyager Resources provide high quality speculative opportunities.
Previous articles on Seeking Alpha about copper, Ivanhoe and Oyu Tolgoi of note:
Previous articles and Instablogs on Seeking Alpha about junior investing:
Previous articles and instablogs by the author about Mongolia:
For more, go here.
Fine Print: Ocean Equities research (a research company whose data was cited and used as a resource to research this article) received a finder's fee in connection with the reverse merger that formed Kincora Copper. ResCap Mongolia, a brokerage house based in Mongolia, supplied some of the research information in this article. ResCap Mongolia is part-owned by Origo Partners. Kincora Copper is also part-owned by Origo Partners (Soros LLC is a 5% shareholder in Origo). I met with senior management of both Origo Partners and ResCap Mongolia while in Mongolia in September. Voyager Resources did not respond to a request for further information for this article.
Disclosure: I am long IVN. I am long Origo Partners (OPP.L), a company that has a 45% interest in Kincora Copper (OTC:BZDLF). I do not own BHP, BZDLF.PK, EGI, ERDCF.PK, RIO, or VOYRF.PK. I will not purchase BZDLF.PK, BHP, EGI, ERDCF.PK, RIO, or VOYRF.PK in the 72 hours after this article is published. I will not place any trades in IVN or OPP.L in the 72 hours before or after this article is published.
Disclosure: I am long IVN and OPP.L (although not traded in the U.S. and not a major component of the article, it is relevant to state my position in OPP.L for the purpose of this article). All disclosure information is at the bottom of the article in "Fine Print" and "Disclosure" sections.