There is currently only one publicly traded company outside of Mongolia that is a pure play on Mongolia with no investments in the energy or mining sectors. Mongolia Growth Group (OTCPK:MNGGF) announced on November 21, 2011, that it is raising $20 - $30 million in a private placement. Based on the prior investments and statements by Mongolia Growth Group, the majority of these funds will be invested in Mongolia's real estate market. As mentioned previously in my post on investing in real estate in Mongolia, two other local companies that are not publicly traded in the U.S. - Asia Pacific Investment Partners and M.A.D. Investment Solutions - are also both currently raising capital to deploy in the Mongolia real estate market. I have written about Mongolia Growth Group also in a piece about investing in publicly traded stocks that invest in Mongolia.
The flurry of activity to invest in the real estate market in Mongolia could be explained in many ways. The simple answer is there is an expectation of a major ramp up in Mongolia's GDP as the Oyu Tolgoi copper-gold mine is set to begin production in the second half of 2012. Bob Johnson recently wrote a piece on the Oyu Tolgoi mine, a joint project of Ivanhoe (IVN), Rio Tinto (NYSE:RIO) and the Mongolian government and I have previously discussed the expected impact of the mining sector on the Mongolian economy. However, two figures from Mongolia Growth Group's November 2011 presentation capture the growth story for the Mongolian economy.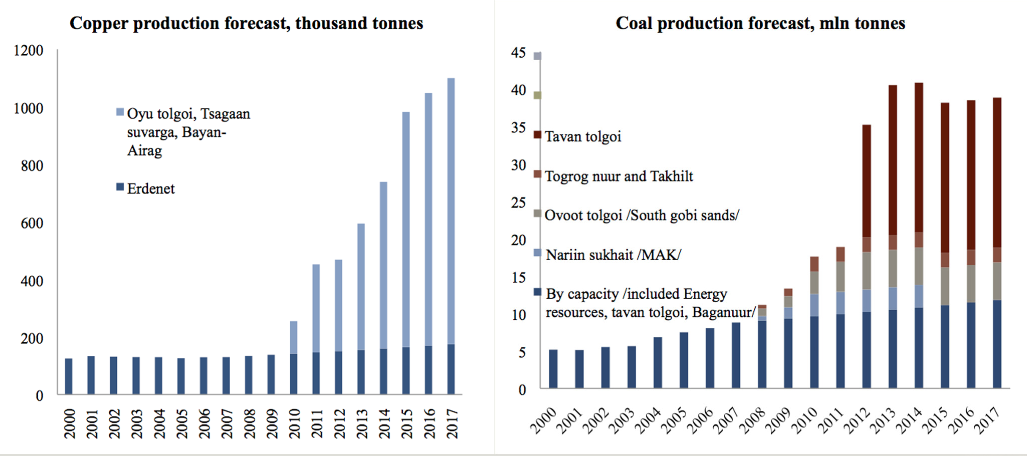 (Click to enlarge) Source: ACI Mongolia, The Financial Markets Association, Mongolia Growth November 2011 presentation.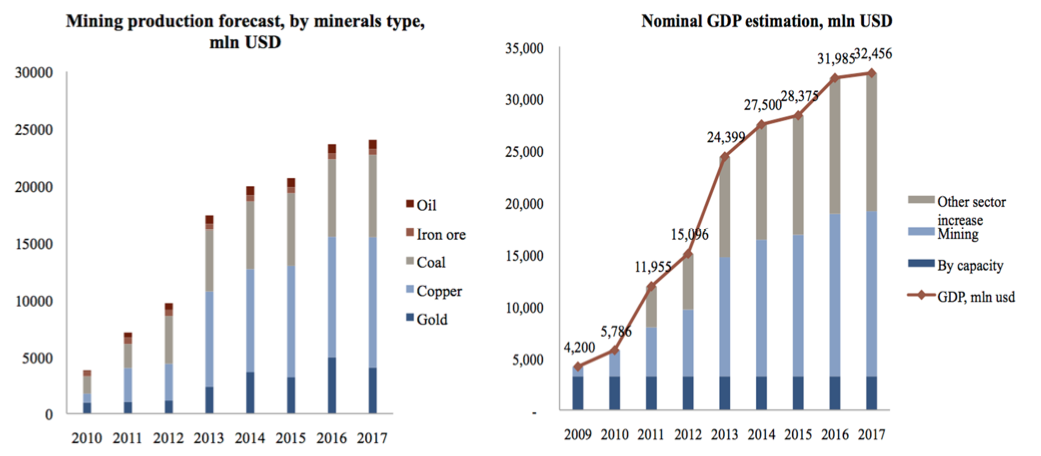 (Click to enlarge) Source: ACI Mongolia, The Financial Markets Association, Mongolia Growth November 2011 presentation.

Reading through all the Mongolia Growth Group shareholder letters this year will provide a good base of knowledge on the company as well. Additionally, board member Bill Fleckenstein was interviewed on Bloomberg TV about Mongolia on November 21, 2011 (6 minutes). Use of capital raised to-date by Mongolia Growth Group is approximately 2/3 for real estate investments and 1/3 for their Mandal Insurance unit, the best-capitalized insurance company in Mongolia since June 2011. I will write about the insurance company in a separate article.
Returning to the first paragraph of this article: why are three firms all raising capital to invest in real estate in Mongolia right now? Mongolia Growth Group's current presentation compares Mongolia to Kazakhstan, a nearby country that recently had a natural resources boom. According to the presentation, in Kazakhstan's Almaty, downtown real estate went up 833% from 2002 to 2008 while downtown land values went up 8,000% during the same time period.
Disclosure: I am long Mongolia Growth Group (OTCPK:MNGGF) and long Ivanhoe Mines (IVN). I have not placed any trades in IVN in the 72 hours prior to publication of this article and will not for 72 hours after publication of this article. I have indicated that I will participate in the current private placement of Mongolia Growth Group and I am reviewing options to participate in a private placement with another private equity real estate investment in Mongolia.
Note: I visited Mongolia September 10 to September 23, 2011. I maintain a weekly news blog on Mongolia and recently posted 5 instablogs about my trip to Mongolia from an investor perspective.
For more, go here.