It's well known that Canadian's have far too much money invested at home. The next decade should see continued flows into ETFs and international growth funds, seeking higher returns than can reasonably be expected here.
The key distinction to make is whether or not European sovereign debt is a "wall of worry" the market is climbing short term, or a structural flaw that will limit gains in the intermediate-long term. The answer is probably a bit of both, and I tend to agree with those calling for a seasonal year-end rally. This being said, threatening headlines don't even scratch the surface of the problems in Europe. I encourage you to read GMO's letter on Europe: choose the scenario you find most likely. I find the 10 year road map to Italy's debt/GDP falling back below the 80% threshold to be realistic.
For those who still insist on safety at home, here's an analysis of my Top Picks from the S&P/TSX 60:
Teck Resources (TCK)
First off it's important to note that the two picks came after a steady look at the 60 components (excluding financials) and emerged quite quickly as the only two with a considerable margin of safety.
Teck is a Canadian diversified miner. A major competitor is Freeport McMoran (NYSE:FCX), another undervalued (though about double the size) global miner. They are well diversified but definitely tied to the price of coal, a resource with excellent fundamentals with fairly consistent pricing but with room for significant appreciation. Below are their profit breakdown and the price of coal over the past 5 years.
I've recently started using Vuru in combination with multiple other checks and balances; their reverse DCFS and projected growth rates are very useful. Here is what I like to see:
If you input a growth rate of 0% - value is $47.85 - implying over 50% upside
If you want to get really conservative go with -10% - value is $41.26 - still over 30% upside
Just to make sure the Vuru model isn't flawed, let's use a different approach by using trailing twelve month earnings and a different model:
These are extremely conservative inputs and still give us a share price with close to 15% upside.
Consistency of cash flow is what differentiates a gamble from an investment. Predictability is perhaps the most understated element of value investing; Buffett and Graham highlight its importance over both growth and price. So how consistent has Teck Resources been?
The thing to notice is the year over year decline in FCF from 2009 to 2010. This has definitely spooked analysts and given credence to the slower growth in Chinese demand thesis. Still, as value investors we should capitalize on this short term pain for long term gain. This is a great track record. ROIC (another favorite Buffett metric) is a GAAP metric and is also important to look at. Teck Resources has also been exceptional in this regard.
As I said before I like Freeport (FCX) as well, so why Teck? They trade side by side and have very similar business models, while Freeport is heavily weighted to Copper and Teck to coal. Both commodities are great right now but one metric that doesn't make sense is Freeport's premium to book value. It currently trades over 2x BV while Teck trades at about 1.1x BV. Freeport's cash flow is much more volatile as well, and if you're looking for a margin of safety, I'd take Teck.
Overall Thesis: A severely undervalued global miner available to Canadian investors at a discount to both its predicted cash flows and its competitors. A 2.3% dividend yield and satisfactory history of buybacks and dividend payments also give some added insurance as one waits for this cyclical to rally. Very comfortable accumulating near $30 as this has acted as technical support many times over the past 5 years.
Thomson Reuters (NYSE:TRI)
An information giant providing professionals in financial, legal, tax and accounting, healthcare, science, and media markets worldwide.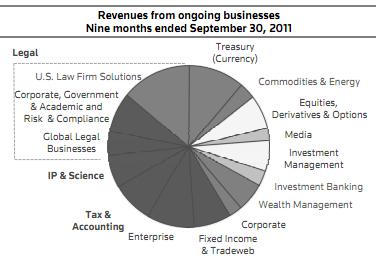 For this one let me start with the basic thesis: excluding the financial crisis, the company is valued where it was in 2003 - about 5 years before the acquisition of Reuters. Put another way, the market is giving you an opportunity to buy Thomson and get Reuters for free. What gives?
This is a very interesting chart to dissect:
Starting in mid 2003 the company established a strong floor at $30 that was left in the dust during the run up to the financial crisis. After having followed the broader market back to $40 (unable to establish support twice) it nosedived back to the all important $30 and has since broken this as well. From a technical standpoint, this equity should not be trading below $30. So what has the company accomplished over this volatile 10 years?
Vuru projects 4.8% growth implying a 45% upside.
If it keeps FCF steady with no growth, it is worth $35.47, with 36% upside
Extremely conservative -10% growth buts it at $31.65, right where it's support/resistance has historically been formed. And that still has a 21% upside
This is the only concern. It is much stronger on a cash basis than on earnings. It currently trades 16x trailing earnings. Keep in mind that this growth rate is conservative and a discount rate of 15% is well above what is normal (11% is common). As with Teck, it is only at 1.14x BV.
10 years of positive free cash flow is great. Are we to believe that because 2011 growth was a small negative yoy that this great company is dead in the water?
I personally like the type of investing where the numbers tell such a great story that it requires very little additional work on my part. If a company has a good track record, fairly predictable cash flow and earnings, and isn't in at risk industries (financials, some technology) then I usually feel I can trust management with my capital.
Overall Thesis: Thomson Reuters offers a record 4.6% dividend yield and has a fantastic track record of consistently increasing those dividends. It also has a mediocre history of stock buybacks. Simply put, it has fantastic brand recognition and offers income to those that are willing to wait for capital appreciation. It is a Strong Buy below $30.
Disclosure: I have no positions in any stocks mentioned, but may initiate a long position in TCK, TRI over the next 72 hours. All research is done using NYSE listings, prices shown will differ on the TSE. All opinions are solely my own and not reflective of the investment strategy of any firm I have worked for, past or present. Always do your own research and/or speak to your broker.