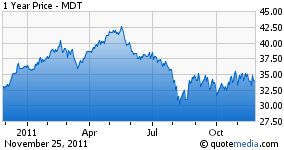 A defensive medtech stock with a diversified revenue line and a solid pipeline
Despite a growth slowdown in the USA of the Cardiac Rhythm Disease Management division (CRDM, 31% of sales) and increasing competition in the spine, diabetes and stent markets, Medtronic (NYSE:MDT) represents a good long-term investment opportunity at the current price due to its diversification, pipeline, new product launches and high cash flow generation supporting dividend payments. Furthermore, cost controls and the ongoing share buyback program should support EPS growth.
Unjustified discount to peers in light of Medtronic's pipeline
Medtronic currently trades at a P/E 2012E of 9.9, at a 30% discount to its peers, which is unjustified, given the broad product line, the company's pipeline and the capacity of Medtronic to increase its operating leverage in the medium term. Assuming a sales CAGR 2010-14 of 4.8% and an EBITDA margin expansion by 50 bp over the same period. From this, a target price of USD 39 is derived.
Q2 2012 results beat low expectations - Guidance maintained
Medtronic reported Q2 2012 (FY ending April 2012) revenues of USD 4.13 bn (up 6% YoY, up 3% in local currency, slightly above consensus expectations of USD 4.07 bn. The picture remains broadly unchanged compared to the previous quarters, with a beat driven by the Neuromodulation, Diabetes and Surgical Technology divisions (up 6%, 10% and 20% YoY, respectively), while Spine and ICD (defibrillator) sales declined YoY and continued to suffer from reduced healthcare utilization trends and product-specific issues. The adjusted operating margin expanded 80 bp YoY to 31.5%, 50 bp below consensus expectations, as increased investments in sales and marketing were not fully offset by good R&D cost controls. Adjusted EPS benefited from a lower tax rate and came in at USD 0.84 (up 2% YoY) while consensus expected USD 0.82. For FY 2012, Medtronic reiterated its outlook and expects EPS of USD 3.43-3.50 (consensus expects EPS of USD 3.45) with H2 2012 revenue growth to remain at 1%-3% in lc. While expectations were low, Q2 2012 results seem good, and maintaining the guidance should be taken positively by the market.
New product introductions and acquisitions should drive revenue growth
Medtronic's product pipeline is promising and the continued introduction of innovative products as well as indication extensions to drive revenue growth is expected. International expansion could further support the company's growth. Moreover, Medtronic relies on acquisitions to gain access to new technologies and to increase its revenue line (as recently seen with the Ardian acquisition). This trend to should continue.
Cost-control measures should support margin expansion
Margin expansion will be driven by a lower cost of goods sold and by cost-containment measures. Medtronic recently announced a 4%-5% reduction of its workforce. The company intends to rationalize its sales and marketing spending while maintaining R&D growth in line with revenue growth. Moreover, improved synergies between the divisions could provide further upside to the margin expansion. Furthermore, the share buyback program should help EPS grow faster than sales.
Disclosure: I have no positions in any stocks mentioned, and no plans to initiate any positions within the next 72 hours.