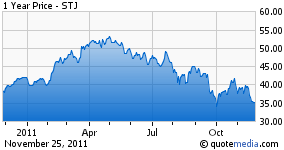 St. Jude Medical (NYSE:STJ) was founded in 1976 and is headquartered in St. Paul, Minnesota. Trailing twelve month 2010 net sales is 5.56 billion with 16,000 employees and a geographical scope extending to more than 100 countries.
The company's four operating segments are Cardiac Rhythm Management (CRM), Cardiovascular (CV), Atrial Fibrillation (AF) and Neuromodulation (NMD). The primary products produced by each operating segment are: CRM – ICDs and pacemakers; CV – vascular products, which include vascular closure products, pressure measurement guidewires, optical coherence tomography (OCT) imaging products, vascular plugs and other vascular accessories, and structural heart products, which include heart valve replacement and repair products and structural heart defect devices; AF – atrial fibrillation products which include EP introducers and catheters, advanced cardiac mapping, navigation and recording systems and ablation systems; and NMD – neurostimulation products, which include spinal cord stimulation and deep brain stimulation devices.
Past performance snapshot:
Click to enlarge


Management expects 2011 consolidated earnings per share to be in the range of $3.26 to $3.28, gross profit margins to be in the range of 74.0% to 74.5% and R&D as a percentage of net sales to be in the range of 12.5% to 13.0%. (Source: October conference call)
Valuation
Here is one fair value view based on management's financial track record focusing on the financials as they relate to fair value, followed by possible risks.
Fair values are based, in part, on the following: Discounted cash flow, a modified Graham's intrinsic value formula and a P/E analysis. The valuation model consists of two parts.
The discounted cash flow and the modified Graham's intrinsic value are blended to arrive at a fair value.
A P/E analysis based on historical adjusted values.
Fair value used is the minimum value of the two parts.
Part 1: Discounted cash flow and the modified Graham's intrinsic value.
Longer term earnings growth estimate:
Click to enlarge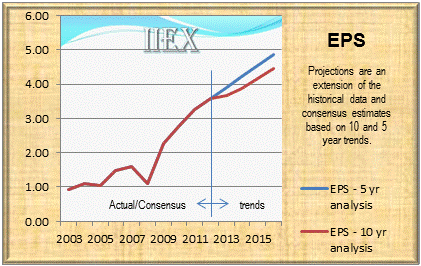 Projections (for EPS and cash) are arrived at by calculating the statistics for a trend line using the "least squares" method. This determines the line that best fits the historical data. Projected earnings growth through 2016 averages about 7.1% based on a combination of the 10- and 5-year trends.
Analysts are much more optimistic for longer term earnings growth than our analysis, projecting 11.6% as of November 22, 2011 (Source: nasdaq.com).
John C. Heinmiller (chief financial officer) noted in the October conference call guidance for 2012 will be provided when they report in late January, 2012.
Longer term cash flow growth:
Click to enlarge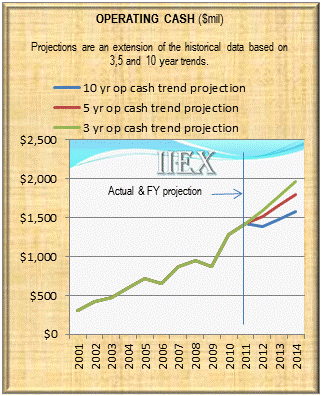 Projected long term cash flow growth calculations are 9.7%. This represents a weighting of the 3, 5, and 10 year trends (recent trends carry more weight) using 2011 as the baseline.
Estimated long-term EPS and cash flow growth rates going forward are 7.1% and 9.7%, respectively. Running these projections through our pricing model produces a fair value of $49. Needless to say, the result is sensitive to changes in these growth rates as illustrated below.
| | |
| --- | --- |
| STJ | |
| EPS & Cash Growth rates | FV |
| EPS-9.10%; Cash-11.73% | $55.00 |
| EPS-8.10%; Cash-10.73% | $52.00 |
| EPS-7.10%; Cash-9.73% | $49.00 |
| EPS-6.10%; Cash-8.73% | $47.00 |
| EPS-5.10%; Cash-7.73% | $45.00 |
| EPS-4.10%; Cash-6.73% | $41.00 |
Part 2: P/E Analysis
Click to enlarge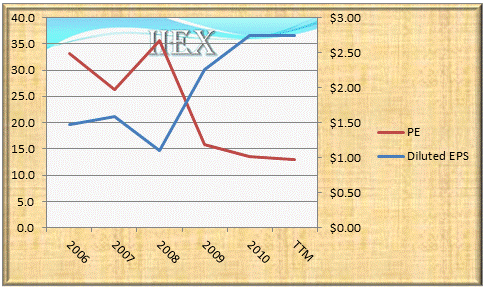 The pricing model produces a PE of 18 yielding a fair value of $58.
Final fair value is the minimum of the two methods or $49. The stock is trading at a 27% discount at the time of this writing.
S&P has a 12 month target price of $50, Credit Suisse at $48, and the consensus median price on Yahoo Finance is $50.
STJ pays a dividend of $0.84 yielding 2.36% at the time of this writing. The dividend represents a payout ratio to trailing twelve month free cash flow of approximately 24%. John C. Heinmiller (chief financial officer) had these comments in the April conference call:
I would like to comment on our cash dividend which we initiated this quarter (April). This dividend reflects our commitment to rewarding shareholders through value creation and demonstrates our confidence in our growth profile, earnings power and future cash flow generation. We believe we are at a scale where we can commit to a quarterly dividend program while continuing to invest in research and development, perform periodic share repurchases and make acquisitions where appropriate and cost-effective.
Attractive at 35:
This would depend on an investor's risk tolerance, margin of safety and other personal considerations. We calculate an attractive price below $35.20 based on the fair value and dividend yield.
The discount to fair value is large, since the price going forward is subject to any unforeseen changes in business and economic conditions. Some are listed below.
A more conservative strategy would be to write a put option with a strike price of $35 to build a position or generate income. This strategy is explained in detail here.
Risk
The list is long in the medical industry but some of the major ones are:
Uncertainty about current global economic conditions poses a risk which could have a material negative effect on demand for STJ's products.
A significant portion of revenues are generated from operations outside the United States. Future revenues, costs and results of operations could be significantly affected by changes in foreign currency exchange rates, as well as by a number of other factors, including changes in a country's political conditions, trade protection measures, patent laws, local tax issues, and other related legal matters.
Any legislative or administrative reform to the U.S. Medicare or Medicaid systems or international reimbursement systems that significantly reduces reimbursement for procedures using STJ medical devices or denies coverage for such procedures, as well as adverse decisions relating to products by administrators of such systems on coverage or reimbursement issues.
Unfavorable data from clinical trials.
Safety, performance or efficacy concerns about STJ products, many of which are expected to be implanted for many years, some of which may lead to recalls and/or advisories.
A complete set of updated detailed financial data and projections reflected in this article can be found here.
Disclosure: I have no positions in any stocks mentioned, but may initiate a long position in STJ over the next 72 hours.