One of the hot investments of the past year has been Master Limited Partnerships (MLPs). The demand for MLPs' high yield has driven up prices so their yields have diminished. And why invest in a low-yield MLP?
The solution may be to invest in U.S. royalty trusts as they are similar to MLPs. Trusts are required to pay out nearly all of their cash flow as distributions which produces above average yields. Trusts get credit for depletion and depreciation which the IRS does not count as income. This is a tax advantage passed on to the unit holders to lower their cost basis.
Since most royalty trusts are in the energy sector, they are a pure play on commodities such as oil and natural gas. However, this sword cuts both ways as trust income is affected by the prices of these commodities which can be reflected as fluctuations in distributions.
Royalty trusts organized in Canada are subject to the foreign income tax so I am focusing on the trusts based in the U.S. in this article. I prefer to look at trusts that have increased their EPS in the past few years when researching these income investments.
The table below () shows a list of trust investments based in the U.S. stock exchanges. The two best investments from this list are Great Northern Iron Ore (NYSE:GNI) and Sabine Royalty Trust (NYSE:SBR). Cross River Timbers Trust (NYSE:CRT) is a neutral recommendation by most analysts. I suggest further research on this list to identify the trust that best meets your investing objective.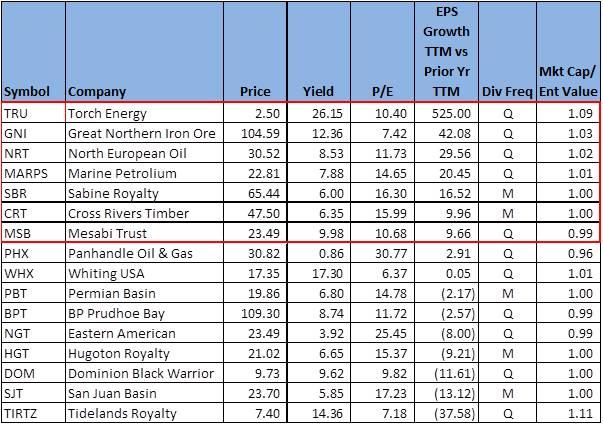 Disclosure: I have no positions in any stocks mentioned, and no plans to initiate any positions within the next 72 hours.