When I see a company whose share price puts the stock on a price to earnings ratio of double the S&P 500 Index, I have to wonder how low the market will eventually take the shares. When I see that the shares have already halved in value this year, I wonder why they were so high in the first place. Perhaps Greenspan's 'irrational exuberance' is alive and kicking. Then I look more closely, and every now and again up pops a gem that looks oversold.
Green Mountain Coffee Roasters (NASDAQ:GMCR) shares are currently trading around $50.13. Its last 12-month earnings per share of $1.31 places its shares on a trailing price to earnings ratio of 38.27. This compares with the sector average of 16.26. However, its closest competitors-- Peet's Coffee & Tea Inc (NASDAQ:PEET) and Starbux (NASDAQ:SBUX)-- trade on multiples of 39.78 and 25.46 respectively. Both of these companies' shares trade on higher forward price to earnings multiples than GMCR (30.93 and 18.67 respectively). GMCR's earnings are expected to be in the region of $2.58 for the year ending September 2012, which places the shares on a forward price to earnings ratio of 13.77. Suddenly, measured on this basis against its peers, GMCR doesn't look expensive.
The company produces an operating margin of 14.32%, and with a return on equity of over 15%, this number should look reasonably attractive to potential investors. PEET's operating margin is 9.03%, and its return on equity is 11.46%, whilst SBUX's numbers are 13.03% and 30.93% respectively.
Perhaps the company's debt position is the reason for the dramatic price drop? The company has total cash of $13.02 million, and debt of $582 million. The debt/ equity ratio of 30.67 is not overly demanding.
Looking more closely at its last earnings release gave the answer to the question, why the dramatic fall in share price?
On 9 November, GMCR's fourth quarter results delivered lower than expected earnings. Earnings per share for the full year of $1.31 increased by 126% over the previous year. Operating income of $368.9 million increased by 166% and net income of $199.5 million increased by 151%. Fourth quarter sales growth of 91% was strong, but missed the company's own forecast mainly due to changes in wholesale customer ordering patterns. However, the company has reiterated that it is confident that next year's numbers will produce net income between $2.55 and $2.65 per share.
Of a slight concern could be the level of inventory that the company is holding. At a value of $672 million, this is 2.5 times more than at the end of its previous year. Debts increased from $354 million to $582 million over the period, though the sale of its Filterfresh business to ARAMARK for a cash price of $145 million was classified as assets held for sale in the company's financial statements.
Click to enlarge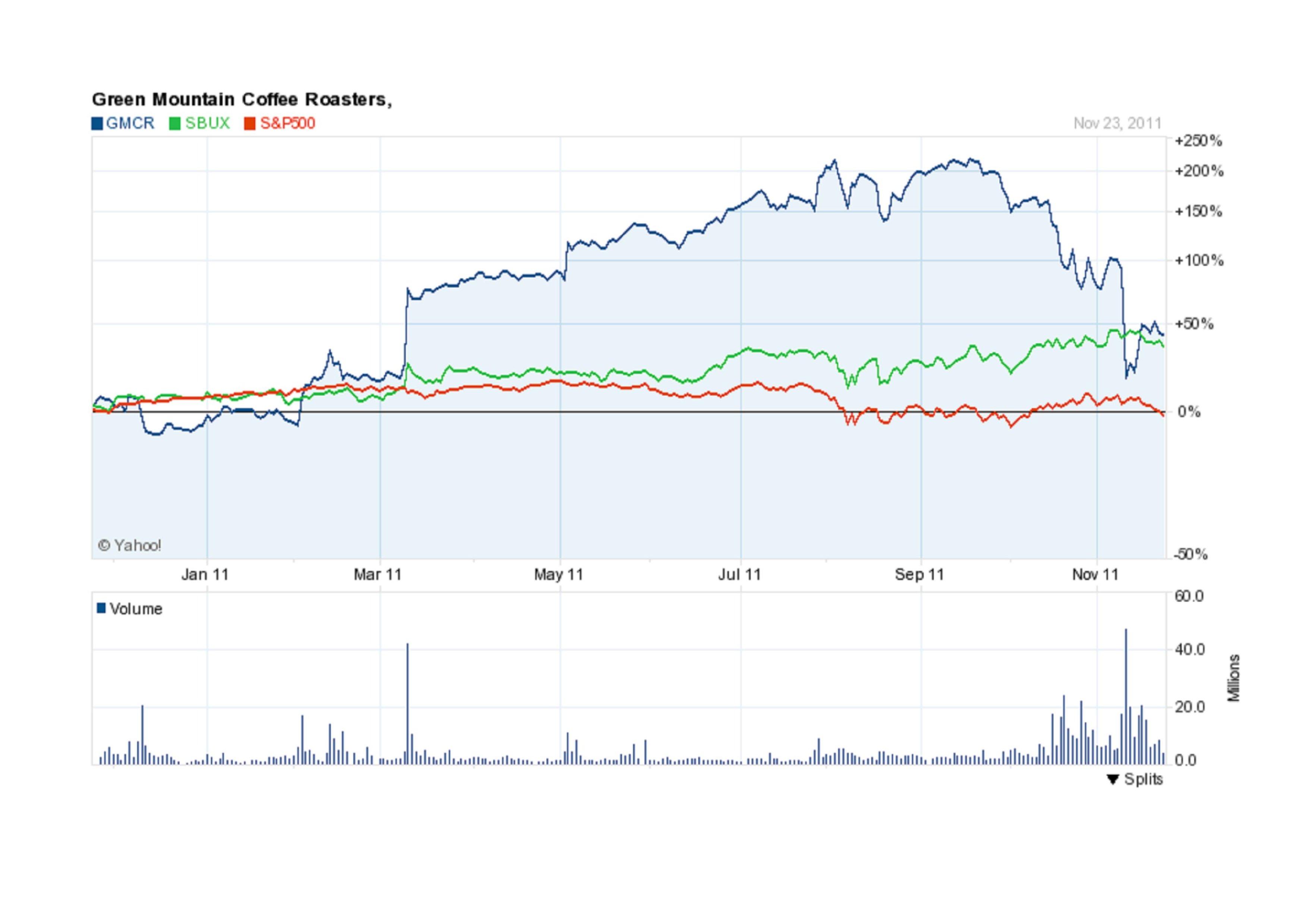 Looking at the 12–month chart, shareholders have done well, even given the recent fall in value since October. The shares have marginally outperformed those of competitor SBUX, and given far better returns than the S&P 500 Index. The shares-- after hitting and re-testing their 12-month low of $31.21-- have created a deep 'W' pattern, and could be in for further gains.
A company that has prospects for great profit growth, with an undemanding level of debt, and in a sector that should fare well, even in tough economic times (do you drink coffee?), trading at a lower than average sector forward price to earnings ratio. Even after the recent bounce in share price, this stock still looks oversold to me.
Disclosure: I have no positions in any stocks mentioned, and no plans to initiate any positions within the next 72 hours.