One of my tenets from the (revised) "Commodity Crash Playbook" is to respect momentum and trends in commodity trading and investing…
"Respect the CURRENT trend. It IS your friend in commodities. Do not presume to know the precise location of a definitive top or bottom…

…However, since low prices beget high prices and high prices beget lower prices through the process of market forces, innovation, and substitution, do not over-stay your "welcome" in a trend. In other words, assume that the commodity will experience some kind of cycle even if the catalysts for the next change in the cycle are not clear at the moment. This is yet another corollary to avoiding long-term projections."
Iron ore has become a fascinating case in point. The trend for iron ore prices and iron ore related equities has definitively pointed downward. The path downward has been relentless. The last several months of the decline have not even featured the standard notable and sharp relief rally…until now. The weekly continuation chart below shows the Iron Ore 62% Fe futures expiring next month. Note the relentless selling through 2014 and into 2015 compared to the sharp relief rally from last week.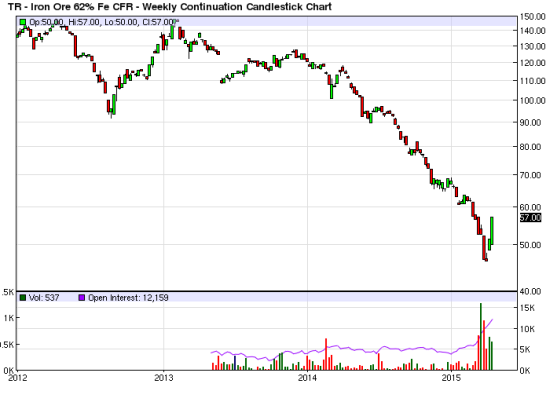 Declines in 2012 and 2013 were broken by extended rallies. Not so in 2014. Has the time come again for 2015?
Source: Barchart.com
Given the duration of the selling, one should suspect that negative sentiment was getting stretched. We may one day even look back on the S&P's creditwatch warning on April 13th on iron ore majors as one of those washout moments where sellers finally exhaust themselves (on the equity side). Similarly, the lingering chatter and rumors about the possibilities for Glencore making a play for Rio Tinto (NYSE:RIO) make RIO a stock that could explode to the upside at anytime (like its 20% gain at one point in the wake of rumors last October). That move exhausted buyers on the upside.
The latest catalyst in this tinderbox came in the form of just a few sentence from BHP's latest operations report that I still believe have been grossly misinterpreted. At the time of writing, the buying has persisted for three straight days. The move has been so powerful that it has changed the market narrative and generated headlines of a new "bull market" in iron ore. A move of 20% or more typically defines a bull market to the upside and a bear market to the downside. Of course, such distinctions pale in comparison to the large price move from the 2011 peak. The distinctions can mean a lot for sentiment and the market narrative. For example, the new narrative is that supply will not actually bulge as large as feared into coming years. From there, it will soon stand to reason that if Chinese steel mills pay the higher prices, they must be seeing better business ahead. If the steel mills see better business ahead, the Chinese economy must be turning around and beginning a fresh boom. That expected boom will then form the core of the new China bull argument for iron ore and perhaps even other commodities.
Reinforcing feedback loops are powerful in commodities and form the basis for sustained price action. The feedback loops in play over the past 18 months or so have been particularly destructive. Even though I believe iron ore has yet more downside as a part of that downward tug, I think it makes sense to respect to potential for a constructive feedback loop in the short-term. I conclude with a review of the charts to speculate on some entry and exit points on related equities.
In recent months the strongest of the iron ore players, Rio Tinto and BHP Billiton Limited (NYSE:BHP), have avoided new lows. These milestones have created a change in character for the downtrend. The charts below show RIO's December low was tested but unbroken this month, and BHP's January low was similarly tested but unbroken.
Hampered by bearish economic conditions in Brazil, #1 iron ore producer Vale SA (NYSE:VALE) remained in a downtrend into April. Its chart below shows most clearly the dramatic change in sentiment and market narrative currently in play.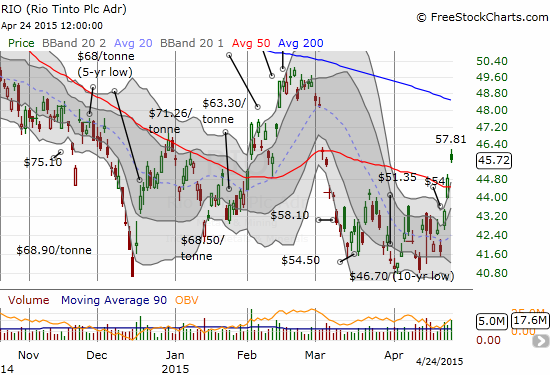 Rio Tinto breaks above its 50-day moving average for just the second time since August, 2014 as it now holds its lows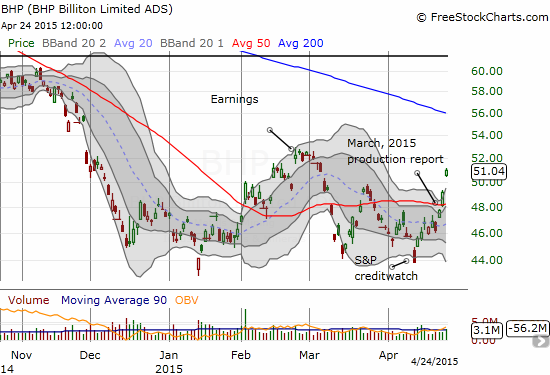 BHP Billiton Limited is up a quick 14% since the S&P's creditwatch warning as it holds its lows and breaks above its 50-day moving average for the third straight month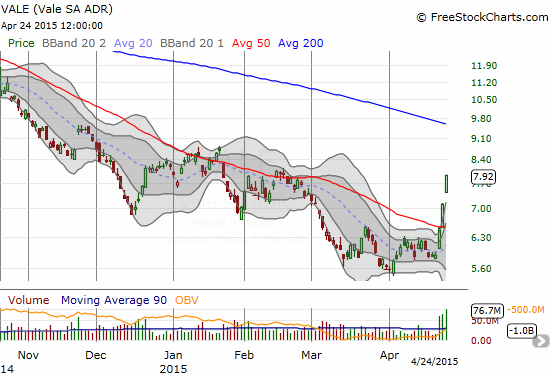 Vale S.A. has soared 34% in just the past three days
All three stocks are well over-extended right now, especially VALE. They are trading well above two standard deviations from the 20-day moving average (technicians know these as Bollinger Bands). Coming up soon should be some kind of pullback at least to the two standard deviation range - most likely back to the one standard deviation range. If a new uptrend is underway, the stocks should recover quickly from that pullback and continue swiftly upward. If the market is more tentative, then some back and forth, sideways action should ensue. Under that scenario, I will watch carefully for trading volume between up and down days. All bets are off of course if the market completely reverses the last three days of gains. It goes without saying that new lows will mark a continuation of the bearish thesis.
I am currently positioned as follows: long VALE and looking to add on a pullback (this is also a bet on Brazil finally getting its economic act together in coming years - more on that in another post), short BHP for a short-term pullback, hedged RIO with call and put options as my main iron ore play. Once the next trend becomes clearer, I will align more closely to the momentum and the market's active narrative. If the next move is indeed bullish, then I will be keeping an eye out for the catalyst(s) that return iron ore to the longer-term downtrend. Next up, the Federal Reserve meeting on Wednesday, April 29th. If the Fed so much as blinks on its presumed intention to hike rates this year, I strongly expect commodities, iron ore included, to soar. The U.S. dollar (NYSEARCA:UUP) looms large over almost all commodity-related investments and trades.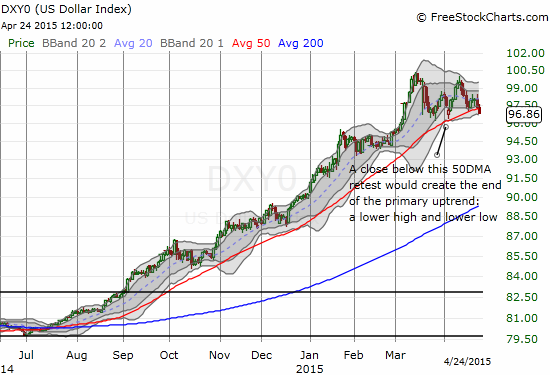 The U.S. dollar's major uptrend looms large over commodity markets
Source for charts: FreeStockCharts.com
Be careful out there!
Disclosure: The author is long VALE, RIO.
The author wrote this article themselves, and it expresses their own opinions. The author is not receiving compensation for it (other than from Seeking Alpha). The author has no business relationship with any company whose stock is mentioned in this article.
Additional disclosure: I am long RIO calls AND puts, short BHP; in forex, I remain net long the U.S. dollar