Economic confidence in Germany has been more based on stimulus measures, as opposed to hard data, in recent months as PMI figures declined, alongside slowing exports. The German currency is represented by CurrencyShares Euro Trust (NYSEARCA:FXE).
In April, the business climate figure came in at 108.6, up from the previous month's reading of 107.9, while slightly exceeding estimates for 108.4. Over the past year, business confidence is about even, however, seen below. Currently, stimulus measures, more than actual economic data, are driving sentiment higher.
"I'm quite optimistic about the German economy -- the lights are on green, the euro is low, energy prices have dropped.

The biggest source of uncertainty for Europe at the moment is the situation in Greece -- that could create some disruption if it doesn't evolve as we all hope," Aline Schuiling, senior economist at ABN Amro Bank NV in Amsterdam, told Bloomberg.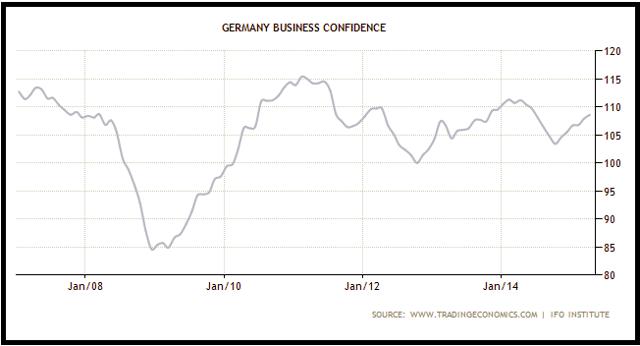 While sentiment is elevated, business activity has pulled back. In April, the manufacturing figure came in at 51.9, down from the previous month's reading of 52.8, while also missing estimates for 53. A reading above 50 signals expansion. Since peaking in the beginning of 2014 at over 55, the PMI figure has fallen steadily lower. Weak new order growth was shown to have weighed on factory activity.
"April's survey data are consistent with further economic growth at the start of the second quarter. However, it will be interesting to see whether weaker new order growth and increased prices will result in a further slowdown of output expansion or whether the German economy will regain momentum in coming months," according to FX Street.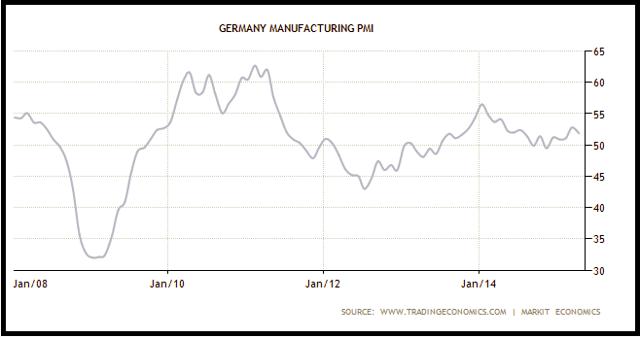 Moreover, the services PMI number is also slowing. In April, the services PMI figure came in at 54.4, down from the previous month's reading of 55.4, while also missing estimates for 55.5. A reading above 50 signals expansion. After peaking earlier in the year, services PMI has also trended lower, seen below.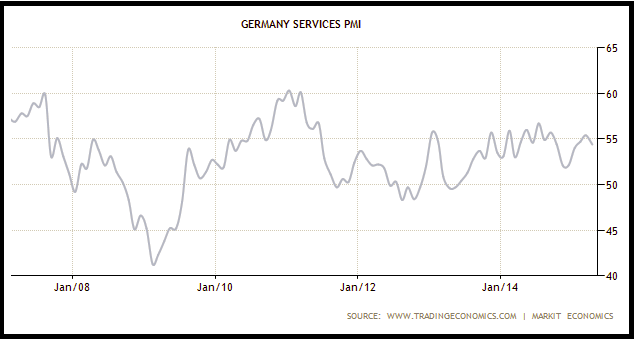 This has all been in concert with a marked slowdown in export data. In February, the export figure came in at an annual pace of 0.54%, down from the previous month's reading of 2.26%. After peaking over the summer at close to 7% annually, export growth has declined. Falling export data provide a reality check for the euro area economy as a whole as strong momentum dwindled in recent months.
"Disappointing overall but not disastrous. Euro zone manufacturing and services expansion unexpectedly moderated in April according to the purchasing managers, perhaps providing a reality check on the strength of the region's upturn," according to CNBC.
While Germany, and the euro area as whole are much improved from the depths of financial crisis, more recovery is still needed. Sentiment remains optimistic as stimulus measures have been put into place by the European Central Bank. The real economy, made up of both manufacturing and services, is losing momentum, however. The current economic landscape calls for the euro to remain weak, which it should as the ECB keeps its foot on the stimulus gas pedal.

Data provided by the OECD
Disclosure: The author has no positions in any stocks mentioned, and no plans to initiate any positions within the next 72 hours.
The author wrote this article themselves, and it expresses their own opinions. The author is not receiving compensation for it (other than from Seeking Alpha). The author has no business relationship with any company whose stock is mentioned in this article.