Actionable Items:
Outlook: In a season of cheer, there is little for investors to cheer about. The Santa Claus Rally has been placed on "hold" as the eurozone crisis intensifies-all other investment considerations having been rendered a distant second.
Thin Gruel: The "hope" on which investors have been living has become pretty thin gruel. The prospects of a tangible quick fix of an ECB bail-out or an acceptable Eurobond offering seems unlikely, but not remote.
Political Leadership as an Oxymoron: The failure of technocrats (regulators) to identify the problem as its occurring and the politicians' refusal to deal with it after the fact has rendered political leadership an oxymoron. (See, "In Search of the Warrior Politician" (11/23/11)).
Political uncertainty has rendered equity investing a spectator sport and has increased the odds of bond bubble detonations. As a place to hide, our focus CEF this week is Nuveen Mortgage Opportunity Fund (JLS). (See, "CEF Focus Stock(s) for the Week", below)
CEF Weekly Review: On average, the 13 closed-end fund (CEF) types registered a share price decrease of 1.4% for the week ending 11/25/11. The high-low spread (percentage price change difference between the highest and lowest fund types) registered this week was an extremely wide +6.0% versus +3.6% the previous week. On an aggregate unweighted basis, the weekly average price change for the 500 plus CEFs in the GrowthIncome database was down 1.0%.
The PowerShares CEF Income Composite (NYSEARCA:PCEF), an ETF that invests in taxable income CEFs, declined 1.6% for the week. PCEF is down 9.8% YTD based on share price and down 0.8% when its current annualized yield is included. S&P 500 dropped 4.7% this week and expanded its YTD loss to 7.9%.
Trading Volume: The average daily volume for the S&P 500 (GSPC) dropped 13.2% during this holiday-shortened week to 3.4 billion shares. (See, "Uptick, Downtick" below.)
The Eqcome CEF Fear Index was elevated on the downside. The average CEF unweighted price decreased 1.0% while the average related NAV declined 1.4%. The VIX advanced 6.8% this week on top of the 6.6% increase the previous week climbing to 34.19 to end the holiday shortened week.
Mutual Fund Money Flows: Mutual funds' flows for the week ending Wednesday, November 16th, (most recent data available) is the continuation of the same trend over the past month with a slight twist, out flow of equity-oriented mutual funds into fixed-income funds. Investors pulled $30 billion out of domestic equity funds over the past eight weeks while taxable bond funds pulled in $22.0 billion during the same period.
For the most recent week, investors withdrew a modest $0.1 billion from domestic equity funds while $6.5 billion was added to fixed-income funds ($1.0 billion going into munis). Investors abandoned hybrid funds after five consecutive weeks of inflows by pulling $4.6 billion in funds this week. Investors may have "thrown-up their hands" with equities even in a balanced portfolio in favor of fixed-income.
Despite wishful thinking, the "switch" from debt to equity has failed to emerge as a tangible trend.
Uptick, Downtick: Weekly money flow was down 4.9% for the Dow Jones U.S. Total Stock Market Sectors for the week ending November 25th. The Up/Down Ratio (share volume on price upticks versus downticks) was 0.93 indicating volume on the uptick was less than the downtick volume.
There was no data available this week regarding the performance of the S&P sectors. However, one could speculate that Financials and Basic Materials experienced the largest weekly outflows with Utilities and Health Care experiencing the least.
CEF Weekly Fund Type Performance: For the second week in a row the average share price performance for the CEF fund types exhibited increasing investors' nervousness with respect to the absence of a quick, easy resolution to the eurozone's political and financial crisis.
Fixed-income CEFs advanced and equity-oriented CEFs were punished. National and state munis again posted positive returns while all other fund types "took on water." Munis got a temporary boost from a bankruptcy judge rejecting Harrisburg's Chapter 9 bankruptcy petition. U.S. domestic debt appeared to be a safe harbor for investors as reflected in a rising U.S. Dollar.
Equity-oriented CEFs took a beating this week. WrldEqFnds led the plunge with a drop of 4.9%. With the exception of LoanPartFnds, all other CEF fund types saw their average NAVs drop greater than related price.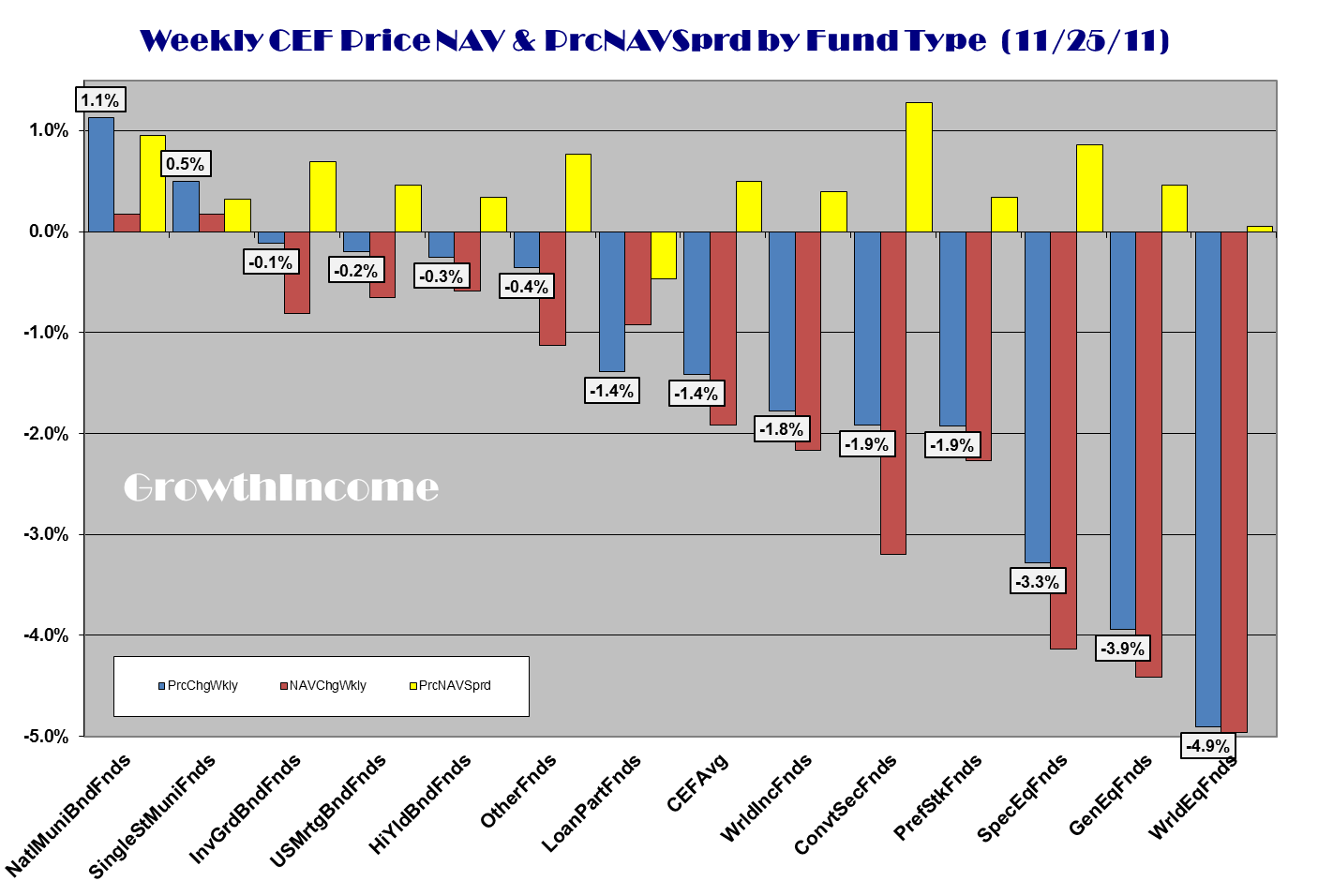 Weekly CEF Winners and Losers: One of the CEFs with the greatest positive PrcNAVSprd for the week was Invesco Insured Municipal Bond Trust (IMC-OLD). IMC's price increased 5.7% while its NAV increased 0.2% generating a positive PrcNAVSprd* of 5.5%.
IMC hit all of retail investors' high notes: fixed-income, domestic and insured. (S&P has apparently telegraphed that it will likely retain the current "AA" rating on Assured Guaranty Ltd., the only company still providing protection for municipal bonds.)
IMC generates a 5.3% nominal annualized monthly yield and an 8.2% taxable yield equivalent. IMC trades at a premium of 11.8% reflecting the underlying guaranty of its municipal portfolio. IMC was also rated as one of the "10 Best Municipal Bond Funds for 2012" by the "The Street" this week which may carry some weight in retail circles.
A CEF with the greatest negative PrcNAVSprd for the week was another Invesco CEF, Invesco Van Kampen High Income (VLT). VLT's price declined 6.3% while its NAV decreased 1.8% generating a negative PrcNAVSprd of 4.4%. VLT invests in high-yield corporate bonds. It is currently yielding an annualized 9.4% and trading around par. VLT's net assets represent $81 million and it is leveraged at a third of its net assets. Since August, VLT's premium had expanded and its recent price contraction has brought it into more of its 52 week average.
Economic & Earnings Outlook: (Click here for next week's economic calendar; click here for earnings' announcements and estimates.)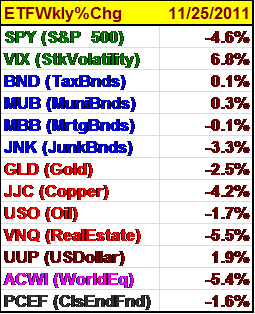 ETFs: For a more detailed ETF performance by sectors, click here-see, "Research" Menu; "ETF Weekly Information" tab.)
Insider Trading: There were three additional transactions this week.
The largest were two related transactions by DST Systems, Inc. (held by West Side Investment Management, Inc.) in both Liberty All Start Growth Fund (NYSE:ASG) and Liberty All Star Equity Fund (NYSE:USA) of 75,000 at $4.32 per share and 14,476 shares at $5.07 per share, respectively.
Both CEFs are advised by ASPS Advisors, Inc., a subsidiary of ALPS Holdings which in turn is a wholly owned subsidiary of DST Systems, Inc. DST Systems Inc. owns 6.4% of ASG-down from 9.5% ownership in September. Both Liberty CEFs had stakes by Karpus Management, Inc. which is an activist CEF investor.
Nancy E. Wallace, a director of Montgomery Street Income Securities (NYSE:MTS), initialed a new position of 1,300 shares at an average share price of $15.28 per share.
CEF Distribution Announcements This Week: The following is a link to a table of CEF distribution announcements this week as well as the previous week's with yet expired ex-dividend dates. The list is not intended to be inclusive. Additionally, mid-month is a time that many CEFs go ex-dividend. (Click Here for Joe Eqcome's Weekly CEF Distribution Announcements-see, "Research" Menu; "CEF Weekly Information" tab.)
Significant CEF Corporate Events: Not scanned.
CEF Focus Stock(s) for the Week: Nuveen Mortgage Opportunity Term Trust (JLS). JLS invests in high-yield mortgage backed securities. It is currently trading at an annualized monthly yield of 10.2% and discount of 7.3% which is now below its 52 week average of 4.0%.
The reason for JLS being this week's focus stock is that like munis it is fixed income, domestic and while the housing industry hasn't shown signs of recovery, it is showing signs of stabilization.
In an article in this week's WSJ, entitled "Stronger Lure of Prospective Home Buyers", it points out that home prices and mortgage rates have fallen to the point that the cost of owning a home is more affordable than any point in the past 15 years and is now less expensive than renting in a growing number of cities.
Additionally, the Fed's "Operating Twist", in focusing on recycling their Treasury repayments into the long-end of the yield curve, mortgage-backed securities has been a target of those reinvested funds.
While JLS's portfolio has a small portion of those targeted mortgage-backed securities by the Fed, and since most fixed-income is price off a treasury comparable, a rising tide should lift all boats.
Last Week's Focus Stock(s): Cornerstone Strategic Value Fund (CLM). CLM is in the midst of its second rights offering in as many years. It has announced commencement of its rights' offering for those investors having subscribed. The stock was off 8.0% for the week.
CLM is issuing to its stockholders non-transferable rights entitling the holders to subscribe for an aggregate of approximately 2,867,443 shares of the Fund's common stock. Each stockholder is to be issued one right for each whole share of the Fund's common stock owned on the record date, November 21, 2011.
Rights Pricing: The rights entitle stockholders to acquire one share for each three rights held. The subscription period will commence on Thursday, December 1, 2011, and will expire at 5:00 p.m., New York time, on Friday, December 16, 2011, unless extended (the "Expiration Date"). The actual subscription price per share, as determined on the Expiration Date, will be the greater of: (1) 102% of NAV per Share as calculated at the close of trading on the date of expiration of the Offering (5:00 p.m. EST on Friday, December 16th), or (2) 90% of the market price per Share at such time.
CLM has managed with "smoke and mirrors" to generate what amounts to a perpetual motion machine in terms of its stock valuation. The key is CLM's ability to trade at an extremely high premium through a series of very clever ploys-that include an ephemeral mid-teen yield through return of capital distributions-and adroit trading while not running afoul of the related regulations. These are clever people.
Wizard of Oz: Yet, a quick look at its holdings read like components of the S&P 500 with four ETFs that are trading at a discount. One has to strain to understand why this is trading at a premium against a discount for its peer group and a distribution that is almost entirely made up of a return-of-capital. Breaking the premium would collapse this gambit.
Efficient Market Suspension: Given the vested interest of related parties in the stock trading at a premium coupled with the naiveté of investors seeking an unrealistic distribution yield, the odds are high that the stock will continue to trade at a premium going forward.
For traders who've figured out the algorithm, a steep drop in the premium might signal a good time "book a trade." Investors need not apply; there are no comparative fundamentals on which to base its current valuation.
[*] All things being equal, price and NAV should move in tandem. A price movement greater than the NAV generates a positive PrcNAVSprd and may be interpreted as negative on a near-term basis and indicate that the stock is overvalued relative to its NAV which in theory is the stock's intrinsic value. The opposite would be true for a negative PrcNAVSprd.