With Axalta Coating Systems (NYSE:AXTA) trading near its all-time highs and having run hard post-IPO (especially post-Berkshire Hathaway) three questions I've been getting from Seeking Alpha readers are, "is AXTA overvalued?", "have I missed the boat?", and "why would Berkshire take such a huge position in the company when it had run up so far?". The answer to the first two is "NO" and the answer to the third is "Berkshire views AXTA as a 2017 story".
This article will try to put AXTA's recent run into perspective when viewing the company as a longer-term investment, which is how it should be viewed, and will present the second half to my initiation bull thesis. I've also made public a video review and analysis of AXTA's model that can be found at CapGainr.com (hyperlinked) for those interested.
Shares are up 14.9% since initiation: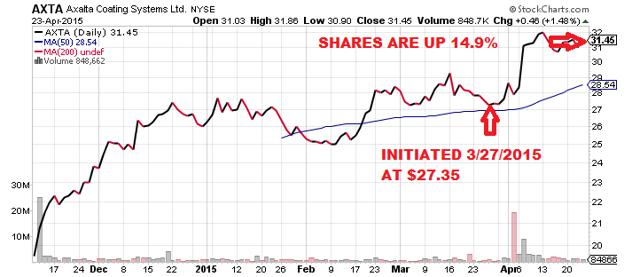 Has AXTA Run Too Far Too Fast?
So to start we'll take on the first two questions of, "is AXTA overvalued?" and "have I missed the boat?". Again, the answers are "NO" and "NO" and we can illustrate this by doing a comp company analysis of AXTA to its peer group:
Peers used are:

When viewing AXTA and peers at their EFY15 (via Thomson) numbers, AXTA is receiving a peer group average multiple for both EV/EBITDA and P/S. The only metric where AXTA's multiple appears to be at a premium is P/E which isn't fair considering AXTA's lack of maturation (since The Carlyle Group (NASDAQ:CG) acquired the company from E. I. du Pont de Nemours and Company (DuPont) (NYSE:DD) and began the current upgrading of the AXTA model) when compared to the peer group and AXTA's high-growth lifecycle stage - this of course means AXTA will run its model with very little earnings into the balance of 2015 (although even 2015 EPS will be considerably higher than 2014 EPS). So for me this metric is highly skewed but one that should improve when looking forward at the AXTA model and its performance in future years.
Before moving further I should also note that AXTA's margin profile is already competitive to its peer group's, but one that should improve a great deal more and a great deal faster than peers (for the sake of keeping this article at a readable length an analysis of this is not included in this article but that statement is accurate):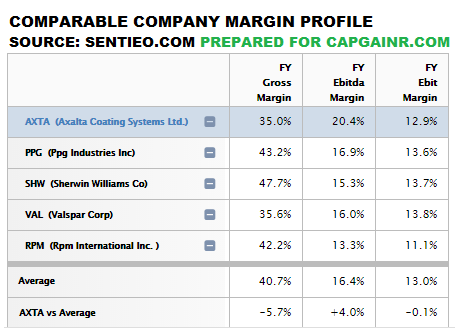 I believe this to matter going forward as this margin profile 1) improves and 2) improves to a greater degree than peers that this will drive forward-looking metric performances in these same ways. With that in mind we can move to the discussion of viewing AXTA as a forward-looking story.
Now, to be fair to readers and to drive the AXTA valuation story home I prepared a forward-looking comp company analysis as well. This analysis also answers the question of "why would Berkshire take such a huge position in the company when it had run up so far?". This analysis uses EFY16 and EFY17 (via Thomson) numbers:

Notice how for EFY16 and EFY17 AXTA (estimated) closes the peer group multiple "premium" gap for P/E? That's because AXTA is modeled to be able to expand EPS (as a result of faster sales and more efficient and greater extent of leveraging of model) at a greater sustained rate than the peer group. Again, when viewing AXTA as a FY17 story (~18 months calendar forward look) you can see that even by the most unfair and least comparable metric that the company is NOT overvalued. Further, take a look at the EV/EBITDA and P/S multiples - AXTA shows to be undervalued when viewed as a FY17 story.
This means that if the market so chooses to front-run forward-looking performance that AXTA could very well see multiple expansion from current multiples. That would of course mean that present trading price would be shown to be a discount to just fair value. Imagine if the market wanted to value AXTA at a premium to forward-looking performance! I believe that the market is already beginning to show a willingness to doing this and that this multiple expansion should start post-Q1 reporting.
The Chosen One?
So in saying that I believe the market is ready to front run future year performance and to expand the AXTA multiple to not only catch it up to peers on a forward-looking basis but to price in a premium for the positive rate of growth differential. I'm using an analysis of Thomson estimates dating out to EFY17. The following is a table of expected year-over-year rates of growth for key financial metrics being estimated by the analyst community for AXTA:
EXPECTED RATE OF GROWTH PER METRIC

METRIC:

E2015 Y/Y:

E2016 Y/Y:

E2017 Y/Y:

REVENUE

(1.8%)

5.8%

5.5%

EBITDA

4.4%

8.9%

7.8%

NET INCOME

15.6%

27.5%

21.1%

EPS

19.1%

26.4%

22.2%

FCF PER SHARE

400%

26.6%

26.3%

NET DEBT

(6.9%)

(13.6%)

(18.7%)
Pretty impressive, right? You can see that while sales (negative FX impact inclusive) are expecting to improve at respectable rates that the down-line financial metrics are expected to improve at high velocities for the next three years (inclusive of FY15). That level of sustained improvement matters and it will matter to allowing AXTA to be flexible and aggressive in operations in the interim. Now, should AXTA get aggressive say with acquisitions or major infrastructure additions (not currently stated in the growth strategy by the way) this would adjust the down-line metrics in the table above, but even those type of fundamental competitive improvements would be looked at positively from market participants.
That said, the estimates and the optimism are already in place for AXTA to create huge momentum going forward - I believe the reason that price targets (which currently sit at spot pricing) aren't there to match just yet is that the markets want to see one quarter's reporting prior to running forward. Just to make sure that the story is what everybody thinks it is and that nothing has changed since coming public.
A look at near-term modeling and price targets: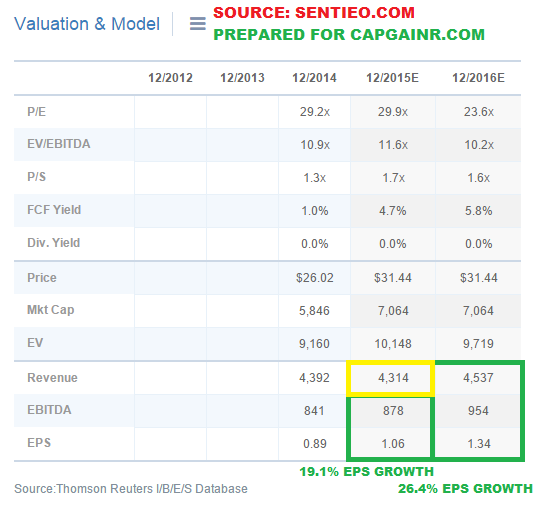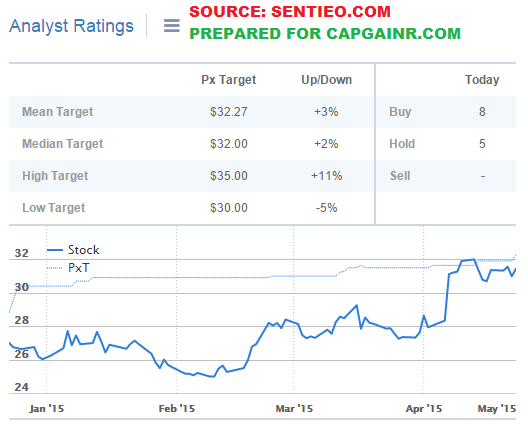 Further, a look at individual metric estimates per year with Y/Y improvements detailed: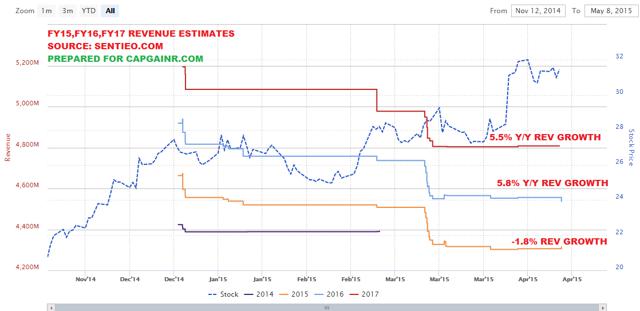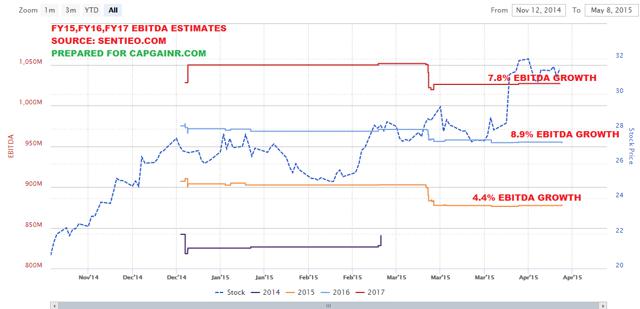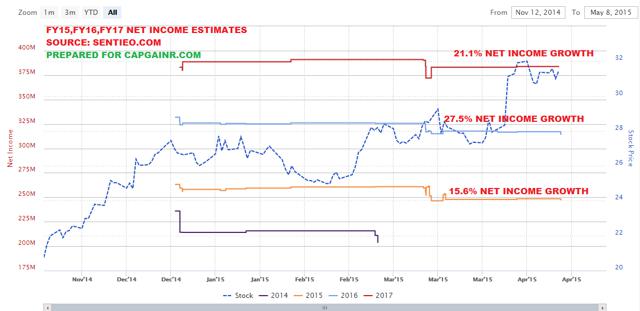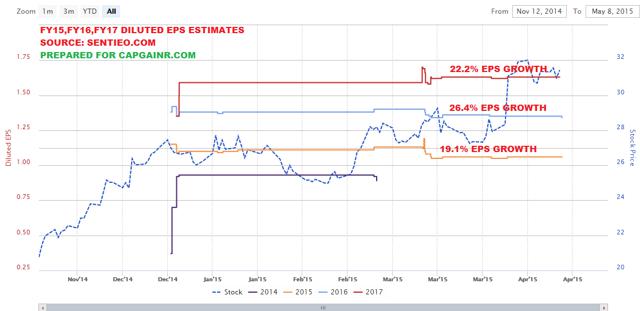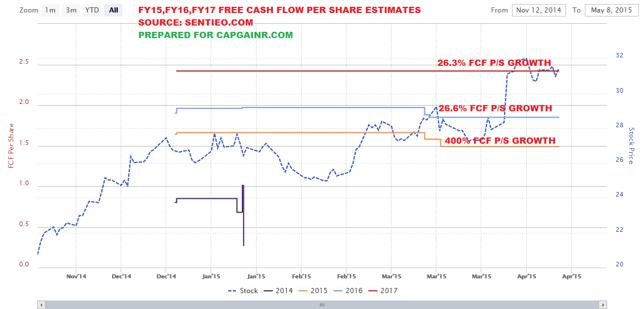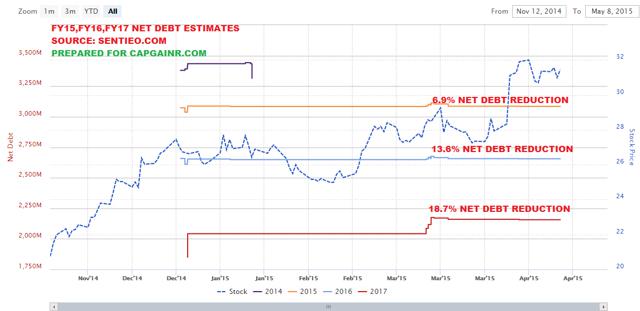 A Core Position…
So that's my case for making AXTA a Core Position that is accumulated over the next few years and that's my answer for the questions outlined in the beginning of the article. I believe that AXTA has an incredible and still undervalued model (as detailed in my initiation article), that it is in fact not overvalued for its peer group, that it should be the beneficiary of both sector and individual multiple expansion, that it and its sector are in the beginning of a secular bull which will further drive valuation, and that AXTA - because of the fact that actual top-line growth isn't being modeled out for outrageous market capture and estimates for improvements are mostly being modeled based on increased efficiency - is largely in control of its own destiny.
I continue to recommend a long position in AXTA on all durations.
Good luck everybody.
Disclosure: The author is long AXTA.
The author wrote this article themselves, and it expresses their own opinions. The author is not receiving compensation for it (other than from Seeking Alpha). The author has no business relationship with any company whose stock is mentioned in this article.