Despite slowing growth expectations in China, the Shanghai composite index has rallied 75% since November last year. The bull run has recently spilled over to the H-shares (H-shares are Chinese companies listed in Hong Kong) with these stocks rising almost 20% in the last three weeks.
This article focuses on the Chinese H-shares and MSCI China (think iShares China Large-Cap ETF (NYSEARCA:FXI) and iShares MSCI China ETF (NYSEARCA:MCHI)) rather than the Chinese A-shares (think db X-trackers Harvest CSI300 China A-Shares Fund (NYSEARCA:ASHR)). At this juncture, they are more sensibly priced and do not have the heart-palpitating volatility of the A-shares.
Before discussing how much upside the Chinese market has, it may be useful to explore how the Chinese market started, despite an economic slowdown and a host of subversive forces in its economy like an oversupplied housing market and rapidly increasing debts.
What Set Off The Rally In H-Shares?
The H-shares rally started on 27 March when the China Securities Regulatory Commission (CSRC) released a circular that detailed how domestic asset managers in China can access Hong Kong listed equities via the Shanghai-Hong Kong stock connect.
The Shanghai-Hong Kong Stock Connect is a cross-boundary investment channel that connects the Shanghai Stock Exchange and the Hong Kong Stock Exchange.
Previously, Chinese investors were only allowed to invest in overseas securities if they have been granted a license (Qualified Domestic Institutional Investor (QDII) license). In addition, the announcement also mentioned that these mainland domestic mutual funds can now access HK stocks even without a QDII license.
Investors took this as a sign that the authorities wanted to encourage liquidity into the Hong Kong market and went on a buying frenzy. The buying was invariably helped by the fact that many of the Chinese stocks listed in Hong Kong were trading at discounts, some as much as 50%, to their counterparts in mainland China.
While the announcement by the CSRC was the catalyst, some other factors conspired together to set up an environment ripe for a Chinese equity breakout.
Signs Of Global Recovery
With a U.S. economic recovery and Europe embarking on its QE program in January, the expectation is for better global growth prospects going forward. Trade-wise, Europe gets most of its imports from China; China accounts for 18% of Europe's total imports, excluding intra-EU trade (see table below).

Source: European Commission
Low Oil Prices
Oil prices have tumbled to half what they were six months ago. China is the largest energy consumer in the world and is the second-largest net importer of oil (US Energy Information Administration). Based on 2013 figures, every $1 drop in the oil price saves China an annual $2.1 billion. To top it off, most of its exports are manufactured goods whose prices have not fallen (Economist).
To-date however, China's economic numbers have not improved despite low oil prices. The recovery in the U.S. and the more nascent recovery in Europe have also not led to much higher exports from China. However, investors have used these poor economic numbers as an excuse to push the market higher on the hopes of further policy easing.
Policy Relaxation
China has implemented a number of new policies in their efforts to plug the slowing economy but at the same time, not doing overly much in the face of property oversupply and rapidly rising debts.
Among the latest policy measures:
The Ministry of Finance has granted an RMB 1 trillion debt swap quota to local governments to prevent defaults
The Ministry of Housing and Construction has publicly encouraged the government purchase of vacant apartments as social housing to accelerate destocking
The National People's Congress (NPC) has announced China's new strategic plans in their meeting in March. These include (1) "One-road, one-belt" orders, (2) "Internet+", and (3) "Made in China 2025" initiatives and they appear alongside spending toward railways, environmental protection and affordable housing
Interest rate cuts and reserve requirement ratio (RRR) cuts. The RRR was cut 1% on 18 April - the largest cut in Chinese banks' RRR since late 2008. Despite the cut, the RRR is still very high at 18.5% - amounting to RMB 20 trillion worth of cash - China's central bank still has a lot of leeway in terms of monetary easing (Economist).
Valuations
Prior to the equity run-up, China remains one of the cheapest markets in the world. The MSCI China index was trading at 9.9x PE at the end of March (prior to its run), versus its 10-year historical average of 12x (UBS Estimates). Even after its recent rally, the MSCI China index is just trading at 11.2x forward PE. For perspective, the PE for the index hit a high of 24.3x in Nov 2007 and 15.5x in Jul 2009. In addition, if we were to compare China's valuation to the rest of the World (which had rallied over the past few years), MSCI China is trading at more than a 30% discount to MSCI World.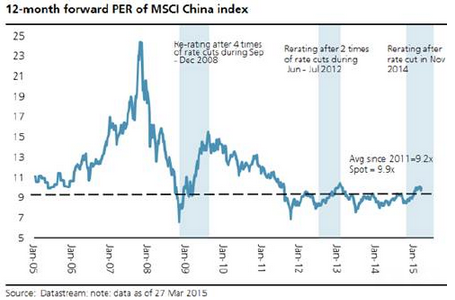 What Can Spur The Market Further
A liquidity driven rally, especially by retail money, often out-runs any economic justification. A slew of positive news is, however, needed to keep the fire burning. The following are some of the possible impetus to the market.
1. Further rate cuts expected this year. In response to the weak economy, the People's Bank of China (PBoC) is expected to cut rates further this year. The RRR currently stands at 18.5% after the recent 1% cut on 19 April. It was as low as 6% in 1999 after the Asian Financial Crisis and dropped to 15.5% in 2008 after rising to a high of 17.5% - the authorities therefore have quite some leeway in their monetary policy. Economists surveyed by Bloomberg have recently forecasted half percentage point reductions in the third and fourth quarters this year, bringing the RRR to 17.5% by the end of this year.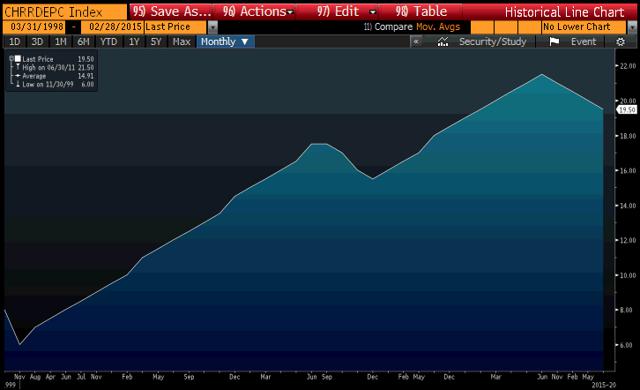 Source: Bloomberg
2. Shenzhen-Hong Kong Stock Connect. Shenzhen is the other major stock exchange in China besides Shanghai. With the push to open up its capital market further, the Shenzhen-Hong Kong Stock Connect is expected to be announced in 2H 2015. However, it is worthwhile to note that the Shenzhen market has many smaller caps which are trading at very high multiples. Many stocks on the ChiNext (think NASDAQ on the Shenzhen Stock Exchange) are trading at 100x PE. At such high valuation, the reception and activity on the Shenzhen-Hong Kong Stock Connect may be lukewarm.
3. Inclusion of Chinese ADRs into MSCI indices. MSCI has announced that many of the Chinese ADRs will be included in various MSCI indices including MSCI Provisional Emerging Markets / Asia / China indices in November this year. These ADRs include large companies like Baidu (NASDAQ:BIDU) and Alibaba (NYSE:BABA). Surprisingly, these stocks have not had a big reaction when this was first announced at the beginning of this year, but that may change as we approach November.
4. More speculative activity. More than 1.5 million trading accounts are opened in a single week by mainland Chinese waiting to participate in the rally. This spells massive liquidity into the market, so much so that the authorities have taken steps to slow this down and also, curb or restrain margin trading. From the chart below, the last time this high number of trading accounts was opened in 2007, the markets continued to stomped higher for six more months.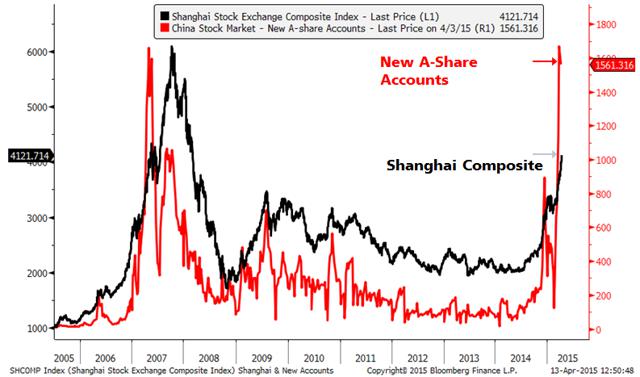 Source: Bloomberg
How high can markets go?
Liquidity-driven rallies overshoot. They can U-turn at the most innocuous of statement or situations. In short, it is very difficult for anyone to know when the top is set in place (certainty not for me anyway). However, they tend to carry on for quite a while and especially when there are no signs of any significant policy shifts. With a slowing economy and lowering growth prospects, the Chinese government looks to continue in its fiscal and monetary easing this year.
Valuation-Wise
The MSCI China is currently trading at 11.2x forward PE. Historically, the high in the PE of the MSCI China has been 24.3x in 2007 and 15.5x in 2009. We are quite some ways off from those highs. Certainly, the economic picture is a lot different back then, but even if we just apply a 12x PE multiple (its 10-year historical average), we would expect the index to climb another 7%.
A fair question to ask then is "why should China deserve to be trading at its long-run average PE?" If we consider that the U.S. market is trading at slight premiums to its average valuations and Europe is trading around those average levels as well, China is definitely a laggard in this department. Even without the kind of growth it was used to, I feel that liquidity alone should be able to propel the index to 12x PE without the market baulking at excesses. In a more optimistic scenario, if you believe that 13x PE is realistic for an economy growing at a 7% a year; we would be looking at a 16% upside from current levels - entirely not inconsiderable when speculative fever hits. Although crude, I believe that these trade-to targets would serve as useful markers for the market.
Technicals
The following is based off the Hang Seng China Enterprise Index (HSCEI) futures. The HSCEI tracks the performance of H-shares (Chinese companies listed in Hong Kong) and has been widely followed over the years.
The weekly chart on the HSCEI futures index is fairly bullish with multiple bullish setups in place. The first is a range breakout from a holding pattern that has established for more than 3 years. The conservative target has actually been acquired 2 weeks ago at 14849.3 but the more aggressive target is 15737.7 and that has not been reached yet (8% away).
In addition, there are multiple cup-and-handle setups in motion (see below). The most conservative setup has already been acquired. However, more aggressive cup and handle targets have price objectives at 15689.1 and 16098.5.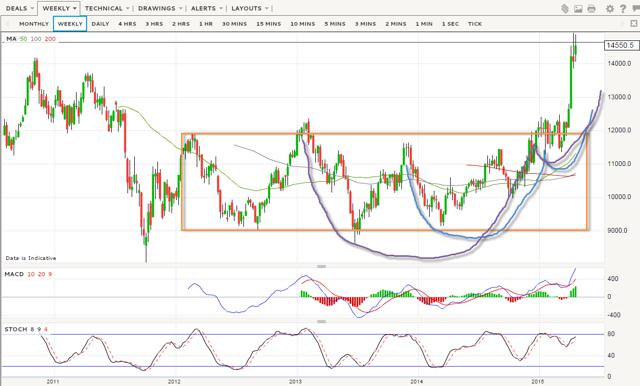 In Summary
The Chinese equity market looks likely to be supported in the near term on the back of strong liquidity and friendlier central bank's policies. Fundamentals take a back seat in these kinds of market but profitability and earnings growth are important ingredients going forward. In my view, the central government has done a very credible job in trying to achieve growth amidst a very delicate balancing act. Past mistakes are being addressed; structural reforms look to be seriously being implemented this time and the central government is also beefing up policy banks' capital to enable them to fund more infrastructure and public works investment.
With the heightened interest in the markets and with new liquidity coming in, it is not unlikely that valuations will expand further. A return to its long-run average valuation will warrant another 7% increase in prices and if speculation fever takes hold, these markets can run even higher.
Investors who are already invested in these markets should hold onto their positions but keep an eye out for those levels mentioned in the article above. More importantly, keep an eye out for signs that the central bank is changing its stance on policy easing. While I see some more upside to the market, I do not believe the move up will be as strong as before. The Chinese equity market is notoriously volatile and the mindset of most mainland investors is really to flip the market. Hopefully, we are not the ones left holding on when the tide runs out.
Disclosure: The author has no positions in any stocks mentioned, and no plans to initiate any positions within the next 72 hours.
The author wrote this article themselves, and it expresses their own opinions. The author is not receiving compensation for it (other than from Seeking Alpha). The author has no business relationship with any company whose stock is mentioned in this article.