Tobacco stocks have been trading as one the last three months, ignoring Philip Morris's undervaluation relative to the group. That's wrong. Philip Morris (NYSE:PM) deserves to trade at a premium to its cohort.
Investors value Philip Morris more cheaply than Lorillard (NYSE:LO), Altria (NYSE:MO), and Vector Group (NYSE:VGR) in terms of PE despite Philip Morris's more attractive PEG ratio. Philip Morris has the potential for more earnings growth than its peers. Philip Morris is selling cigarettes outside of the U.S. Its markets are likely to grow. In contrast, domestic tobacco's market is declining.

Perhaps, investors are enamored by the greater dividend yields paid by other tobacco firms: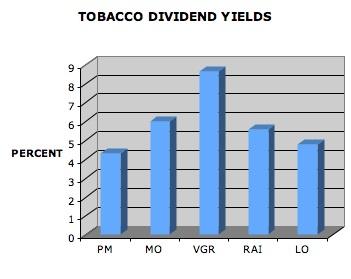 They shouldn't be. Altria, Reynolds (NYSE:RAI), and Vector Group have little room for error: Their dividends come close to their earnings per share. In fact, Vector Group pays out more than it earns, something of a red flag. Philip Morris's dividend payout is far safer.

Which tobacco company is likely to keep paying out robust dividends? Investors should take their cue from the bond market. Bond holders are betting that Philip Morris is more capable of fulfilling its financial obligations. In fact, bond owners are so convinced of Philip Morris's superior financial strength that they are willing to take yields far less than the rest of the tobacco industry.
For example, bond holders buy Philip Morris bonds maturing in 2018 at a low 2.7% yield, a whopping 143 to 655 points below other cigarette bonds maturing in the same time frame. S&P gives Philip Morris an A rating, higher than that of other tobacco companies. Bond holders wouldn't dream of buying 2018 Altria, Lorillard, Reynolds, or Vector Group debt at 2.7% yields. Yet stock investors value these companies more highly on a PE basis despite Philip Morris's sounder financials and potential for growth. Below are yields for bonds maturing in 2018, except for Vector Group bonds maturing in 2015.

Stock investors should be cautious in bidding up these domestic tobacco plays: Their credit worthiness may impact their ability to pay not only their debt but also their dividends.
Philip Morris is a safer dividend play. The stock market is assigning a lower valuation to Philip Morris despite it being stronger financially and more equipped to grow its earnings than its peers.
Disclosure: I am long PM.