With contagion fears brewing over European sovereign debt, it's no wonder this week marks the worst Thanksgiving week (-4.7%) since the Great Depression in 1932. Moreover, the S&P 500 marked its seventh consecutive day decline and is down 7.9% over this period. Large banks fared much worst as confidence started to shake in late October.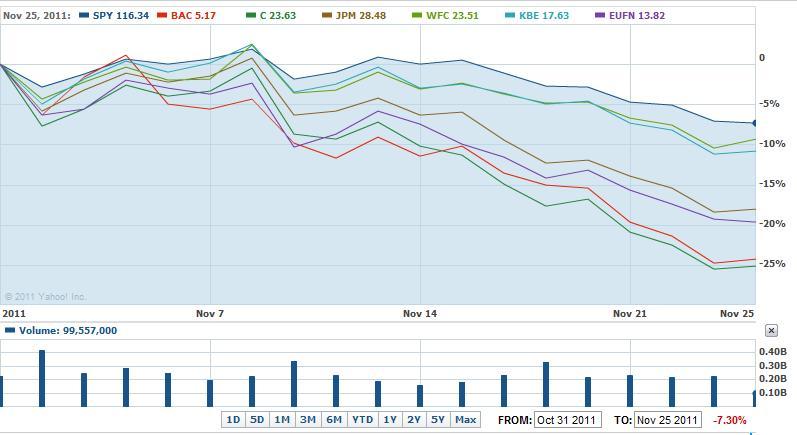 Large U.S. banks on average have lost over 10% since October while European banks fell even further to about 20% based on the iShares MSCI Europe Financials Index (NASDAQ:EUFN). EUFN seeks investment results that correspond generally to the price and yield performance, before fees and expenses, of the MSCI Europe Financials Index. Top ten holdings for EUFN are as follows: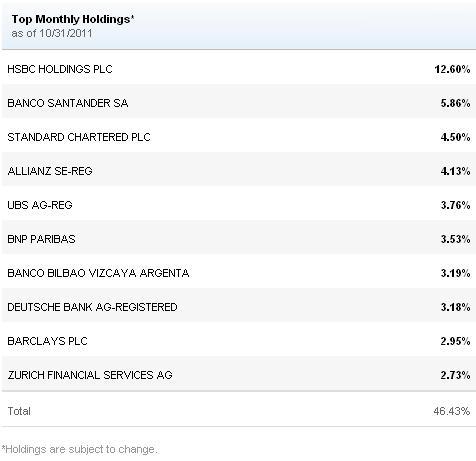 Top laggards included U.S. titans Bank of America (NYSE:BAC) and Citigroup (NYSE:C) for tumbling 24.3% and 25.2%, respectively, over the same period.
In our October 31st article, we warned about the potential hiccup in the European rescue plan and other risks facing large banks. Because of these risks, we believed that it was a good time back then to take some chips off the table (read here). Now that the market has adjusted to the new worries, we need to reassess the situation and determine which banks are exposed to the radioactivity European bonds.
According to a Royal Bank of Scotland study, banks in France have the largest exposure to debt from Greece, Spain and Portugal, with 229 billion euros; German banks are second, with 226 billion euros. British and Dutch banks are next, at about 100 billion euros each, with American banks at 54 billion euros and Italian banks at 31 billion euros.
Below is chart (click to enlarge) of the debt and deficit situation in the eurozone.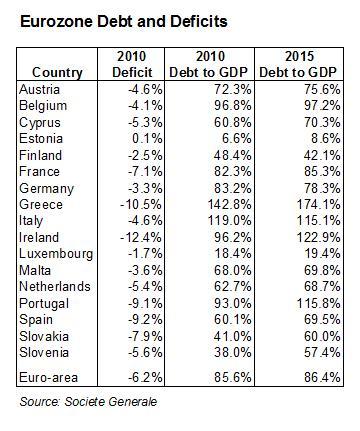 The fiscal and financial position of many eurozone states are so tenuous that according to UBS, many are likely to default on their debt. In the order of most likely to default are Ireland, Portugal, Spain, Greece, France, Belgium, Netherlands, Finland, and Italy.
Conclusion
Investors who sold their bank and other shares in late October might consider tip-toeing back into stocks with the strongest balance sheets and with little to no exposure to European sovereign debt.
Investors who are still long large banks and with a high tolerance for risk might consider holding onto their positions as the market may have already priced in an un-orderly default.
Conservative investors should remain on the sidelines while the Federal Reserve plans a stress test of six large U.S. banks against a hypothetical market shock, including a deterioration of the European debt crisis, as part of an annual review of bank health.
Disclaimer: Please note that the fact that a general recommendation made of a particular security, commodity, or investment area does not mean it is suitable for you or should be purchased by you. For example, we may already have purchased such securities at a lower cost and/or the position for you may represent too much concentration in one security or industry. Before deciding to invest you should carefully consider your investment objectives, level of experience, and risk appetite. The possibility exists that you could sustain a loss of some or all of your initial investment and therefore you should seek advice from an independent financial advisor if you have any doubts.
Disclosure: I have no positions in any stocks mentioned, and no plans to initiate any positions within the next 72 hours.
Additional disclosure: Hold covered call position in WFC and partially covered call position in SPY.