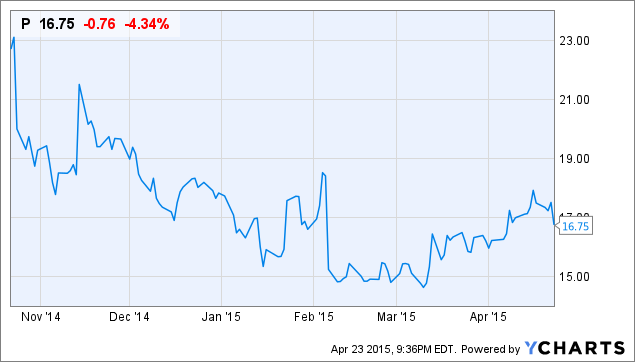 P data by YCharts
A study conducted by Edison Research found that Pandora is the leading internet-only audio service in today's competitive marketplace. The data appears to reflect that Pandora (NYSE:P) is overall the winner in the online popularity contest. In both active users and brand recognition, the company receives the highest marks in the industry. Investors who are familiar with recent revenue growth at the company may feel that this is a strong buying signal in light of the recent drop-off in PPS. For example, we learned this week that total listener hours were up 11% for the first quarter of 2015, helping to support the findings by Edison.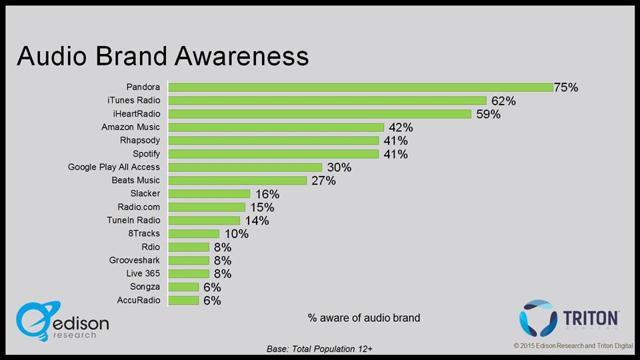 Brand recognition and user engagement are important metrics looked at by online-advertisers who Pandora would seek to generate revenue. To support the importance of this data in relation to Pandora's ad-revenue driven business model, I offer these recent fiscal highlights from Form 8-K Q1 2015:
Advertising revenue was up 27% YoY in the first quarter of 2015.
Total mobile revenue was grew 23% YoY on a GAAP basis and 35% non-GAAP.
Total listener hours were 5.30 billion, up 11% YoY
User engagement reaches an 'all-time high' of 22.3 hours per active user a month.
I will be the first to admit that Pandora's ability to generate revenue is impressive. Investors should take note that local advertising revenue in Q1 2015 grew 67% YoY. This offsets the stagnant subscription revenue which lost money this quarter. These funds contributed to the $230.8M in total revenue reported this quarter. For those keeping track that is a sharp 19% YoY increase GAAP or a 28% YoY increase non-GAAP. What can investors take away from these findings? Pandora has failed to monetize on its subscription service and cuts in pricing are moving the company towards further net loss.

Based on information available as of April 23, 2015, Pandora tells shareholders next quarter revenue is expected to be at least $280M. They also expect full-year 2015 revenue in the range of $1.16B to $1.18B. These statements come in light of a streaming music industry that has yet to prove it can maintain profits. Meanwhile, technology companies continue to invest money into this sector where the loss of revenue due to royalties are increasing. I feel that there will be a showdown in the streaming music marketplace, Pandora being the target with the all-important asset of brand recognition. Will the cost to stay on top prove overwhelming for the reaming P bulls?

"We've been actively investing in every part of our business - from the music we play, to the ad technology and music maker products we offer. This quarter's results are a reflection of those investments paying off,"
Brian McAndrews chairman, president and CEO of Pandora.
Why Am I Bearish on Pandora?
2015 most popular audio only streaming service

Pandora

iHeartRadio

Spotify

iTunes Radio

54%

11%

10%

8%
(Source: Edison Research)
The combination of Apple (AAPL) and Beats through its recent merger gives the iTunes hybrid the win in this comparison. They together total 89%, beating out Pandora's 75% when put in context of the buyout. This is where I feel the data begins to support the recent short position taken against Pandora by some ahead-of-the-curve traders. Pandora shareholders cannot afford a loss of advertising revenue. This would ensure that P will suffer as investors lose further faith in the company's battle with insolvency. Pandora's 10-K filed this year further supports this thesis.
"Our revenue increased rapidly in each of the twelve months ended January 31, 2007 through January 31, 2013, the eleven months ended December 31, 2012 and 2013 and the twelve months ended December 31, 2014; however, we do not expect to sustain our high revenue growth rates in the future as a result of a variety of factors, including increased competition and the maturation of our business,"
The Cost of Revenue-Other: A Demonstration Of Insolvency
Americans have been occasional listeners, but for the first time, it's apparent that streaming audio has become an ingrained part of our lives. The number of Americans listening weekly is now 44% and if Pandora fails to capture this rate of growth, they will also fail in their efforts to operate in its current form. They face competition from companies with more resources and ability to monetize on the scalable nature of streaming media. Facebook (FB), Twitter (TWTR), Netflix (NFLX), Pinterest and Instagram can play a major role in new user registration for Pandora. They also directly compete with iHeartRadio, iTunes Radio, LastFM, Google Songza and other companies in the traditional broadcast and internet radio market.
Although a stream of new users would help keep some of the existing advertising clients and bring new prospects, the source of their insolvency is not an easy fix. Since launch in 2000 Pandora has incurred significant net operating losses. The flaw in their business plan is explained by the company in statements from the most recent 10-K as well as this month's 8-K.
"..However, as our number of listener hours increases, the royalties we pay for content acquisition also increase. In addition, we have adopted a strategy to invest in our operations in advance of, and to drive, future revenue growth...[ FORM 10-K]

FORM 8-K Q1 2015
Pandora Media, Inc.

Condensed Consolidated Statements of Operations

(in thousands, except per share amounts)

(unaudited)

..In addition, we plan to continue to invest heavily in our operations to support anticipated future growth. As a result of these factors, we expect to incur annual net losses on a U.S. GAAP basis in the near term…[ FORM 10-K]
To summarize, for the better part of this decade, Pandora has been a losing venture. They have failed to turn their impressive revenue growth into a profitable investment and it has become obvious. I have attempted to demonstrate this to readers with the loss of brand recognition that the Edison Research hints towards.
Will these findings signal the "final nail in the coffin" to smaller streaming media solutions? Until a time that these streaming audio companies evolve so that they may better scale their infrastructure, I expect the losses to not only be isolated to Pandora. Investors who plan to profit on the company's powerful ad-revenue strength may be left holding the bag.
Reasons Why New Revenue Does Not Excite Me

Form 10-K
We discovered earlier this year that content acquisition costs increased $131.5M or 42% from 2013. As I have attempted to illustrate, the more listeners Pandora acquires and actively engages with, the more volatility reflected in the stock. To support this idea, the company claims the increase is due to cost of doing business.
What was the largest cause of the rise in cost last year? An approximate 20% increase in listener hours and scheduled royalty rate increases of 8%.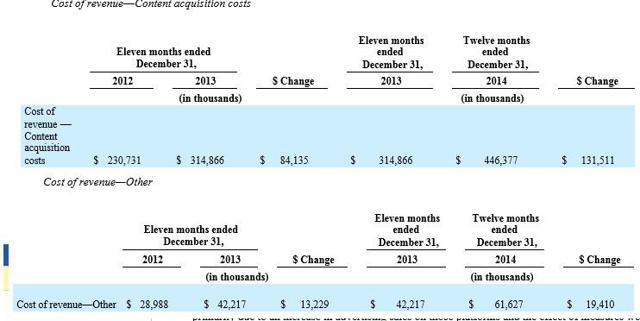 "Primarily made up of hosting and ad-serving costs, employee-related costs and other costs of ad-sales. Hosting and ad-serving costs consist of content streaming, maintaining internet radio service and creating and serving advertisements through third-party ad-servers. Pandora makes payments to third-party ad servers for the advertising." 10-K
This supports the fact that increased listeners will only further bleeding in the company. Pandora will have to monetize on the failing subscription service in order to offset net loss. For example, last year Pandora generated 80% of its revenue from the sale of advertising and expects majority of its revenue from ad-sales in the future. The more non-paying users the company gains, the more net loss they will incur under this model.

Are You Serious? This Is A Hit Piece!
Afraid not my friends, in my opinion, Pandora has lost its fight to keep pace with the preferred streaming platform of the more desired demographic. We will refer again to the research done by Edison to support this and explore the phrases "desired demographics" and "keeping pace" listed by the company in regards to risks associated.
• Keeping pace with changes in technology and our competitors

• Increasing the number of listener hours, particularly within desired demographics
(Risk: Pandora)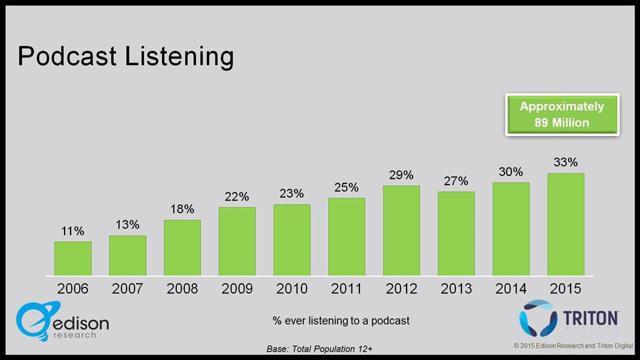 This presents Apple an opportunity to finally profit from potential revenue from the increasing stream of weekly listeners that continues to grow. The study credits Apple for the increase in usage, citing podcasting's increase in popularity. Monthly audio podcast consumption grew from approximately 39 million monthly users in 2014 to approximately 46 million users in 2015. More impressive is the demographic information on who is podcasting. The study showed that on average those who had been listening to podcast at least once monthly or weekly fell into the higher income category.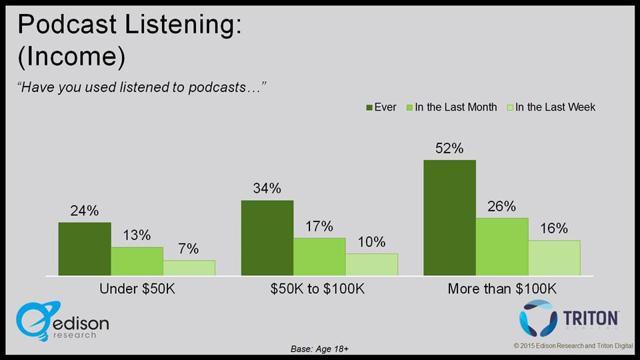 The majority of Americans polled in the study (57%) say that "technological change over the last ten years has had a positive impact on society"; while only 15% say that its impact has had a "negative" affect. The undecided portion in the study are representative of the room for growth still in this evolving industry. In another sense, it better represents the potential listeners Pandora stands to lose.
The loss of this demographic should weigh heavy on the mind of any potential investor. The company states that failure to convince advertiser of the benefits of their platform is a very real problem. The company may be losing its ability to demonstrate the value of advertisements to reach targeted audiences. A loss in the value of mobile digital advertising makes penetrating the industry for radio advertising in the future difficult. This also supports a strong case for a domino effect that may occur due to the cost of acquiring advertising revenue.

The most important risk I feel investors should be aware of is a very real need to develop and maintain a scalable network. Pandora must continue to diversify their advertising platform. The mobile nature of the company's business model has several weak points. The delivery of audio and video advertising products through their network and to end-users is a costly venture.
Advertisers that spend only a small amount of their overall budget on online advertising may view this venture as risky, leaving Pandora's revenue growth to be lacking. Another statement from Pandora further supports my bearish outlook.
"We may never succeed in capturing a greater share of our advertisers' core advertising spending, particularly if we are unable to achieve the scale and industry penetration...

Failure to demonstrate the value of our service would result in reduced spending by, or loss of, existing or potential future advertisers, which would materially harm our revenue and business."
It appears to be a vicious cycle from an outside perspective. To compete effectively, Pandora's management must continue to invest significant resources in the development of their service. In light of the data I have presented, they are losing the ability to compete successfully for listeners. Failure to do so could result in loss of existing or potential listeners, reduced revenue, increased marketing expenses or diminished brand strength, any of which could harm shareholder profits.
Unfortunately for Pandora, when Apple purchased Beats, another significant risk was realized. Pandora states a risk to shareholders that forecast the eventual fallout I believe will occur.
"..For example, Apple, Amazon (AMZN) and Google (GOOG)(GOOGL) have recently launched competing services, and they may devote greater resources than we have available, have a more accelerated time frame for deployment and leverage their existing user base and proprietary technologies to provide products and services that our listeners and advertisers may view as superior.
In other words, the "big-boys" of online media may stack the deck against Pandora with their superior network resources. Pandora stands a very real risk of being run out of the market.
Variant Outlook & Conclusion
Investing in the evolving streaming audio growth story is risky to say the least. In the case of Pandora, there are several outcomes that may argue against my thesis. I feel the company has some strong financial aspects that the revenue generation shortfall may fail to suppress. These events will present savvy investors with short-term profits.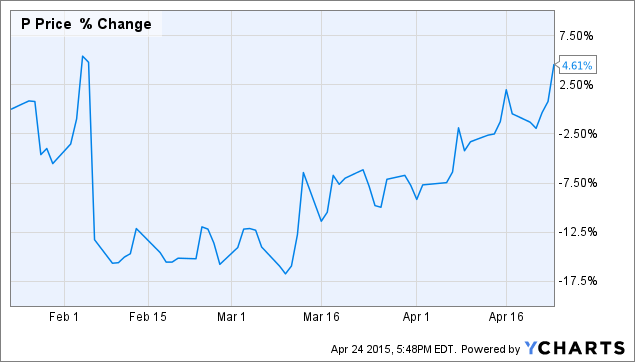 P data by YCharts
One false-flag in my opinion may be the recent revenue increases reported this year in forms 8-K and 10-K. Pandora has been able to reduce the risk to shareholders in the past by improving upon increasing revenue QoQ and YoY but has yet to cure the insolvency.
Management was successful in improving net loss per share (basic & diluted) 88 points by the end of 2014. Currently, bulls are enjoying a run that has P up 4.6% on the 3-month chart. I would like to point though that they are still 4% down for the past 6 months. In light of my due diligence, I feel that Pandora does not have the strength to recover back to that point.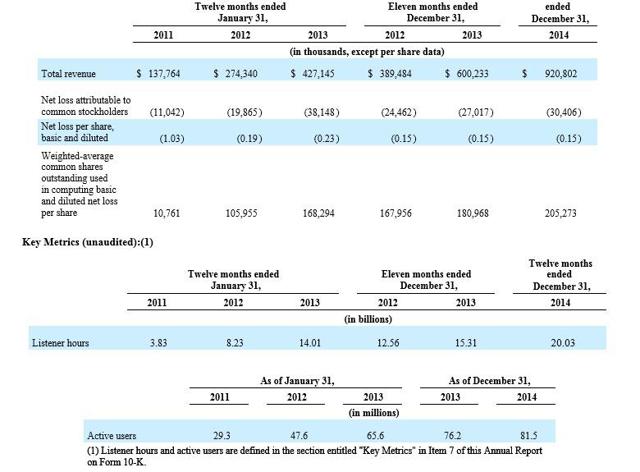 Listener hours and active users are also key metrics that have improved the financial picture. Unfortunately for potential investors and long-term shareholders, the revenue streams these users bring to Pandora are automatically offset. The increase to operating expenses as well as the cost of revenue surpass any realistic expectations for expanding infrastructure. The past six months have not been kind to shareholders of Pandora and without relief provided by a potential buy-out from a larger network, there is not much hope for this innovative company.

| | | | |
| --- | --- | --- | --- |
| Date | 12-mos Rolling EPS | Dividend | P/E Ratio |
| 12/2014 | -0.15 | NA | N/E |
| 09/2014 | -0.30 | NA | N/E |
| 10/2013 | -0.30 | NA | N/E |
| 07/2013 | -0.29 | NA | N/E |
| 04/2013 | -0.19 | NA | N/E |
| 01/2013 | -0.23 | NA | N/E |
| 10/2012 | -0.20 | NA | N/E |
| 07/2012 | -0.09 | NA | N/E |
Given that net loss per share reported this quarter returned to previous levels, it is my opinion that cautious investors should avoid adding Pandora to a long-term portfolio. If this is not an option because of pricing, then I recommend that until significant cuts to operating in this competitive industry are achieved - proceed with caution!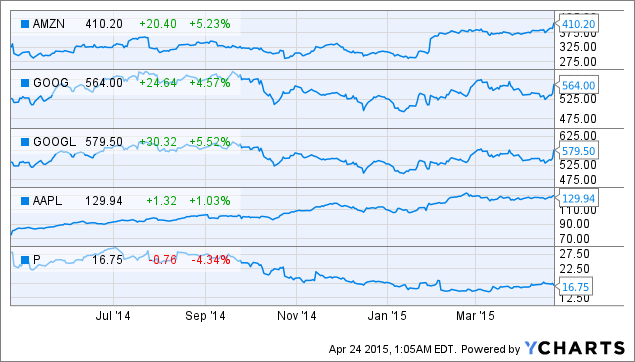 AMZN data by YCharts
There is, however, an excellent swing-trade or contrarian opportunity developing once such an innovation comes into play. When that happens, I will indeed change my stance stated here today. With expected IPOs into this industry comes new press coverage and opportunity to capitalize on possible re-negotiation of the artist/producer royalty model. It appears some would say that the music industry is dying, yet it seems there are no lack of investment opportunities presented on both sides of the trade.