With the exception of Apple (NASDAQ:AAPL) and perhaps Google (NASDAQ:GOOG), big tech hasn't delivered disruptive technology. It's not for a lack of money. Some of the biggest tech names flushed boat loads of cash down a R&D toilet with little to show. Microsoft (NASDAQ:MSFT) spent $42 billion in research and development over the last 5 years with modest results. Cisco (NASDAQ:CSCO) piled $25 billion in a 5-year quest for innovation with questionable benefit. To paraphrase Othello, these companies "spent not wisely but too well."
In contrast, Apple focused its R&D efficiently, putting the rest of large tech to shame, spending a surprisingly low $10 billion over the last 10 years to revolutionize its markets.
Apple gave the world the iPhone, iPad, and iPod on a shoe-string R&D budget, spending only $500 million in 2006 and $800 million in 2007. The company has allotted more money to fund innovation each year: This year Apple spent $2.4 billion on R&D. Yet, as a percentage of net income, Apple still only spends 9% on its R&D, way below other big tech names.
Apple holds an enviable position that few other companies can reach: It can boost R&D easily without hurting its bottom line. Other tech names--DELL, Hewlett- Packard (NYSE:HPQ), Microsoft, Oracle (NYSE:ORCL), Research in Motion (RIMM), and Cisco--don't have that luxury. They are already paying a large bill for their R&D as a percentage of net income.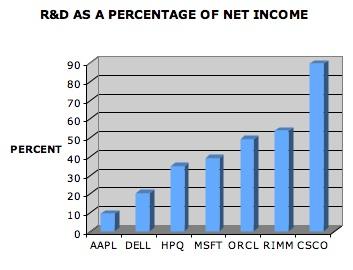 HP has been heavily criticized for skimping on R&D. Meg Whitman promised to give HP a more "muscular" R&D, correcting the company's research underinvestment. Yet, to increase HP's research efforts, the money will have to be diverted from the bottom line. When HP forecast lower earnings for the upcoming year, investors sold off the stock. In order to boost R&D, earnings must suffer, while the pay-off from increased R&D can take years to realize.
Further, it's not the quantity that counts. It's the quality of research that will determine a company's future. For example, Research in Motion increased its R&D budget almost 500% over the last 4 years, yet fell victim to Apple's and Google's much stronger innovative genius.
Companies may try to catch Apple, but throwing more money at the problem isn't the answer. A team of talented and focused engineers at Apple accomplished far more than Microsoft's $42 billion R&D spending spree at a fraction of the cost.
Disclosure: I am long AAPL.
Disclaimer: The opinions in this document are for informational and educational purposes only and should not be construed as a recommendation to buy or sell the stocks mentioned. Past performance of the companies discussed may not continue and the companies may not achieve the earnings growth as predicted. The information in this document is believed to be accurate, but under no circumstances should a person act upon the information contained within. We do not recommend that anyone act upon any investment information without first consulting an investment advisor as to the suitability of such investments for his specific situation.