Recently, I was asked to write an opinion article directed towards my view of investing in the healthcare industry today and where I see it's going in the future. I have broken down these questions into four parts. The first two with be discussed in this article detailing investing in our current healthcare sector and where I see the healthcare market going in the future. The second article will focus on identifying the risks to investing in the aging population and how to invest without taking on unknown risks.
Investing in the healthcare sector:
As a researcher, healthcare investor, and healthcare analyst, I feel there are significant investment opportunities for healthcare investors. One principle that holds true is that all people unfortunately get sick. Some patients are luckier than others. Some are born with genetic diseases. Some develop diseases in the course of their life such as cancer, diabetes, or COPD and some contract viruses such as HIV or HCV. But everyone is susceptible to the flu and other diseases such as the measles and chicken pox. Let's start there. There are many opportunities in the development for new and improved vaccines. The FDA fast tracks new and improved vaccines such as for flu, which work for resistant strains and are extremely important during epidemics such as swine flu a few years ago or Ebola currently. Another example is HBV vaccinations for newborns. Improving and establishing a more efficacious regimen can be very profitable for companies and investors based on the sheer number of newborns that could potentially take these immunizations, thus the current competition in the clinic. Second, genetic disease research is really the future of healthcare. For genetic diseases, genetic screening and more structural information has helped healthcare companies design new transformational drugs which many thought were undruggable. Clear examples of this include cystic fibrosis and hemophilia. These successes have shown to be extremely profitable and have driven the healthcare industry to heavily invest in genetic diseases and specifically orphan drugs. Specifically, the FDA released that there was an increase in orphan drug status approval for NME's of 49% from 2013 to 2014 clearly showing the way the industry is moving (a more thorough analysis of this topic is discussed in the next section). Next, let's look at diseases obtained during life such as cancer. Cancer is by far the most intense area of research in the healthcare sector. I consider it the cholesterol-lowering drug race of the 1990's. Everyone's in on it and everyone wants a piece of the pie because the market is so large and the potential impact is enormous. Some of the highest priced drugs on the market and highest revenue earners fall into this category. Examples are Revlimed from Celgene (NASDAQ:CELG) and Soliris from Alexion (NASDAQ:ALXN) (over $500k/patient). The newest hot area in this field is immuno oncology with both Merck (NYSE:MRK) and Bristol Myers-Squibb (NYSE:BMY) obtaining approval recently for their immuno oncology drugs. At a price of $150k/year per patient, these are huge potential blockbusters with expanded indications and high profitability. Thus, the big influx of newer companies in this field such as Juno (NASDAQ:JUNO) and Kite (NASDAQ:KITE) which have provided investors fantastic gains to date. Lastly, let's turn to contracted diseases such as HIV and HCV. To exemplify the unbelievable profitability in this sector you only need to talk about one company, Gilead (NASDAQ:GILD). Gilead over the past decade has continued to improve its HIV regimens to be more efficacious and more compliant with fewer and fewer side effects by using cocktails that combine multiple drugs that attack the virus at different stages of the replication cycle. This has led to market domination in HIV and great profits for Gilead and investors. HCV is even clearer. In 2014, Gilead's Sovaldi took the market by storm crushing previous records for the fastest drug launch in history by billions. Gilead earned over $11B in 2014 from Sovaldi-based regimens and has continued its dominance in HCV by combining Sofosbuvir with Ledipasvir to create Harvoni as a more efficacious, patient-compliant, and safer treatment regimen for patients. As expected, this has been very profitable for Gilead and investors have earned 500% since 2011. To provide an accurate reflection, one must also briefly discuss the recent payer pressure over increasing drug prices. In my opinion, this is not a full market phenomenon. This is not a new concept and is being used in large population disease areas where there are multiple drug options with similar clinical efficacy results. Payers can than strong arm companies to reduce prices to obtain preferred formulary status. This approach was also done in the 1990's with the statins but it is important to note the best medicine, Lipitor, won out regardless of the price war because it was a superior drug much like we are seeing now between Gilead's Harvoni and AbbVie's Viekira Pak. As a whole, this limits profitability for the companies and investors but still provides considerable revenue and profits for long term investors.
What are the trends in the health care sector?
The healthcare sector is a constantly changing environment. The years of "me-too" drug approvals from the 2000's has ended. The largest shift has turned to specialized medicine and transformational medicine for orphan diseases (Table 1). In general, most of the low hanging fruit has already been picked.
Table 1. Worldwide Orphan Drug Sale Percentages Increasing Year/Year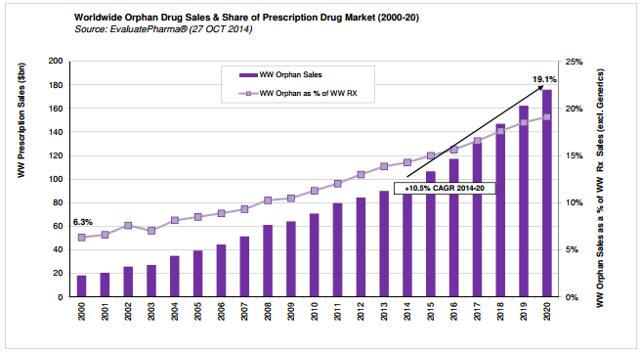 The FDA has created breakthrough and fast-track designations to speed up approvals for unmet need medicines leading to shorter approval timelines and increased revenues. Great examples of truly transformational medicines were Gilead's Sovaldi and Harvoni. Sovaldi was given breakthrough status for achieving 90+% SVR rates for multiple genotypes in Hepatitis C patients, a huge advance for HCV patients over previous regimens. This led to the fastest drug launch in history selling $11B in 2014. Harvoni, a combination of Sofosbuvir (Sovaldi) and Ledipasvir created the first FDA approved interferon-free regimen with SVR rates approaching 99% in the most common GT1 patients and is likely to surpass Sovaldi's record launch in 2015 despite decreased pricing stemming from competition with AbbVie's Viekira Pak launch and payer pushback. The next example of this could be seen with NASH patients in years to come.
One major change has been the increase in orphan drug research. Not only can orphan drugs receive shorter regulatory timelines and decreased trial costs based on the number of patients, pharmaceutical companies can also charge very high regimen costs per patient and get extended patent life in many cases. A list of the top 10 selling US orphan drugs in 2014 is shown below (Table 2.).
Table 2. 2014 USA top selling orphan drugs

By 2020, it is predicted by Evaluate Pharma that 8 out of 10 of the worldwide highest selling orphan drugs will be for oncology with Celgene's Revlimid leading the pack at over $8B (Table 3). Other notable examples are VX-809 + Ivacaftor combo for cystic fibrosis and Intercept's (NASDAQ:ICPT) Obeticholic acid for NASH. Don't think these companies are alone. Biotech and pharmaceutical companies have caught on and competition is increasing for a shot at the profits.
Table 3. Predicted Top Selling Orphan Drug in 2020

A very exciting major area of research in its adolescent stage is gene editing. When a specific target is known that contains a genetic defect, researchers can insert, replace, or remove DNA using specially designed nucleases. This is personalized medicine at its best and has the potential to cure many diseases if applied perfectly. These nucleases create breaks in the desired DNA location and use the cell's endogenous mechanism to repair the break naturally. The three most popular types of nucleases are Zinc Finger Nucleases (ZFN), CRISPR, and TALENs. Currently, these methods are being employed by multiple companies in the areas of HIV, oncology, and genetic diseases and investors have realized huge profits (JUNO, KITE, SGMO). On a special note, diseases that have been eluding researchers for decades, such as sickle cell disease, where the genetic defect is known are now being explored using gene editing. Of course with new technology brings the risk of success in the clinic as well as development challenges. Currently, areas of risk include clinical trial costs based on the size of clinical studies, safety and efficacy in the clinic, and the cost of gene editing. Since this process is personalized medicine and involves using a patient's DNA, the regimen is very hands-on and labor intensive, driving costs in some cases upwards of $1M/patient. Payers have already commented that costs approaching $1M per patient is not possible even if it provides a cure. To combat this, gene editing companies will have to work on ways to drive down costs prior to FDA approval. With this said, gene editing offers a unique area of investment with huge potential returns but with inherently large risks.
Please keep your eye out for part two of this series focusing on identifying the risks to investing in the aging population and how to invest without taking on unknown risks.
Disclosure: The author is long MRK, BMY, GILD, CELG.
The author wrote this article themselves, and it expresses their own opinions. The author is not receiving compensation for it (other than from Seeking Alpha). The author has no business relationship with any company whose stock is mentioned in this article.
Additional disclosure: This article is not investment advice and is my opinion. I am not an investment adviser and any trades should be carefully considered prior to placing an order. All data in this report is public knowledge through company transcripts, editorials, and peer reviewed journal articles.