What the PRC owned State Grid (SGCC) and its partner, China-based Kandi Technologies (NASDAQ:KNDI), are doing for electric vehicles is not less a paradigm shift than what Apple (NASDAQ:AAPL) did with its iPhone for personal communication.
Yes, this is quite a statement; as detail oriented investors will see in this series of articles, what was once just a handful of "tea leaves" as recently as a few months ago, is now brewing into a national drink being served with determination by the government of the world's most populace nation. Kandi was undoubtedly the first car producer to prepare for this development, and is now in a prime position to harvest the benefits and to become the largest EV producer in China.
2. Disruptive Technologies: Battery Swapping vs EV Charging
"Chinese Power Companies Could Crash the GM, Ford Electric Vehicle Party in China" was the title of a recent Forbes article. Will Kandi Technologies gain from this If GM (NYSE:GM), Ford (NYSE:F) or other major car producers mentioned in Part 1 of my article have their party crashed? Is there any of the following car companies that currently offer an EV model with swappable batteries "SGCC Mode" - Renault (OTC:RNSDF), BYD (OTCPK:BYDDF), Tesla (NASDAQ:TSLA), Toyota (NYSE:TM), Honda (NYSE:HMC), Volkswagen (OTCPK:VLKAY), Geely (OTCPK:GELYF), BMW (BAMXY.PK), Nissan Motor Co. (OTCPK:NSANF)?
Are the major Chinese market forces and Chinese consumers poised to embrace and crucially support Quick Battery Exchange (QBEX), the core technology underlying Kandi's business model? As an investor, wouldn't you like to know?
2.1 The utility providers' standpoint:
In part 1, section 4 of this series of articles, a status overview of the current EV charging infrastructure was provided. The information therein clearly demonstrated that the SGCC is the dominant power in establishing an infrastructure for the charging of EVs. Its Business Plan and Internal Standards logically will influence the setting of national standards and automatically are guidance for the EV Industry as a whole and, in turn, policy makers as well.
In January 2011 the SGCC publicly announced its heavily debated EV Business Plan that will lead to a paradigm shift for the Chinese automobile industry. The Hangzhou EV Station was promoted to the Pilot-Model-EV Charging station and within days of the announcement a notice was send out to the regional SGCC branches such as SGCC Xiamen to follow suit. I strongly advise a look at this video presentation first as it will help you to understand what I describe and analyze further in this article. This video is about a year old and also gives you a sneak peek of part of the Kandi production facilities which in the meantime have been upgraded and modernized to suit an increased production.
The key characteristics of that EV Business Plan are:
All SGCC EV charging stations are designed, constructed an operated with primary service focused on battery swapping, and a secondary service being slow or fast charging of car mounted batteries.
Automobile manufacturers were advised to sell BEV cars as "naked cars without batteries" that must use "SGCC Standard Lithium-ion Batteries" produced by following standards set by the SGCC who will shoulder the cost of the batteries.
The EV battery swap infrastructure consists of a grid maze that has 5 x 5km sections in the outskirts of the city and sections of max. 2.5 x 2.5 km in the more dense traffic areas. Within this maze there will be:
Central charging stations, integrated within the smart grid as energy storage units providing centralized battery charging for secondary stations. These stations also provide swap service, EV slow and fast charging.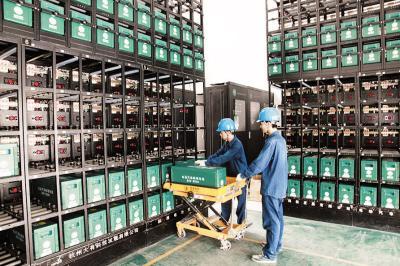 Central EV Battery Charging Stations
Secondary battery swap stations with minor charging capacity, constructed at fixed points in the maze, obtaining their charged batteries from the main stations. To this purpose a number of standard SGCC battery containers are used for logistics. The containers hold racks with one or two types of SGCC standard batteries.
Swap + Charge Station

Fixed installation

Swap + Charge Station Containerized unit
Tertiary battery swap stations, without charging capacity: will hold smaller battery containers that are easy to shift around in function of needs. These will be located close to shopping centers, public places and areas with high traffic.
Mobile batteries swap vans or light trucks that can service EV cars on the road.
For battery swapping and charging the SGCC uses its patented standardized infrastructure, charging interface, and equipment for battery handling, transport and swapping.
The charging stations are provided with the "CEV1000 electric vehicle charging facilities operation and management system" designed by the SGCC subsidiary EPRI (Electric Power Research Institute) and manufactured by NARI Technology Development Co., Ltd. a company closely related to the SGCC.
BEV's and Charging Stations interact through EVOMS, the Electrical Vehicle Operating Management System developed by the SGCC Information and Telecommunication Company. The system keeps the BEV driver updated about the batteries power status, shows the position of the car and the nearby EV Charging Stations, assists to improve battery life cycle etc.
For the payment of battery charging or swapping, the SGCC and the government clearly promote a unified standard in which payment can be done all over the country using a swipe card.
The EV Main Stations with their large inventory of batteries are integrated with power stations that are "Intelligent Smart Grid Substations." They also have an important function as "Energy Storage Units" that while excess stored battery power waiting to be "swapped" into EVs can be used to back-up or shave off the power needs at peak hours much as U.S. businesses and homes who use solar or wind power can put back (sell) excess power back to the utility companies. Older batteries that are no longer up to standards to power EV can still be used for extended time as modules in power storage systems.
The SGCC will also organize service companies that will be responsible for handling, storage and overnight charging of batteries as well as maintenance, repair, recycling and batteries data communication.
The other utility providers - China Southern Power Grid with Potevio and CNOOC with its joint venture company Lishen battery - have since then all aligned to the SGCC EV business plan and also focus on battery swapping plus a secondary role for EV slow or fast charging.
Besides the EV Charging station infrastructure the above mentioned utility providers and SINOPEC are in the process of setting up of an infrastructure of charging poles for individual cars. SINOPEC has just started its first trial operation of an integrated EV Charging Station in Beijing Economic Development Zone. Also, the 25 NEV Pilot Cities were asked to take responsibility in providing a charging pole infrastructure and are expected to shoulder more of the resulting investment. I saw this from a recently published document "Circular on Further Improvement of Energy Conservation and New Energy Vehicle Demonstration Pilot" jointly prepared by the four responsible ministries. An extra burden here will clearly be to find appropriate land for parking spaces with charge poles to accommodate EV at a ratio of 1:1.
In the SGCC's vision the Battery Slow Charging Poles are better installed outside the EV charging stations as these will only result in congestion of the charging station's facilities, especially in the case of slow charging. "Fast charging" contradicts "smart charging" and consequently will cost more to consumers while it results in a strong power drain for the EV charging station and peak rates.
For a more in-depth understanding of the SGCC's Business Plan please read the speech of the National Grid's Marketing Department Deputy Director Wu Yi Jiang who recently explained the SGCC's EV Business Plan rationale. Another, very informative and easily readable document is " Intelligent electric vehicles will become the strategic choice."
2.2 Government and Policy Makers' Standpoint
Considering that both SGCC and CSPC are State-Owned Enterprises there is little doubt that the EV business plan and preference for "battery swap" was thoroughly discussed with policy makers and approved by the Chinese government. In this context, please check the last paragraph of this article which clearly states: "the main push for the "battery lease" approach is in line with the government backed EV business model that promotes separated sales of cars and batteries "naked car sales."
When analyzing last year's document from the National Development and Reform Commission "Subsidy Pilot Plan for Private Purchase of New Energy Vehicles" and its more detailed attachment it becomes obvious that the "Battery Swap" model is firmly embedded in the plan and promoted as being part of the smart grid. We should also give some special attention to speeches, statements and standpoints from authorities who have a strong influence on the policy makers and the standard committees.
Xu Guanhua, the Former Minister of Science and Technology, made a rare and bold speech with some interesting details during the 2011 Festival and Forum, "New trends of China's NEV," held in the Shanghai International Automobile City on September 21. He stated:
"The government plans to step up development of electric vehicles, to give priority to the development of small electric vehicles. As the focus is restructuring of the automotive industry we have to take effective measures to speed up the formation of a new industry chain."

He also urged the government to:

"Provide guidance and support, developing specific measures that enable a faster build out of charging infrastructure which will create the necessary conditions for small electric vehicles to enter the market."

"Implement green subsidies and a tax rebate or exemptions for small electric vehicles"
CC Chan, President of the World Electric Vehicle Association "Father of the Electric Car."
"Our national policy should focus on the development of pure electric, but in the short term this policy must have appropriate flexibility to also support those who now have the ability of energy efficiency cars."

For electric vehicles to be accepted by the public, success lies in three aspects:
The price should be at level or lower than for ordinary cars,
The EV should offer driving comfort similar as now offered for small ICE cars

There must be clear energy conservation.

As for now, the biggest problem is how to reach the same price. If the EV is sold including the batteries how can the price be similar? Electric car manufacturers need to shake hands with the two major industrial electric power companies and establish strategic alliances. We can only maximize value by establishing a complete industrial chain of electric vehicles, fully in control of the "Electric Power Issue."

"50% to 80% of drivers travel less than 50-80 km per day, why not the first occupy the market with EV's that have an acceptable driving range?"

"The BEV battery is the main point that needs attention. In the traditional concept, the user should buy the battery, but in the case of Battery Electric Vehicle with expensive batteries, you can only reach a breakthrough promoting battery sharing. Moreover these batteries have a secondary value for energy storage on the electricity grid. Consequently, the electric power companies clearly have to play a role in charging and discharging of batteries while keeping the price of a BEV at an affordable level. Let's put this into practice!"

"The whole industry chain starts from the battery and that's where the state should increase its investment. For example investment can be dedicated to improving battery performance, standardized testing and evaluation of batteries, improvement of the battery production process and equipment. This would allow us to leap, just give the proper support and create the conditions for it to happen."

"There is a breakthrough in low-speed busses and small EV cars, because the two can be less demanding when the battery is relatively good. In case of the busses the management has a better understanding and in case of small compact cars the battery requirements are lower."
Quan-Shi Chen: Chinese Society of Automotive Engineers branch director of electric vehicles, electric vehicles, the National Automotive Standardization Committee Sub-Committee, deputy director of Tsinghua University. He expressed the following approach and view point:
"Long term target: remains the Pure Electric Vehicle

Short term target:

Demonstration of Pure Electric Vehicles in the cities,
Market oriented hybrids
R&D Fuel Cell Vehicles.

Pure EV design and the structural characteristics must be in accordance with the requirements of power supply design, such as: battery pack security, vehicle weight distribution, internal space and drive comfort.

The "Quick-change battery system" should first be applied in pilot cities. It is also a topic of an approved "National "863" project. Experimentation is to be completed first before lifting the technology to a national large-scale application."
For details about the SGCC "863" project: check the document page 8 – 10 under Direction 3.
Wang Binggang, Consultant and Supervisor of the energy-saving and new energy vehicle project within the Government's 863 Program:
"I agree that in the early stages of the electric car market it is appropriate to encourage attempts to cultivate battery swap as a variety of charging. However, I am firmly opposed to a development whereby a SOE business group determines the electric vehicle infrastructure technology road map. This probably is not in the interest of an objective industrial development, and ultimately may hinder the application of EV.

A car is a typical consumer good and consumer interests and feelings play a key role in its sales success. On the other hand the choice of path is to follow for our infrastructure and must also focus on technical considerations."
Xie Zicong, a Senior Research Scholar, and member of the expert group responsible for preparation of the EV Charging Infrastructure and Business Model as part of the Second Five Year project of energy saving and new energy vehicles:
"I think that electric cars must have one of these three conditions to sell:

First, the price must be cheaper than for fuel vehicles;
Second, the ease of use must be stronger than fuel vehicles, if refueling takes only three minutes, then charging within three minutes is the target. When charging takes six hours it simply is not convenient;
Third, charging fees must be lower than fuel costs;

When these three conditions are met and this is coupled with national preferential policies then everyone is willing to buy electric cars.

"Battery swapping, supplemented by in car battery charging" is the most feasible business model. The State Grid Corporation announced this model, combined with the "Battery leasing model," which is what I have always advocated."
Zhang Wei, Vice President of the China International Trade Promotion Committee:
"The entire layout of the EV Charging network needs to be "subject to the power grid arrangement. The smart grid requires a grid with communications technology to be integrated into the grid technology, so as to resolve the EV charging technology development issues."
The Academy of Engineering report submitted to the State Department suggested that in the 12th 5-Year period, China should use the following approach to develop the EV market:
"The first step is to develop miniature, low-speed, short-range electric passenger cars as a transition, and gradually improve these cars;

The next step is to increase public buses and medium-sized EV cars as a transition to high-end passenger pure electric drive vehicles. Of course, the transition does not rule out other (Hybrid) vehicles;

The third step is to lay a solid foundation for a new generation of electric cars. To leapfrog the direction of development needs to be prepared."
Zhong Zhihua, Director of Chongqing Municipal Committee of Science and Technology, China Academy of Engineering:
"From a more practical point of view, to reach energy efficiency, an important way is to promote compact, lightweight and small EVs. In the medium term, smaller and lighter EV's are a solution to energy saving and traffic congestion because miniaturization can bring some relief to congestion. We all know that when we drive a four or five seat car to work with only one or two people sitting inside we waste a lot of resources. In addition to miniaturization, hybrid cars can help to reduce CO2 emission but from a long term view pure electric may be our solution."

Smaller and lighter is a good approach, including car-sharing and the development of a variety of ways such as leasing, I think from this perspective, there is a lot of work to do.

Ultimately, I think human beings need to rethink the positioning of the automobile as a means of transport taking into account the needs of life and production, urban planning. The integrated transport has to use this concept that meets human travel requirements while wasting fewer resources, having a minimum impact on our environment."
Vice Minister of Industry and Information Technology, MIIT:
"We need to speed up of the charging infrastructure construction, improve energy management system of automotive products."
More standpoints from influential people were reported in these documents:
1. Electric car development should be integrated with smart grid. Very good document.
2. Smart Grid is the protection of the EV development
3. Electric vehicle charging facilities should be combined with the smart grid
4. Smart charging for electric vehicles, boosting the development of grid
5. Three-step planning of the new energy vehicle market
6. 111 EV Swap-Charge Stations put into operation by the SGCC In the first 9 months of 2011
7. China's "Second 5 Year Plan for Energy Saving and NEV development"
8. Yangzhou Daily "According to the relevant Second Five Year development planning, Yangzhou NEV industry will give priority to "bus" and "mini-passenger cars".
Summarizing the above, as for the final plan, action and subsidies, what transpires clearly now:
The EV Business Model from both electric power grid companies is there to stay and battery swapping will remain in focus. The government will stimulate a faster build-out of the EV charging infrastructure.
All authorities agree about the need of joint development of the smart grid and the EV charging infrastructure, as well as the important role for these stations as energy storage units with a "peak clipping" and "valley filling" function.
The government is and will be implementing preferential treatment and subsidies to promote the sales of small compact EV cars that can be sold as "naked cars" without batteries.
Batteries, especially Li-ion, will get the full attention: R&D support, battery safety, modernization of automated battery production facilities, standardized evaluation and testing of batteries.
There will be support for companies dedicated to battery leasing, car leasing and car sharing.
Authorities will enhance the formation of "strategic alliances" between EV manufacturers and the two power grid companies.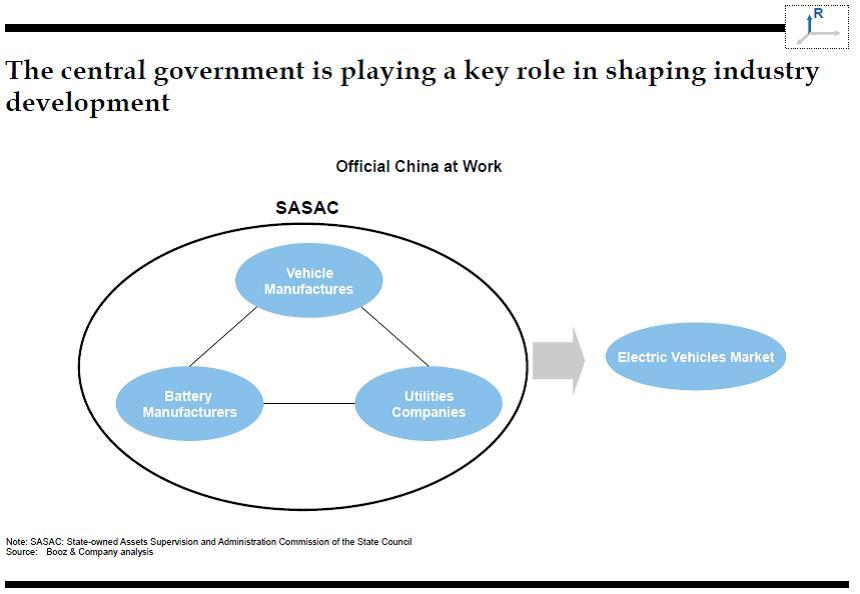 Very recently there were two facts that are worth a lot of attention:
A statement by Hu Zhaoguang, National Grid Research Institute: EV Charging stations may also participate in electricity trading
A Circular by the Ministry of Finance, Ministry of Science, Industry and Information Technology, Ministry of Development and Reform Commission. This Circular was prodding the 25 Pilot Cities to take immediate action for "Further Improvement of the Energy Conservation and New Energy Vehicle Demonstration Pilot Project." While the definitive 5Y Development Plan is still to come out, this circular reveals or confirms the perception as expressed in the former paragraph.
2.3 The Conventional Auto Manufacturers' Standpoint
To the "established China automobile sector" the new SGCC EV Business Plan announced in January 2011 came as an ugly surprise because it meant a complete paradigm shift away from their expectations for the future EV business, the "naked car" concept leading to decreased sales value. Some reacted that the SGCC wanted to build a monopoly. Others simply slowed down the further development of their EV models until there was a better insight of the government policy and the national standards for the EV sector.
Manufacturers with existing BEV models weren't ready for this as their designs were not accommodating battery swap and manufacturers of PHEV and HEV cars were very disturbed as the SGCC's battery swap model didn't fit their purpose at all. A debate broke loose that lasted for months and in my opinion resulted in quite some delay to the setting of national EV standards, R&D programs and the introduction of the "Energy Saving and New Energy Vehicle Development Plan (2011-2020)". In April, the Vice President of the China Machinery Industry Federation Zhang Xiao, summoned the car industry that "the development of electric vehicles is the only choice for the automotive industry."
Slowly, the awareness sunk in with car manufacturers that step by step the SGCC was able to align the CSPG and CNOOC to their EV Business Model. As the SGCC is also presiding the standards committee that suggests the National Standards for EV Charging Facilities and the Charging Interface ... the car manufacturers had little choice but to accept the new reality. Several automobile manufacturers such as Chang'an, JAC, Zotye, Haima Motors and several Li-ion battery manufacturers such as Universal Group (Wanxiang), Hefei National Hi-Tech Power Energy Limited, Lithium in the Air, BAK (CBAK) signed cooperation agreements with the SGCC. Later in the year Beijing Automotive, Dongfeng, FAW Group and other domestic car producers joined
To Kandi Technologies the new SGCC EV Business Plan came as music in the ears as they were very well prepared for this. In November 2009, Kandi Chairman Mr. Hu Xiaoming was one of the founders of the "Alliance for Chinese Electric Vehicle Development and Commercialization" which publicly promoted the "Battery Swap" approach. Have a look to the Alliance Business Model promoted by the Alliance and you'll find out that this closely coincides with the SGCC's EV Business Plan.
For Kandi, the cooperation with the SGCC now meant an incredible potential to open up the Chinese market for EV cars and patented QBEX technology
However, SGCC's plan also had a drawback because the SGCC, the Central government and Hangzhou Government strongly insisted on usage of (subsidized) Li-ion batteries to power EV cars.
In the meantime:
Kandi's EV model KD5011XXYEV with Li-ion batteries and a driving range of >250km has come to the market and was thoroughly tested in Jinhua and Hangzhou.
The Chinese Government has started to show more lenience for usage of the higher quality lead-acid batteries such as those produced by Tianneng Power and used in the Kandi EV model KD5010XXYEV. On the other hand many low quality lead-acid batteries producers have been forced to close their operations due to enforcement of environmental regulations
Important to note here is that while there are more than 30 MIIT approved EVmodels Kandi is the only car manufacturer that has two BEV models that are 100% designed for easy battery swapping. Kandi Technologies is the only BEV producer in China that produces a small MIIT approved smart like EV city car with a patented design and features to enable a safe battery swap that can be done within two minutes.
2.4 The Standardization Committees
The large State Automobile enterprises and Utility Providers have been able to take advantage of their involvement in the setting of the National Standards through participation in the Electric Vehicle Industry Alliance (EVIA) which was established mid-August 2010, under leadership of the State-owned Assets Supervision and Administration Commission of the State Council (SASAC). The EVIA consists of 16 Chinese central state-owned enterprises (SOEs) including the country's top state-owned oil producers, power companies, several military and aviation companies, and two of the nation's biggest car companies, the China FAW Group and Dongfeng Auto.
Important to note here is that:
Within the EVIA, there are three committees, each of them having an important role in the setting of "Unified Technical Standards."
SGCC and CSPG clearly have the biggest weight in the "Professional Services Committee" and are promoting their industry standards and patents to be the guidance for setting of national EV standards. After all, they are the top electricity suppliers covering 97% of the land and 1.2 billion populace shouldering, the major share of investments into the EV Charging Infrastructure and the Smart Grid.
The State Grid recently released another three EV Charging standards.
Great progress has been made for the Preparation of the National EV Standards and EV charging facilities as well as for the finalization of the NEV industry plan which is expected to be released latest early 2012. It looks like the level of state funding and support might be even higher than in the draft plan.
Simultaneously, the "Second 5Y Plan for Energy Technology" will also be released. The government's main long term target remains the development of Pure Electric Vehicles (BEV) to reduce China's dependency on foreign oil but over more, to leapfrog the competition of countries with a traditionally strong automobile sector, especially for Internal Combustion Engine (ICE) cars. Considering the time span needed for the BEV development and introduction, and the need for the China Automobile sector to become quickly more fuel-efficient, the government might also increase its support for local manufacturing of Hybrids, preferably PHEV.
The development of a BEV industry offers the prospects for China to become the world's leader of BEV, taking advantage of IP and standards that would be guidance to other countries. The Chinese media refer to this government's policy as "The Corner Overtaking Policy" which targets to have 1,000,000 BEV and PHEV on the road by 2015. From what has transpired now through the Chinese media it looks like within the BEV sector, the Government prefers to see small compact BEV's and E-busses on the road first as it is considered a more sustainable and efficient use of resources.
2.5 The Standpoint of Private Car Users
First let's have a look to the results of a few online surveys. The first one was organized by autohome.cn and is still ongoing. Asked if they would buy an electric vehicle of it was easy to charge more than two thirds of the over 5'000 respondents answered with a yes, Access to the latest statistics.
The second survey organized by Sina Car resulted in the following findings from participants: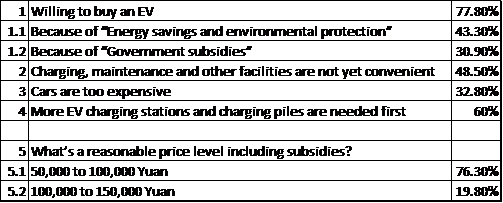 Clearly, the above table shows that Kandi is on exactly the right track with a small Electrical Vehicle that is easy to charge and costs less than 100'000 Yuan.
The third survey (240 participants) was organized by Zhejiang Online Car Magazine for Jinhua: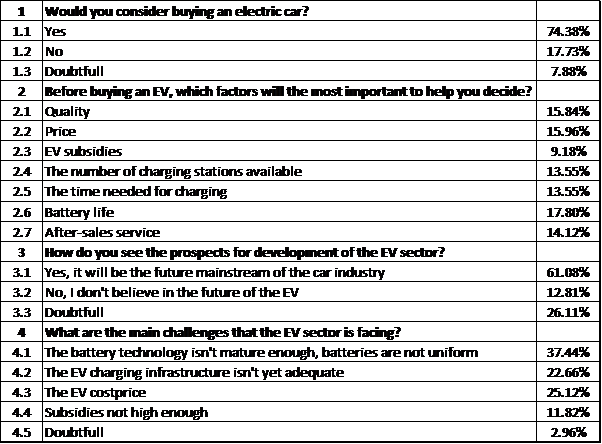 As you can see In Zhejiang and Jinhua the proportion of consumers that would consider buying an EV is also very large. The Zhejiang Provincial Authorities as well as the Hangzhou and Jinhua City Governments are well aware of the consumer concerns and I will prove in a further part of this article that they have taken action to tackle these concerns. I also think that the lack of knowledge by the public that still prevails affected the results of this Zhejiang EV survey as the great majority of the people who participated in the survey had no practical experience with EVs. During the last few months, local governments have started organizing EV car leasing and rental with quite some success, helping consumers to overcome their mistrust or poor understanding of the EV. This perception will be very quickly corrected once more EVs are on the roads.
Earlier this year another international consumer NEV survey was done by Accenture, a global management consulting, technology services and outsourcing company. From this study we learned that the Chinese consumers were most supportive toward the NEV development, thanks to the promotion efforts undertaken by the Chinese government in the past two years. However, according the study, the most appealing factors for the Chinese consumer to switch over to EV are: Free parking 65% (of respondents), toll discount 44%, and potential availability of EV priority lanes 43%.
Internationally, the basic drivers of all vehicle electrification initiatives are the desire to break the economic stranglehold of increasingly expensive petroleum, reduce CO2 emissions and improve air quality in big cities. The major countervailing force is the economic reality that consumers don't like to sacrifice the flexibility and reliability of internal combustion engines for a more expensive alternative that doesn't offer a compelling value proposition. In this context the Article from John Petersen is worth a read: "Lux Research Confirms that Cheap Will Beat Cool in Vehicle Electrification."
The point to make here is that Kandi Technologies, in cooperation with the SGCC, does offer a compelling value proposition that absolutely makes sense from an economic standpoint, a sustainability standpoint and a convenience standpoint.
To win the hearts and minds of consumers for the SGCC/Kandi business concept, perseverance will be needed combined with appropriate marketing efforts. But let's not make a mistake. This needed to be proceeded by a pragmatic approach, not only to obtain the full support of the local, provincial and central authorities, but moreover to prepare projects that meet common goals.
In the next section I will go more in-depth on this topic.
What the SGCC and Kandi are doing is not less a paradigm than what Apple did with the iPhone but it will only take a short while now before consumers understand and crave how this "Smart Compact City Car" communicates with the "Smart Battery Swap Station" and the "Smart Grid" for their own convenience, in an economical way supporting a sustainable environment of a "Smart City."
Disclosure: I am long KNDI.