Apple (NASDAQ:AAPL) was co-founded by the late visionary Steven Paul Jobs and has completely transformed every industry it operates in. The focus on innovation has made Apple one of the largest and best performing companies in the world. I have recommended option strategies on Apple since 2010 with tremendous results. For reference, please view the first and other articles in the series to fully understand the strategy and its strong potential returns. As we enter the post-Jobs era, it is even more important to keep a close eye on your investment and execute care with your trades. Since Jobs has passed the company's performance will be under a magnifying glass.
Click to enlarge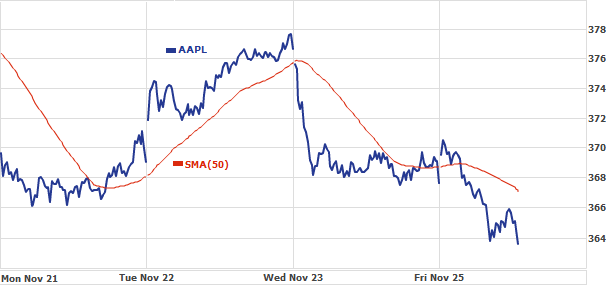 A brief recap of this week in Apple (Down $8.58 (-2.2%)):
Apparently no news is bad news for Apple investors recently. The stock price has been battered for nearly a month with little justification. After rising to nearly $380 on Tuesday, Apple relinquished all of its gains on Wednesday and the selling resumed with ferocity after the Thanksgiving recess. While investors were busy selling Apple stock on Friday, consumers were once again voting with their pocketbooks and buying Apple products. It is true that the United States and global economies are indeed on uncertain footing but Apple has shown resiliency in the past as evidenced by its financial performance in the 2008 crisis relative to its peers.
With Apple currently below $365 the stock is extremely cheap by most metrics. The trailing and forward PEs are 13.1 and 9.4, respectively. While these ratios are already low, after adjusting for "cash plus," the ratios are outright staggering. Apple currently has $81.6B in cash, marketable securities, short- and long-term investments, which translates to $87.80 per share. After compensating for the cash stockpile, Apple's trailing PE falls to 10.0 while the forward PE declines to 7.1. I know there are concerns about Apple in the post-Steve Jobs era but Apple should not be trading at this significant of a discount to its peers.
The only major development for Apple recently is that AT&T's acquisition of T-Mobile is floundering. Currently AT&T is reviewing plans to sell T-Mobile assets to salvage the deal. While it would be nice for Apple to have the nearly thirty million more customers to sell the iPhone to, it is clear that T-Mobile needs AT&T/Apple more than AT&T needs T-Mobile. If investors are looking for an excuse to sell Apple this is a convenient one but it is not a legitimate long-term reason to do so. As discussed above Apple is a strong buy at this price and any AT&T chatter is just that, noise. With the iPhone now available on both Verizon and Sprint the obstacles to switching to the iPhone are as low as ever.
Below I present three possible scenarios and the potential returns for Apple options. The first scenario represents a negative outlook for Apple while the final two scenarios are more reasonable. These scenarios are just projections and there is no guarantee that they will come to fruition. As a general rule, selling calls with higher strike prices has greater potential return but additional risk of loss due to the lower (or lack of) downside protection. For more information on the fundamentals of covered calls, consult Investopedia.
Click to enlarge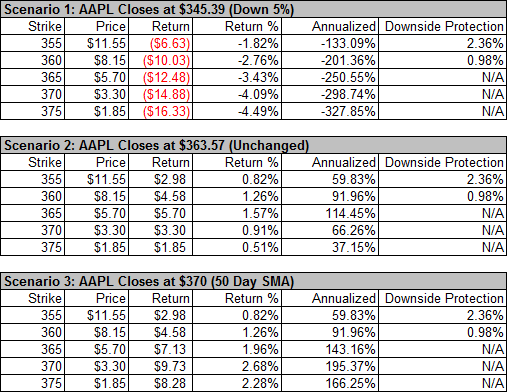 Additionally, if you would like more information, I have prepared a sensitivity analysis for absolute return and percent returns, respectively. After studying the information above, these two charts make it easy to pick a strike price based on where you believe Apple will close on Friday.
Click to enlarge

As I did last week, I present an outright long option strategy for those with minimal Apple exposure: Buy February 2012 Apple 400 LEAP Calls currently trading at $13.50. If you were hesitant to buy a long call last week you have another opportunity after the sell-off. Depending on how bullish you are you could swap the February options for either January, March or April calls to reduce or increase the time horizon.
With this information, executing a buy-write on AAPL December 2 (Weekly) 380s is the optimal risk-return strategy. If you are uncomfortable with this strategy I suggest a buy-write 365s, 370s or 385s. Even if you are extremely bullish you can still profitably sell covered calls; Apple is volatile enough that you will have opportunities to repurchase on dips. An alternative approach is to sell out-of-the-money 360 puts and collect the premium without having to purchase the stock outright. Note that if the stock declines to the strike price, you are obligated to buy the stock (or closeout the position). I would personally avoid any option selling for now but keep the potential on the table.
Disclosure: Author is long AAPL, GOOG, and T.