In "5 stocks for the solar surge," Jim Jubiak at MSN Money lays out some interesting groundrules for taking advantage of the downturn in solar to buy companies on the cheap. Jubiak identifies First Solar (NASDAQ:FSLR), Trina Solar (NYSE:TSL), SunPower (NASDAQ:SPWR), Yingli Green Energy (NYSE:YGE), and Suntech Power (NYSE:STP) as his top picks. These companies have the "deep pockets" that will generate confidence in their survivability and, accordingly, a concentration of customer orders and market share. Jubiak prefers to wait a year or two for a shakeout to make likely winners more apparent. This strategy will make even more sense if European sovereign debt woes plunge the global economy into a recession in 2012. (Existing solar investors can consider some related hedges).
My prime reason for remaining interested in the solar industry is that parity with electrical grid production is imminent. In some parts of the southwest U.S., First Solar should reach price parity with the conventional electric grid as early as 2014. Moving beyond a dependence on subsidies remains a key component of FSLR's market strategy. Jubiak notes that the European Photovoltaic Industry Association predicts grid parity by 2015 for Italy, Spain, Germany and France. Healthy profits await those companies that can survive until parity (although profitability per company will likely be a lot lower than the previous solar boom).
Price parity with the convention grid will only help the survivors in the industry. To me, one necessary component to survival is acknowledging that the existing business cycle requires strategies for survivability. After a wave of reassurances from first quarter results even as concerns mounted of industry over-capacity I lamented:
Just about every reporting company is sticking by full-year guidance even if first quarter results came in under expectations or second quarter results are expected to be on the low side. All companies remain essentially full-steam ahead on aggressive capacity expansions.

This combination of news is a bit troubling. The implications could be: 1) these companies will eventually engage in vicious price wars in order to meet shipment guidance and perhaps try to push more product to hit revenue targets (while killing margins), and/or 2) these companies will start revising guidance downward for the full-year in the next earnings cycle. The sell-offs in solar suggest the market is anticipating some combination of both.
BTU International (NASDAQ:BTUI) – a global supplier of advanced thermal processing equipment and processes serving markets in solar cell, nuclear fuel and fuel cell manufacturing as well as electronics assembly and semiconductor packaging – has been one of the most revealing indicators of industry conditions and one of the most responsive. BTU International (BTUI) followed a dire warning in May with this note in August:
We believe that the pause in capacity expansion in the solar industry is likely to continue through 2011…The worldwide slowdown in the solar marketplace has impacted our outlook for the year and our near-term revenue will be weighted towards our electronics products rather than solar products, with revenue in the $17 to $18 million range and somewhat lower gross margins than the previous quarter. We are encouraged by the recent results of our latest generation solar products and maintain strong confidence in our role in the future of the solar marketplace.
Earlier this month, BTUI announced in its third-quarter earnings report that it will lay off employees amidst a worsening capacity outlook:
Our quarter was clearly affected by the slowdown in the solar industry that has impacted all equipment suppliers. As a result, we took the difficult step of reducing our permanent and contract staff, primarily in the United States, from June 2011 levels. Sales reflected solid contributions from our electronics business which delivered the majority of our major systems revenue for the third quarter…

…We foresee that the pause in capacity expansion in the solar industry is likely to continue into the first half of 2012.
Unfortunately, I did not respond to these concerns more aggressively. In May, I eagerly looked forward to a buying opportunity "…later in the year assuming the cycle-related selling has finally exhausted itself, perhaps by late summer or early fall." The sell-off has far from exhausted itself; it has intensified. Jubiak's plan to wait further is more than reasonable under the circumstances.
Financial health is another key to survivability. With the remaining solar-related earnings reported last week, I am updating my chart of debt-to-equity ratios for solar companies. (I will provided some highlights from key earnings reports at a later date starting with GT Advanced Technologies (GTAT). The debt-to-equity ratio measures a company's leverage. The higher the ratio, the greater the financial risk. In a downturn, the company may not generate sufficient revenue and earnings to meet its debt obligations, exposing a high-risk company to bankruptcy.
The chart below shows debt-to-equity ratios versus the year-to-date price changes for select solar stocks where bubble size represents the cash/share as a percentage of price/share (as of Friday, May 20, 2011). As a point of reference, JK Solar (NYSE:JKS) has a cash/share that is 125% of its price/share. This measure typically helps identify potential "value plays." Large values have less meaning the higher the debt-to-equity ratio. Energy Conversion Devices (NASDAQ:ENER) dropped off the list as its total equity is now negative (debt-to-equity ratio is -11.60). Evergreen Solar was the last solar company to go negative, and it is now bankrupt. Similar to 6 months ago, the solar companies cluster between respectable ratios of 1.0 to 2.0. The entire field has shifted sharply to the left as most solar companies have lost 60% and more in value this year. LDK Solar (NYSE:LDK) continues to stick out with the worst debt-to-equity ratio as well as a relatively low amount of cash (64% of share price). GTAT made the largest improvement dropping from a debt-to-equity ratio of 6.1 to 3.5. Finally, FSLR continues to have the lowest debt-to-equity ratio (0.42) with DAQO New Energy Corp. (NYSE:DQ) closely behind at 0.55.
(Click chart to expand)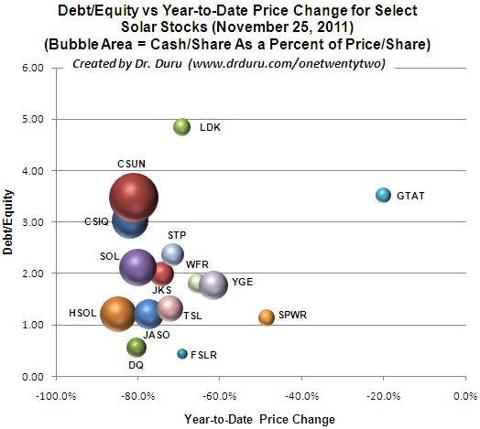 Debt/Equity vs Year-to-Date Price Change for Select Solar Stocks (November 25, 2011)
List of companies:
CSIQ: Canadian Solar
CSUN: China Sunergy Co. Ltd
DQ: DAQO New Energy Corp.
FSLR: First Solar Inc
HSOL: Hanwha SolarOne Co.
JASO: Ja Solar Holdings Co. Ads
JKS: Jinko Solar
LDK: LDK Solar Co. Ltd
SOL: ReneSola Ltd.
GTAT: GT Advanced Technologies
SPWR: SunPower Corp.
STP: Suntech Power Holdings Company Ltd.
TSL: Trina Solar Ltd.
WFR: Memc Electronic Material
YGE: Yingli Green Energy Holdings Co.
Six months ago, there was no correlation between the debt-to-equity ratio and year-to-date price performance. In fact, it was slightly negative at -.16. Now, this correlation has swung positive to 0.21. As the downturn deepens, I expect this correlation to continue to strengthen. The current relationship appears to support Jubiak's early picks of YGE, SPWR, TSL, and FSLR. STP is marginal. I will continue to monitor this chart in 2012.
Finally, note well that nearly all these solar companies have extremely low valuations. Price-to-book (P/B) and price-to-sales (P/S) ratios are well below 1, and forward P/Es, where positive, are in the low single digits. However, these ratios are less helpful when revenue and earnings are still in steep decline and margins are likely to turn negative. As usual, First Solar has the highest valuation of the manufacturers with P/B = 0.9 and P/S = 1.3. SPWR has the highest forward P/E (15.0). For comparison, FSLR's forward P/E is a paltry 5.4.
Additional Explanation of data:
I used Yahoo!Finance for cash/share. I calculated debt/equity as total liabilities/total shareholder equity using balance sheets reported by Yahoo!Finance for U.S. companies and directly from the financial statements for foreign companies (CSIQ, CSUN, DQ, HSOL, JASO, JKS, LDK, STP, TSL, and YGE).
Disclosure:
I am long FSLR, TSL, GTAT, SOL, LDK, JASO. I am also long FSLR puts