During the last update, which you can view here, I suggested that cotton would begin to trade in a range and that I believed the bottom was in. Below is a chart of the performance of iPath Dow Jones-UBS Cotton Total Return Sub-Index ETN (BAL) from the date of the last article.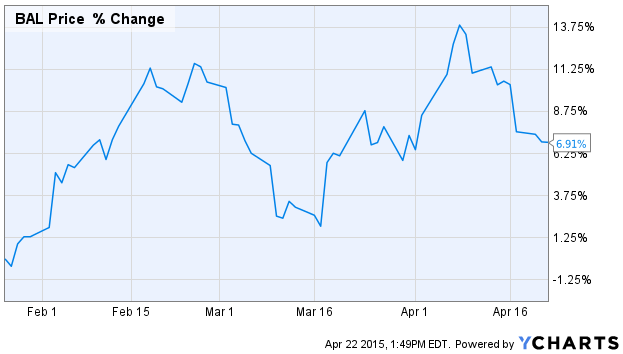 As I predicted, U.S. cotton producers have chosen to plant more profitable crops this year. See below for the latest statistics from the U.S. Department of Agriculture: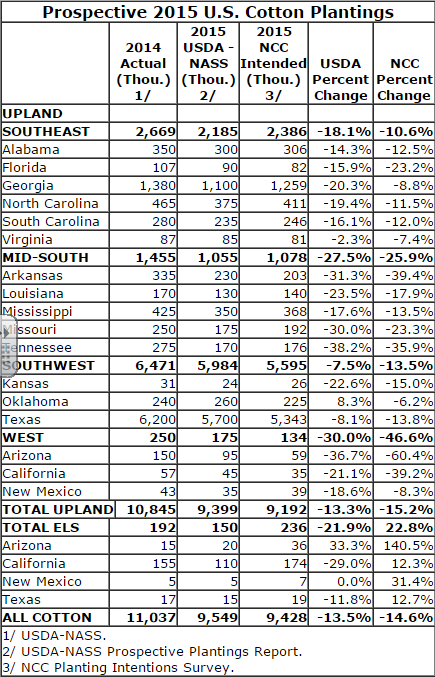 Source U.S. Department of Agriculture (USDA)
Planting Season
We are now entering the peak planting season for cotton in the U.S.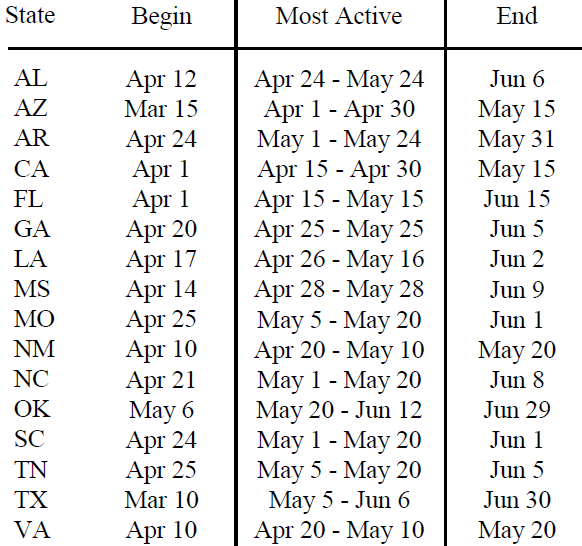 Source: USDA
China
I recommend viewing this very interesting article on the quality of grain and cotton stocks in China. In my cotton updates we have regularly discussed the impact China has on cotton prices. They are the elephant in the room. At hand is the issue of whether China's stockpiles of cotton, which account for 60% of the world's cotton stock, is deteriorating in quality or not.
China's domestic policies to support its own producers continue to evolve. Currently farmers receive price support, however the government is now testing pilot programs that operate on subsidies.
Stocks
Despite cottons current price, worldwide stocks continue to grow.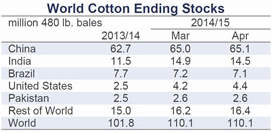 Source CottonInc.com with data from the USDA
Analysis
I personally do not see cotton consumption rapidly rising in the coming year. The eurozone appears to be stabilizing with Greece as a wild card. Slow growth continues in the U.S. and Chinese economic growth continues to run around 7%. Given the current global economic statistics, I do not see a reason for a dramatic increase on the demand side.
I continue to believe that farmers will choose to support more profitable crops if the price of cotton trends any lower that its current level.
In May the USDA will release its first complete set of estimates for the 2015/2016 crop year. This may have a short-term positive or negative effect on prices.
It has been a year since reports of tainted Chinese cotton stocks began to surface. I believe there may be intermittent problems. However, if this were a widespread issue we would have seen more price movement than what we did.
Recommendation
My recommendation is that cotton will continue to trade in a range close to its current price. Without a meaningful worldwide decrease in supply or increase in demand cotton will be range bound to its current position.
In the last update I suggested that oil would be a better trade than cotton. Below are the results of that recommendation: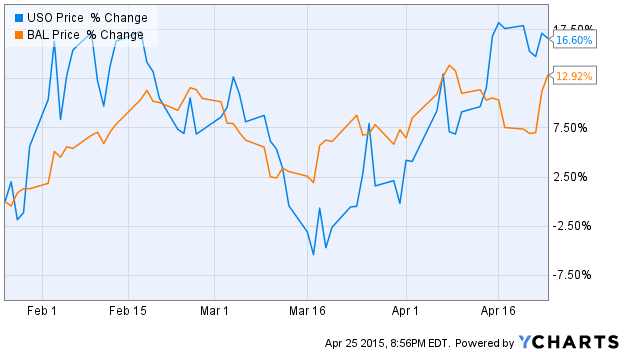 Even though the recommendation was correct (for now), I no longer hold that view given the ever increasing worldwide supply of oil, even given the lower prices. Oil still has more upside potential but I believe both commodities will be range bound due to supply and demand factors.
I do believe the bottom for cotton is in and the range could trend positive given any stock or growing disruptions.
Conclusion
Cotton looks poised for an uneventful 2015. I continue my neutral rating on BAL given the above statistics. If any substantial changes arise, or enough time passes that this article is no longer relevant, I will post an update.
As always I highly appreciate you reading. If you have any analysis to add please post it to the comment section below. Have a great day!
Disclosure: The author has no positions in any stocks mentioned, and no plans to initiate any positions within the next 72 hours.
The author wrote this article themselves, and it expresses their own opinions. The author is not receiving compensation for it (other than from Seeking Alpha). The author has no business relationship with any company whose stock is mentioned in this article.