KLA-Tencor (NASDAQ:KLAC) had a strong Q3 (ended March 31), although the company disappointed with its lower-expected-guidance. The company reported an impressive quarterly revenue of $738M, and a GAAP income of $132M. This translates into a GAAP earnings per diluted share of $0.81, which marks a significant sequential increase from its Q2 GAAP earnings per diluted share of $0.12. In addition, the company's new orders of $692M came in at the higher end of management's guidance.
On the other hand, KLA-Tencor's Q4 orders guidance of $550M-$750M and revenues guidance of $710M-$790M was somewhat of a disappointment. This guidance was likely a large reason why KLA-Tencor's stock fell after the company's Q3 report release.
While KLA-Tencor has faced a significant downturn over the past six months, the company is still one of the best picks in the semiconductor equipments/metrology industry. KLA-Tencor is not only a market leader in terms of size, but also continues to be one of the most technologically innovative companies in the industry. At a market capitalization of $9.6B, the company has more than enough financial clout to remain as one of the premier semiconductor equipment firms in the world.
Here is a graphical breakdown of KLA-Tencor's business by quarterly end markets, regions, and product segments.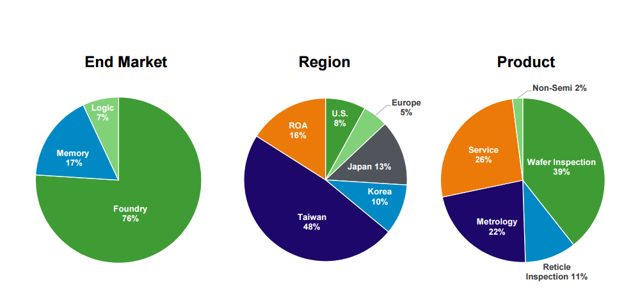 Source: kla-tencor
Technological Leadership
KLA-Tencor remains one of the most innovative semiconductor equipment companies in the industry. The company continues to maintain its market leadership in crucial areas such as process control, where it is heavily involved in relatively new and leading technologies such as FinFet or 3D NAND. In fact, the company's primary focus in its foundry segment for 2015 will be developing FinFet technologies, which is still one of the most promising transistor forms. With the ever-decreasing size of semiconductor technologies, metrology equipments/solutions will need to progress in kind.
As such, KLA-Tencor is extremely smart to pour money into 10-nanometer design nodes. In fact, the company plans to ramp up R&D spending in this area moving forward, which only makes sense given the increasing impact of low nanometer node technologies. KLA-Tencor undoubtedly remains as one of the most innovative semiconductor equipment/advanced metrology firms in the world, as it is making significant progress in increasingly important areas such as DRAM, multi-patterning, and those mentioned previously. With Moore's law continually pushing the boundaries of semiconductor technology, KLA-Tencor is doing a good job of keeping pace.
Increasing Operational Efficiency
KLA-Tencor is constantly looking for ways to improve upon its operational efficiently, which should certainly give it an edge in the highly competitive semiconductor equipment industry. Just recently, in fact, the company announced that it plans to reduce its workforce by 10% over the next few quarters. While this may seem like bad news at first glance, the company decided to do this to better streamline its business operations. The rapidly changing nature of the semiconductor industry calls for constant realignments in operations.
While such drastic steps are painful in the short-term, they should ultimately boost KLA-Tencor's long-term prospects by improving the company's operational efficiency, reducing complexity, and increasing focus on key business segments. By cutting out some less profitable areas of operation, the company will be able to focus on the more promising segments, i.e. FinFet, DRAM, etc. KLA-Tencor's proactive approach to staying at the forefront of the memory, logic, and foundry market segments should ensure the company's long-term well-being.
Risks
KLA-Tencor is involved in a highly-specialized industry with considerable long-term challenges. For one, semiconductor technology is becoming extremely advanced, which means that advanced metrology solutions may have an increasingly hard time keeping up. Already, there have been some difficulties within the semiconductor equipments industry in catching up to the single digit nanometer technology nodes. While such problems could prove problematic for KLA-Tencor, the company has done a good job so far of providing equipments for the most advanced semiconductor technologies.
Perhaps the even bigger risk associated with KLA-Tencor is the likely eventual obsolescence of semiconductor technology, which would by extension make the semiconductor equipment industry obsolete. Already, many industry experts are seeing a clear end to the exponential progression of semiconductor technologies, and are predicting that other forms of computing will take off where semiconductor technologies can no longer progress. If such a scenario were to occur, KLA-Tencor would essentially have to adapt or face obsolescence. While this scenario is certainly a large threat, such a transition will likely come slowly, which should give the company plenty of time to adjust to new technologies. KLA-Tencor should be more than capable of adapting to potential changing realities given its decades of leadership in the highly competitive semiconductor equipment industry.
Conclusion
The semiconductor equipment industry should continue to thrive in light of the increasingly complex state of semiconductor technologies. KLA-Tencor is one of the most well-positioned companies to take advantage of this technological trend, and is making all the right moves to ensure its future dominance. While KLA-Tencor has seen somewhat inconsistent growth in the past few years, the company's growth should accelerate moving forward.
At a valuation of $9.6B and an annual net income of $582M (2014) and growing, KLA-Tencor still has tremendous upside. The company is leading the promising semiconductor equipment industry on several key fronts, and should continue to be a standout moving forward. KLA-Tencor's stock price has dropped by approximately one-quarter over the past half-year, making for an even more attractive investment opportunity.