One of the most popular stores on the planet, Wal-Mart (NYSE:WMT), is also one of the most popular stocks with both professional and individual investors. In total, 17 Wall Street brokerage firms have assigned 27 analysts to follow the company's every move. According to this graph provided by Barchart the stock is trading very close to its recent high.
Click to enlarge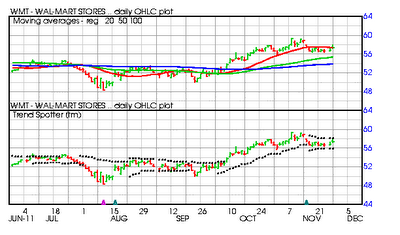 Wal-Mart Stores operates retail stores in various formats worldwide. The company's Wal-Mart U.S. segment offers meat, produce, deli, bakery, dairy, frozen foods, alcoholic and non-alcoholic beverages, and floral and dry grocery; health and beauty aids, baby products, household chemicals, paper goods, and pet supplies; electronics, toys, cameras and supplies, photo processing services, cellular phones, cellular service plan contracts and prepaid service, and seasonal merchandise; fabrics and crafts, stationery and books, automotive accessories, hardware and paint, and sporting goods; pharmacy and optical services; shoes, jewelry, and accessories, as well as apparel for women, girls, men, boys, and infants; and home furnishings, housewares and small appliances, bedding, home décor, outdoor living, and horticulture products through discount stores, supercenters, and neighborhood markets, as well as through walmart.com. This segment also provides financial services and products comprising money orders, wire transfers, check cashing and bill payment.
Its Wal-Mart International segment includes various formats of retail stores, discount stores, supermarkets, supercenters, hypermarkets, restaurants, apparel stores, Sam's Clubs, and online retail operations. This segment also operates banks that focus on consumer lending, as well as consumer credit products. The company's Sam's Club segment offers merchandise comprising hardgoods, softgoods, and selected private-label items under the Member's Mark, Bakers & Chefs, and Sam's Club brands through warehouse membership clubs in the United States, as well as through samsclub.com. It operates stores in the United States and Puerto Rico, as well as in Argentina, Brazil, Canada, Chile, Costa Rica, El Salvador, Guatemala, Honduras, Japan, Mexico, Nicaragua, the United Kingdom, China and India. The company was founded in 1945 and is based in Bentonville, Arkansas. (Yahoo Finance profile)
Factors To Consider
Barchart technical indicators:
Barchart uses various technical indicators from 7 days to 6 months to analyze the direction of a stock's momentum
At the present time the sell indicators are weakening and the buy indicators are strengthening
32% Barchart technical buy signal
Trend Spotter hold signal and will change to a buy at 58
Below its 20 day moving average but above its 50 and 100 day moving averages
Just 3.59% below its one-year high
Relative strength Index 53.53%
Barchart computes a technical support level at 56.54
Recently traded at 57.28 with a 50 day moving average of 55.40
Fundamental factors:
17 Wall Street brokerage firms have assigned 27 analysts to follow this stock
Analysts predict an increase in sales of 5.90% this year and an additional 5.20% next year
Earnings increase are estimated to be 10.30% this year, 9.40% next year and continue at a 9.56% increase for the next 5 years
These consensus numbers resulted in 9 strong buy, 3 buy, 14 hold and 1 under perform recommendations for clients
In the coming year WMT will feature its price match guarantee
A concentration on same store sales is paying off
The company is looking to increase the number of smaller stores in China and Brazil - both having an expanding middle class
The stock P/E ratio of 12.93 is lower than the 13.50 P/E of the market
The 2.58% dividend is better than the 2.40% dividend rate of the overall market and still only about one-third of the earnings forecasts
General investor interest:
On Motley Fool 7,059 readers have an opinion on the stock
They vote 89% that the stock will beat the market
The more experienced and savvy All Stars vote 93% for the same result
Financial columnists articles have been 97% positive on this one
Those recommending a buy are Jim Cramer, Bill Nygren, Gary B Smith and Michael Sivy
Competition to Wal-Mart is far behind when you look at overall revenue. But how has it done in the past year with investors? While WMT is up 6%, Costco (NASDAQ:
COST
) was up 22% but Target (NYSE:
TGT
) was down 9% and Sears (NASDAQ:
SHLD
) down 11%: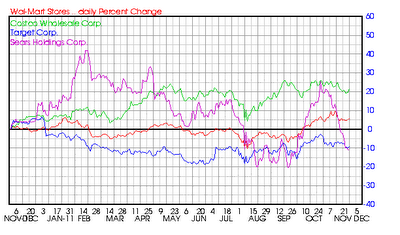 Summary: There are some who think Wal-Mart should always be a buy but I recommend owning it while it trades above its 50 day moving average with stop losses at either the 14 day turtle channel (recently at 56.26) or the 50 day moving average (recently at 55.40):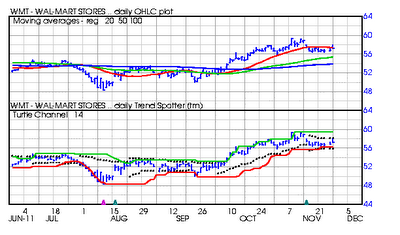 Disclosure: I have no positions in any stocks mentioned, and no plans to initiate any positions within the next 72 hours.