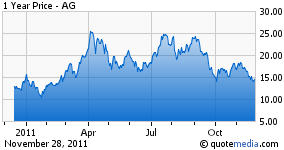 A few months ago First Majestic (NYSE:AG) pre-announced solid third quarter production numbers but ran into a small manganese problem at La Encantada causing the stock price to tumble precipitously. Looking over the third quarter numbers the stock appears to be significantly undervalued as we bounce off of support levels.
Third quarter revenues rose by 88% on a year-over-year basis to $61.4 million. Production for the quarter totaled 1.792 silver equivalent ounces at total cash costs of $8.39 per ounce and revenue per payable equivalent ounce sold of $38.83 per ounce.
The 1,000 tpd floatation circuit at La Parrilla has been completed and deemed commercial. Once the La Parrilla expansion is complete, mill capacity will reach 2,000 tpd and increase output from 1.8 million silver equivalent ounces to 3.2 million silver equivalent ounces per year.
A pilot plant of 500 tpd is currently being installed at La Endantada regarding a process to dissolve the manganese and increase recoveries. The key takeaway is increased silver recoveries without increasing production.
A neighboring claim to Del Toro called Dolores has been purchased for $1.5 million. The owner had been shipping ore to La Parrilla but the deposit will now be a part of Del Toro. Due to the addition, Del Toro will be re-permitted as a 2,000 tpd operation versus the current permit for 1,000 tpd.
First Majestic's stock took a knock over the past few months based on the problems at La Encantada.
However, silver equivalent ounces from La Parrilla will almost double in the next year and Del Toro is being re-permitted to double the size of the operation.
La Encantada will have a happy ending as tests are being done on an additional process to dissolve the manganese with the end result of increasing recoveries within the next six months.
First Majestic may not have the dividend appeal which has become the fashion for gold and silver mining stocks but cash flow is being diverted internally to fund expansions and new projects.
The recent hiccup should be looked at by investors as nothing more than a buying opportunity as production, revenues and cash flow will all continue to increase in the coming years.
Downside risk is limited and investors looking for a Santa Claus rally should take a close look at First Majestic.
Disclosure: I am long AG.
Additional disclosure: Source: First Majestic website.