In any market, investors can count on buying good stocks at a low price. One way to find a "good" stock is to look for those that have consistently increased their dividends. A stock that has paid and increased dividends for a long period of time has proven to investors its ability to earn and grow. Many investors turn to these types of stocks, which generally creates a premium. The key to buying safe stocks is picking them up off the ground. That is, buying them when they are priced at a discount. Benjamin Graham and Warren Buffett have purchased stocks based on this strategy which has led them to much of their success.
Now is a great time to utilize this value strategy since the market has been volatile and unpredictable. People have turned to safe havens such as Gold (NYSEARCA:GLD), which is why it is at some of the highest levels in history. If you're looking for a high return that carries a relatively low risk, I recommend considering the following dividend stocks that are priced below their Graham Intrinsic Value. They have steadily increased their dividends for years, some even decades. All of the calculations for Intrinsic Value were done using the App Easy Value.
1. Abbot Laboratories (NYSE:ABT):
P/E: 18
PEG: 1.21
Profit Margin: 12%
Return on Equity: 20%
Debt to Equity: 68/100
Intrinsic Value: $111.04
Discount: 111.54%%
2. The Chubb Corporation (NYSE:CB):
P/E: 10.5
PEG: 1.3
Profit Margin: 13.5%
Return on Equity: 12%
Debt to Equity: 25/100
Intrinsic Value: $151.14
Discount: 136.27%
3. Cullen Frost Bankers (NYSE:CFR):
P/E: 14
PEG: 1.64
Profit Margin: 26%
Return on Equity: 10%
Debt to Equity: 10/100
Intrinsic Value: $87.19
Discount: 83.91%
4. Kimberly-Clark Corporation (NYSE:KMB):
P/E: 16.6
PEG: 2.3
Profit Margin: 8.1%
Return on Equity: 31%
Debt to Equity: 133/100
Intrinsic Value: $94.40
Discount: 37.89%
5. Johnson and Johnson (NYSE:JNJ):
P/E: 15.2
PEG: 2.1
Profit Margin: 17.7%
Return on Equity: 19.2%
Debt to Equity: 30/100
Intrinsic Value: $95.04
Discount: 52.81%
Click to enlarge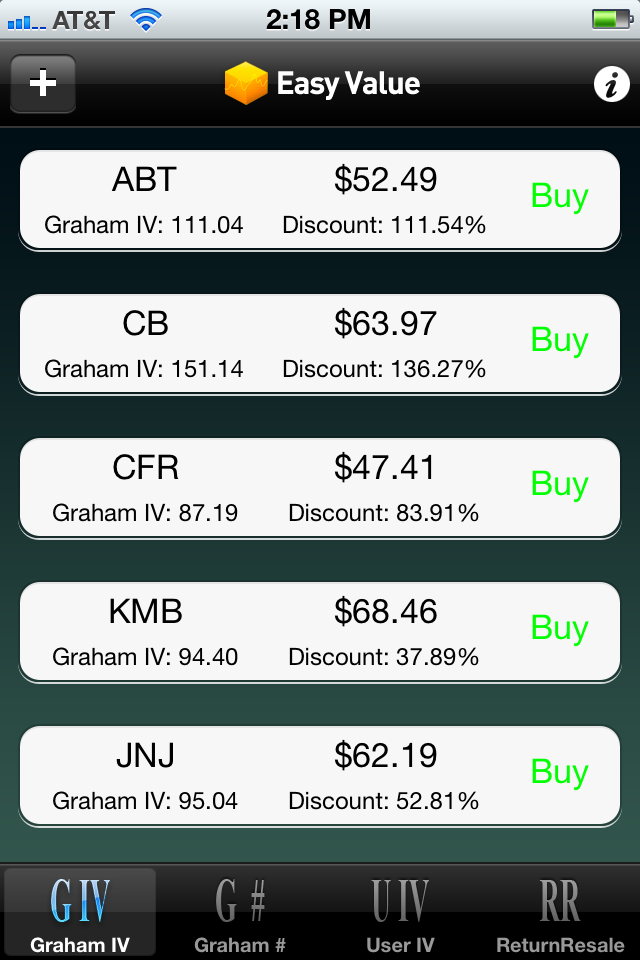 *Due to delays and market changes, the following data and calculations may not be accurate.
Almost any stock that has proven itself via long-term dividend payments can be considered a safe and smart investment. Although, due to their safety, they often carry a hefty price tag. Therefore, an investor should seek a discount, especially in uncertain times. These five companies have not only increased their dividends for decades, but they also have a relatively low debt, high profit margins, high returns, and are a good value. They are well known, established brands that won't be going anytime soon. The market may be slightly higher than it was a few months ago, but these stocks are still great deals.
Disclosure: I have no positions in any stocks mentioned, but may initiate a long position in ABT, CB, CFR, KMB, JNJ over the next 72 hours.