Our view is that global central banks are in race to debase their currency in order to export their way out of the crisis. We believe the world suffers from an aggregate demand problem, which will be exacerbated by austerity measures. While the bar is high we believe the Federal Reserve will resume its quantitative easy policy.
Valuing an Inert Asset
Gold is virtually impossible to value as it earns and yields nothing. Many gold bulls point to the U.S. monetary base as a guidepost for valuing the inert asset.
In relation to the bubble levels of the 1980s, where the gold price exceeded M0 (U.S. monetary base), today gold is comfortably under the seemingly ever expanding monetary base.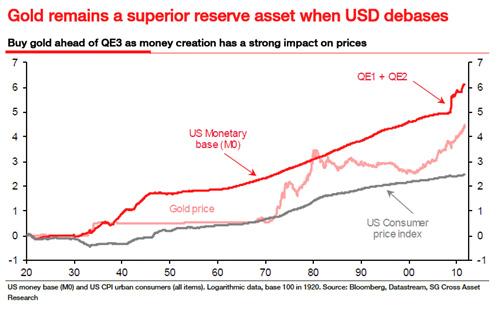 We believe the monetary base will only grow as the U.S. faces a very weak economy, saddled by large debt loads. This growth in the monetary base will provide tailwinds to gold.
Under-Owned Insurance
We allocate capital to physical gold and silver as a form of insurance against unforeseen catastrophes. Gold bulls, including Eric Sprott, believe the banking system is effectively broken and individuals need money outside the banking system. Our belief is that the U.S. banking system is simply "Too Big to Fail"...but we respect the potential risk due to the explosion in credit growth over the last few decades to allocate a portion of our portfolio to physical precious metals.
Since severing ties with gold in the early 1970s, the growth in overall financial assets has been significant. Global financial assets have risen 17-fold over the last 3 decades from $12.3 trillion to nearly $210 trillion. We believe that the investor case is significantly underweighted to gold.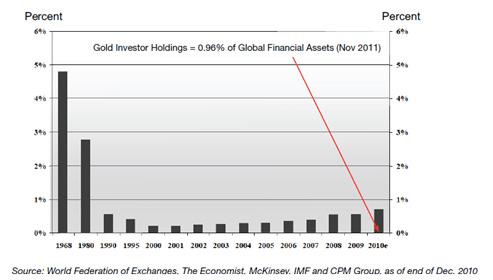 Gold Performance During QE1 and QE2
QE1 and QE2 lasted for 15 months and 8 months, and Gold was up 36% and 21%, respectively during these periods.
Tactical Strategy
We own gold and silver in physical and ETF forms (GLD and SLV). We follow a policy of not timing the market, but slowly accumulating these metals, as they are our insurance policy against inflation. Investors interested in vehicles that retain physical metal should look into Sprott Asset Management's Sprott Physical Gold Trust (NYSEARCA:PHYS) and Sprott Physical Silver Trust (NYSEARCA:PSLV).
Disclosure: I am long GLD, SLV.
Additional disclosure: Also long physical gold and silver.