A solid investing strategy for long-term investors is to buy best-of-breed stocks during weakness. Even the best companies face short-term headwinds and cyclical downturns and their stocks suffer as a result. Rather than jump ship with the other investors who only focus on short-term appreciation, times like these should be used as an opportunity to establish or increase a position. One such company that investors can use short-term headwinds as a buying opportunity is Cummins (NYSE:CMI).
Cummins
This best-in-class producer of diesel and natural gas engines is renowned for its superior quality and has become the market leader in medium-to-heavy duty truck engines across the world. The company has a 72% market share in the medium-duty truck engines market and a 36% market share in heavy-duty engines market in North America. The company also saw their international engine market share grow from 10% in 2013 to 12% in 2014. However, due to declining demand in some international markets and a strengthening dollar, the company decreased 2015 revenue guidance to an unimpressive 2%-4% growth over 2014. While 2014 saw revenue and net income increase by 11% on the back of strong North American demand, the stock is down 5% over the past 12 months and has underperformed the S&P 500 by approximately 18%. This tepid growth in a best-of-breed company, which continues to increase market share and return value to shareholders has created a long-term buying opportunity that investors should pay attention too.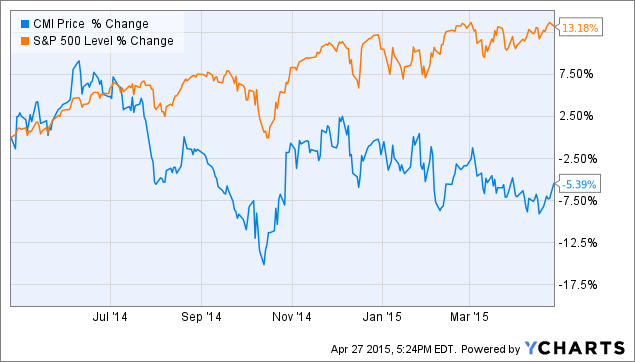 Free Cash Flow & Capital Return Program
Anytime I look for a long-term holding, the first thing I look for is healthy free cash flow and management committed to returning value to shareholders through dividends, buybacks and a clean balance sheet. Cummins hits all these target with flying colors. Management has stated their focus is to return 50% of cash from operations to shareholders. In 2014 the company produced $2,266 million in cash from operating activities. Of the $2,266 million, the company paid out $512 million in dividends and $670 million in stock repurchases. The repurchases removed roughly 2.5% of outstanding shares and the company increased their dividend by 25%.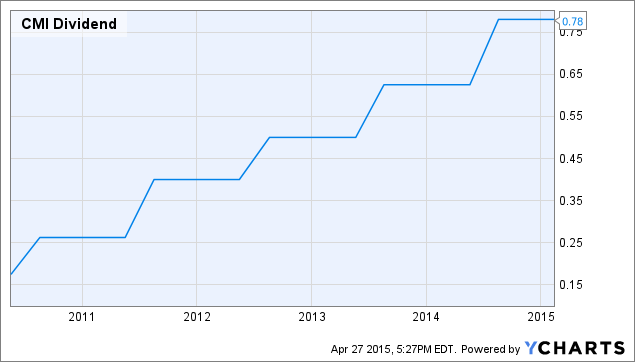 The company has been a great dividend growth stock over the past 5 years. Since 2009, the quarterly dividend has a CAGR of 34%. While the company has managed to grow the dividend at an impressive rate, the payout ratio remains a low 30.7%. Even more important is the dividend as a percentage of free cash flow is only 33.6%. The payout ratio is commonly used to evaluate the company's ability to sustain their dividend, but taking the dividend payment divided by free cash flow is a more accurate representation of sustainability. At 33.6% the company has plenty of room to further increase its dividend, buyback stock and invest in itself.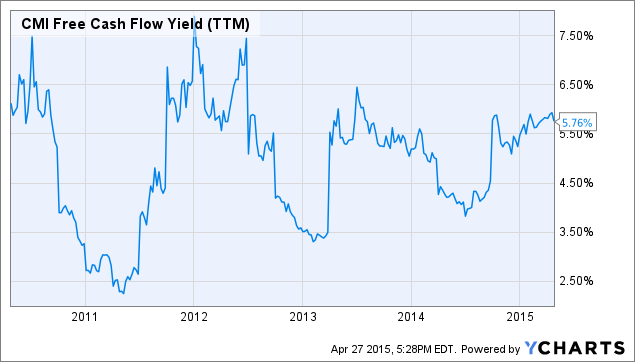 In 2014, the company increased its free cash flow by 7.8% to $1,523 million, giving the stock a free cash flow yield above 6% at current prices around $137/share. Anytime a company can generate a FCF yield above 5% over a wide timeframe it signals a healthy company. Cummins is in a fairly high capital intensive industry, so it will see swings in this margin as facility investments are made, but overall the company maintains consistent returns.
Balance Sheet & Valuation
The value of free cash flow can be somewhat diminished if a company is highly leveraged, because the company will focus that cash flow on interest payments and paying down debt. In the case of Cummins, the company has a pristine balance sheet, so the company can focus its cash flow on investing in itself, increasing dividend payments and share buybacks. Cummins has $2.4 billion in cash and $1.6 billion in long-term debt. This has allowed the company to significantly increase its dividend and remain committed to returning at least 50% of cash from operations to shareholders.
In terms of valuation, Cummins is dirt cheap compared to the broader market. The company has a trailing 12 month P/E of 15.3 and a forward P/E of just 12.3. In fact, in a recent Barron's article, Cummins was listed as one of the new "safe stocks" because of its modest valuation. Comparing Cummins to peers of PACCAR (PCAR), General Electric (GE), and Deere (DE), Cummins has the lowest Price/FCF and the second lowest P/E. When a best-of-breed company such as Cummins is trading at such a discount to the broader market and has underperformed, it's a golden opportunity to accumulate shares on weakness.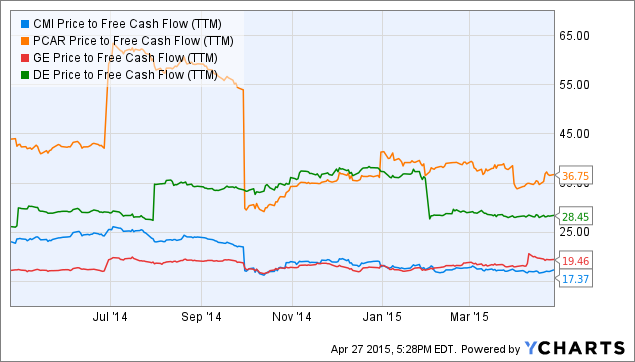 Conclusion
Cummins has been hurt by weaker than expected international demand and currency headwinds. As a result, the stock has lagged the S&P 500 by roughly 18% over the past 12 months. However, this underperformance and underlying sound fundamentals in the company has created a great buying opportunity for long-term investors. Cummins is a best-of-breed company with dominate market share in an industry with high barriers to entry. In addition, the company generates healthy free cash flow that management is committed to returning to shareholders. With a forward P/E at 12.3 and dividend yield at 2.3%, investors can pick up a great company trading at a fairly significant discount to the overall market. Buy low and sell high may be an over simplification of investing, but anytime a best-of-breed company is trading down due to short-term headwinds or cyclical downturns, it represents a tremendous opportunity to add value to your portfolio.